(Spoilers abound below. Proceed with caution.)
It has been a great year for television. Here are the Top 10 Best Television Moments!

1. True Detective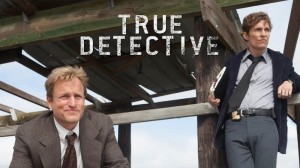 It may be predictable to pop True Detective at the top of my best of 2014 list, but it truly was what set off this year on a good note. The ambitious semi-supernatural mystery premiered just after the new year, and was a good omen (even with all of its internal bad omens) for a great year of television. Matthew McConaughey, heretofore known as mister eye candy, king of the rom com, came in swinging a different kind of punch. Looking disheveled and lost – an image previewed in 2012's Mud – mister southern charm introduced us to Rust Cohle, a jaded detective with some interesting theories on the ways of the world. Together with the always brilliant Woody Harrelson, McConaughey pushed us to the edges of supernatural, existential theorizing and the nature of good and evil. The series succeeded in drama as well as in action and cinematography, with one 6-minute POV battle scene filmed entirely without cuts. As lost as we might be in his rhetoric, we are with him as he raids, saves, fights and runs.
2. Frank Underwood, POTUS
After Peter Russo's death the second season's premiere shocker, it was hard to imagine ever rooting Frank Underwood again. Yet, inevitably, by final moment of the House of Cards season finale, I was cheering for his ascent to the presidency and aching to see where he would go next. When you're at the top, the only way to go is down, right? Tap tap.
3. Ellen's Oscar Selfie
The 2014 Oscars in March were one to remember. There was Lupita Nyong'o's inspiring speech about seeing women of color like herself on screen. Matthew "Alright, Alright" McConaughey won the best actor Oscar for his other career-shifting performance in Dallas Buyers Club. Then there was a stellar performance by Adele Dazeem. But most exciting of all was the carefully orchestrated Oscar selfie, coordinated by host Ellen Degeneres and snapped by Bradley Cooper. The epic celebrity selfie has to date been retweeted nearly 3.5 million times, and was estimated to have been seen by upwards of 37 million people in its first few days. Advertising giant Publicis was the true orchestrator of the moment, which was actually a clever product placement for Samsung – an ad buy estimated to be worth nearly $1 billion.
4. HIMYM finale
Perhaps no television finale since the religion-tinged final moment of Lost has been as divisive as the How I Met Your Mother finale, also in March. After nine seasons of keeping us on the hook, Ted finally revealed how he met her – and then she died, and he got permission to – some might say (I might say) – FINALLY end up with his TRUE soulmate, Robin. Whatever your opinion of the shocking twist, the series is still on the tip of our tongues when naming the most innovative premises and consistently entertaining series in recent memory.
5. Last Week Tonight
In the summer of 2013, Jon Stewart took a break from The Daily Show to direct his first feature film, Rosewater, a drama based on the true story of a Canadian journalist detained in Iraq. In his absence, correspondent John Oliver stepped in for six weeks. Though Oliver's particular brand of matter-of-fact humor didn't quite work against Stewart's usual energy, the gig peaked our interest in Oliver as a late night host. In April of this year, Oliver began his own stint as a full-time host on HBO's Last Week Tonight. The Sunday night weekly news satire program has gained critical acclaim for its bold statements made in longer-form segments than TDS or The Colbert Report. His segment on net neutrality included a call to take advantage of the public comment opportunity on the proposed legal changes. It went viral, crashing the FCC website. Oliver has continued his brilliant commentary, leading some to argue that this new, smarter model is in fact the future of news satire.
6. Game of Thrones Season 4, "The Watchers On The Wall"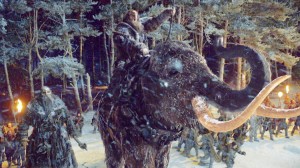 In another impressively long cut like True Detective's, director Neil Marshall and the crew of Game of Thrones staged a 45-second, 360-degree shot of the Battle of Castle Black in the season's penultimate episode. At the time, Marshall told Vulture that the scene was shot with a crane in seven takes, after an hour of on-set rehearsal, with more than 100 extras and two real giants (no, really — two seven- and nearly eight-foot tall guys)! It may be the defining moment of the season, rivalled only by Tyrion's "confession."
7. TGIT – It's Shonda's World, we're just living in it
During one of the fall's busiest premiere weeks in September, ABC called back to its successful family-friendly Friday TV block, TGIF (Thank God It's Friday), with a not-so-family-friendly night of drama and debauchery, TGIT (Thank God It's Thursday). Thursday nights are packed with three hours of back-to-back dramas by showrunner Shonda Rhimes: Grey's Anatomy, Scandal and the brand new and deliciously dark and twisty How To Get Away With Murder. Not only is TGIT a solid night of shiny, gooey entertainment, but it also features several brilliantly realized female leads — two of them women of color.
 8. Transparent
Transgender visibility on television is on the rise, and nowhere is it being done better than away from traditional network and cable networks, in the world of streaming originals.
First, there was Sophia Burset on Netflix's Orange Is The New Black in 2013, a role that catapulted Laverne Cox to fame, landing her on the cover of Time, the face of the modern transgender visibility movement.
Then, in September, out of Amazon Studios' development program, came Transparent. The semi-autobiographical account of an older parent (played by Jeffrey Tambor) coming out as trans to her children comes from Jill Soloway, no newbie to poignant dark comedies. She was a writer and producer for both HBO's meditation on death, Six Feet Under, and Showtime's meditation on mental illness, The United States of Tara. Now, with Transparent, we see her meditate on gender, love and family. The result is 10 episodes of beautifully calm and arresting television. Among its best moments is the barbecue scene in the pilot.
9. Too Many Cooks
Though known to most as a viral video sweeping the interwebs, this hilariously dark sitcom parody began as an "infomercial" on Adult Swim. It aired at 4 a.m. Oct. 28, and then again every night at midnight the week of Nov. 11. Believe it or not, Too Many Cooks has earned serious critical acclaim, with director Rian Johnson (Breaking Bad) calling for an Oscar nod. Seriously.
 10. The End of The Colbert Report
There is no better way to end a great year of innovative television than by saying goodbye to Stephen Colbert. The groundbreaking satirist was the first Daily Show correspondent to hop off of Jon Stewart's cloud and into his own program, back in October 2005. He spent nine years expertly lampooning the political right — including, just six months after the Report's debut, taking on President George W. Bush to his face as the keynote speaker at the 2006 White House Correspondents' Association Dinner. He was entirely deserving of the epic sendoff given to him on Dec. 18 by politicians, writers, public figures and some of televisions best creators past and present. All in all, Colbert was joined on stage by 107 people, singing along to "We'll Meet Again." You can watch the annotated version here.

[fbcomments url="" width="100%" count="on"]