Brian "Q" Quinn, Sal Vulcano, James "Murr" Murray and Joe Gatto have been best friends since high school. But unlike most high school chums, this group hasn't split up nor changed since graduating together on Staten Island 25 years ago. Instead they formed a comedy troupe to keep the good times going.
The Tenderloins, created in 1999, started performing live improv and comedy shows throughout New York City. At one point, social media outlet MySpace ranked the team No. 1 out of more than 120,000 comedian online accounts.
But it wasn't until 2007 that they started getting television attention, when they won a $100,000 grand prize from the NBC-TV sketch comedy contest series It's Your Show. Cable network TruTV eventually came calling with a Tenderloins project titled Impractical Jokers. The series premiered on Dec. 15, 2011 with 14 half-hour episodes broadcast during its first season, which were viewed by more than 32 million fans.
"We were a 10-year overnight success," Murray recalls. "It took a long time."
It also took a lot of work. During the filming of the first season of Impractical Jokers, the members also had full-time jobs. Vulcano would work overnights at a bar he owned, finishing at 5 a.m. and then heading to the set at 8 a.m. Murray would fly into Los Angeles on a Wednesday night, work all day Thursday and fly the red-eye back on Friday. Gatto was a top salesman in a high-end baby furniture store and Quinn worked every job from ice cream truck driver to manufacturing the little metal number signs for telephone poles.
"When season two became a hit and we got renewed, we finally thought, 'Now we're full time,'" Murray says. "Now we're touring, TV shows. It's been a really amazing ride and a blessing. And it wouldn't have worked if we weren't best friends. It's our dream job. We get paid to make our friends laugh."
The group's members still make each other laugh. Impractical Jokers is a reality comedy show where the gang puts each other into wild situations and then talks their way through them. Whether they're in a boxing ring wearing a Peter Pan costume or freaking out at a Subway, it's immediately apparent that the guys are having the most fun of all.
"If we weren't best friends, we would have ripped each other a part by now," Murray says. "I think we're gluttons for punishment. Some of us were roommates for five years. We would shoot a TV show all day, commute together in the morning, go back to edit together, commute back and then we'd go to dinner together. All four of us were like that. And if we didn't have to go to the set for a day, the next comment would be, 'So, you wanna go see a movie?' Why do we do this to each other?"
The Tenderloins kick off their first full tour with a stop at the Onondaga County War Memorial on Friday, Sept. 19. While on the road they will also celebrate the Sept. 25 debut of their TruTV spin-off series, Jokers Wild! The new show will give the members a chance to showcase their wit in new sketch comedy situations.
"In Jokers Wild! we'll talk about our lives, make jokes and play hyper-versions of ourselves and our lives together," he says. "We'll talk about the weird world of Staten Island. The sketches are crazy. It's a combination of standup and our friendship under a spotlight."
Murray emphasizes how grateful the group is for the opportunity they've been lucky enough to have. But he also has a backup plan: "If it doesn't work out, you can always go make metal signs for telephone poles."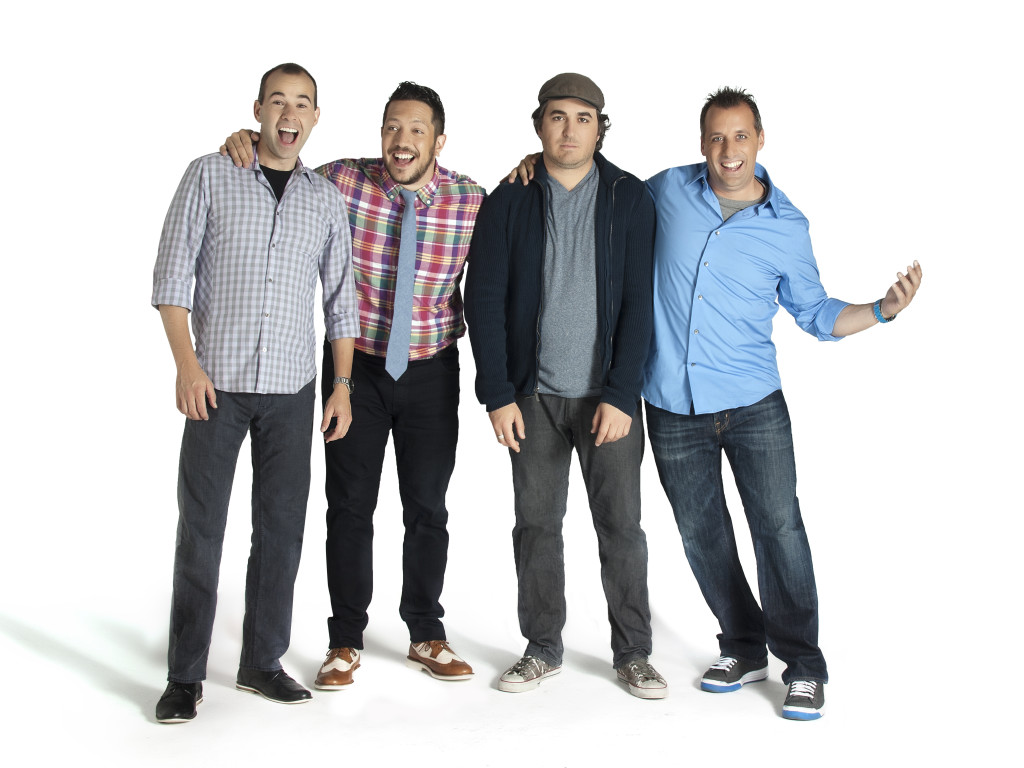 Murray on Kids:
"Joe got married and I don't know how he does it. I'm way too immature for that. None of us have children. Joe is the closest to being an adult. I love my nieces and nephews. I really love giving them back."
Murray's Advice:
"Do not stop doing it. We had so many occasions in 10 years where one, two, three, or all of us wanted to quit. It's very frustrating. It's hard. But don't stop doing it, especially if you love it. Get better and better at it. And find your voice. That's the hardest thing. That's what made the difference for us. A very smart gentleman saw us perform and said, 'You're not ready.' We asked, 'What's missing?' He said, 'You don't have your point of view yet.' We didn't understand until years later. When we found our point of view, that's when the ball got rolling. That made all the difference."
Just the Facts
The Tenderloins
Friday, Sept. 19, 7:30 p.m.
Onondaga County War Memorial, 515 Montgomery St.
Tickets are $47; VIP meet-and-greet tickets also available for $125.
Visit Ticketmaster.com or TheTenderloins.com

[fbcomments url="" width="100%" count="on"]