Robot
Chicken

Baby Penguin

Scientists were flustered when human researchers failed to effectively commune with penguin colonies. However, they are now having wild success by sending in small robots reminiscent of the droids used by bomb squads but with one significant difference: they are dressed up like baby penguins.

The researchers reported adult penguins were met with hostility, but the baby birds are the majority of the time welcomed into the huddles with the other marchers.

All that's missing here is Morgan Freeman's voice.
Starbucks to Deliver in 2015
The java mogul announced starting next year delivery services will be available for your "grande skinny white mocha with an extra shot and hell, add the whip cream frappaccinos."
"Imagine the ability to create a standing order at Starbucks, delivered hot or iced to your desk daily," said CEO, Howard Shultz. The announcement comes in the wake of disappointing stock results from last quarter.
What's the catch? It's rolling out in select markets. Perhaps when Amazon gets that drone delivery thing down they will piggy back your New York Times best-seller to your door.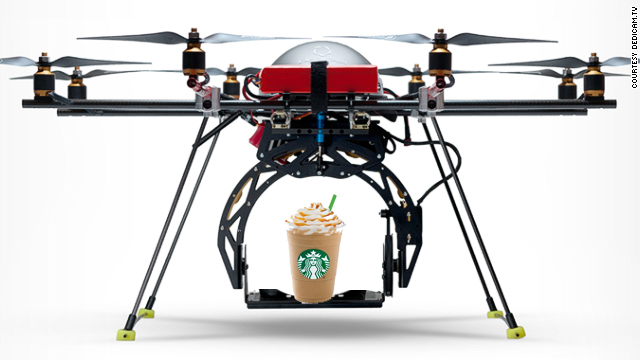 #AlexfromTarget
A conspiracy theory surrounding the popular image that was tweeted about a million times within the first 24 hours of the now famous Target employee has been somewhat brought to light.
A company called Breakr, a social media startup, has taken credit for the stunt as a marketing ploy, however other details of the plan have not been announced.
The teen appeared on The Ellen Show after responding to a tweet from her after a strangely long period of silence from Alex.
The kid is being compared to advertising schemes such as the evil clown in Staten Island that was wandering around freaking people out. A video production company later took responsibility.
"The most successful viral content is often when the brand takes the backseat of the campaign," said Mashable.com's Christine Erickson.
Speculators propose Target itself was behind the crafty move as a guerilla ad. After all the negative press, they could use the boost; even if in the form of millions of teenage girls swooning.
"Mom, I need to go to Target."
Some Tech Events Coming Up
"Social Media and Civic Pride" – a new Social Media Breakfast is coming up, Thursday, November 20th from 7:30-9am (it's breakfast people) at Sky Armory in Armory Square. Hear local online community buzz generators (going with it) such as our own Ty Marshal speak about igniting the local flame. Lots of fun, cool people, I like going to these – and get a tour of the newest, coolest venue in CNY. It's free, just RSVP here: http://smbsyracuse21.splashthat.com/
Hack Hunger and Homelessness: this weekend – a 24 hour hackathon to solve poverty with tech! (This is awesome!) Nov 8-9 at the Tech Garden. Read the full New Times article here.
Cornell Entrepreneurship Summit: tomorrow – Nov 7 in NYC – "meet new folks and meet top entrepreneurs" #soundscool
Idea Brew at SU: come hang out with cool tech/startup inclined people who want to break the mold at SU every Wednesday at 10am. Details on their website. Check it out! (Free breakfast – hey!)
Grand Opening of the New Microsoft Store in Destiny USA: kind of a big deal. Come meet Jim Kelly – thee Jim Kelly – and play with Microsoft toys. Details on the Destiny website. #GoBills #IfWeEverWinIWillFreak

[fbcomments url="" width="100%" count="on"]