Tom Huff's lights are out.
Huff–an artist, writer, curator, educator, unassuming art salesman and sometime board member–muttered something about an ex-renter who left without paying the electric bill for the past three months. Instead of cursing his luck, he has pushed up the blinds, opened the doors and moved his gallery's latest opening to the daytime.
"You got to keep at it," Huff said before sneezing (he's at work in spite of a nasty cold), at the opening of his exhibit, A New Beginning: The Painting Show, which will be up until mid-December, at his and Charlie Crafts' studio, Sculpture Culture. The studio sits on the edge of Syracuse's miniature art and activist district, just down the street from ArtRage Gallery and across the street from Syracuse Cultural Workers.
Huff walked slowly amid the shadows of his studio, naming each artist, Native Americans and Syracuse locals, telling their stories and listing their medium off the top of his head. The gallery mimics the artist; it is a Renaissance room: part stone-carving studio, sometime classroom, classic gallery and constant gathering space. In the summer, Huff painted the orange, yellow, blue and purple walls and the teal and red doors.
"Is this salon style?" he asked. He nods to himself, deciding he's right. He is right: The wall space is salon style, an echo of the tucked-away galeries d'art in Montmartre or, better, some side-street barbecue joint in the South that features folk art along its walls. His gallery, like the food joint, is unintentionally classic.
And he, like his gallery, is unintentionally classic.
There's Huff the romantic. The Seneca-Cayuga man lives not on his native land, but instead resides at the Onondaga Nation because, simply put, he "met a woman and fell in love."
Then there's Tom Huff the educator, an unassuming teacher, soft-spoken and adored. As Huff stood, quietly straightening pieces on his walls, his first visitors to the new exhibit came laughing and screaming into the gallery with superhero backpacks strapped to their shoulders. They ran excitedly from one end to the other, fingers running over every piece while Huff quietly reminded them to be careful.
"Hi, Tom!" they each greeted him. "Tom, is this new? Tom, when do classes start? You should sub for us in art class at school!"
"I teach the kids sometimes," Huff said by way of explanation.
"I went to his class, that's how I got started," said Smiley Summers, one of the featured Native American artists in the exhibit. He stopped by on a Friday to check on Huff. "I've known him since the early 1990s."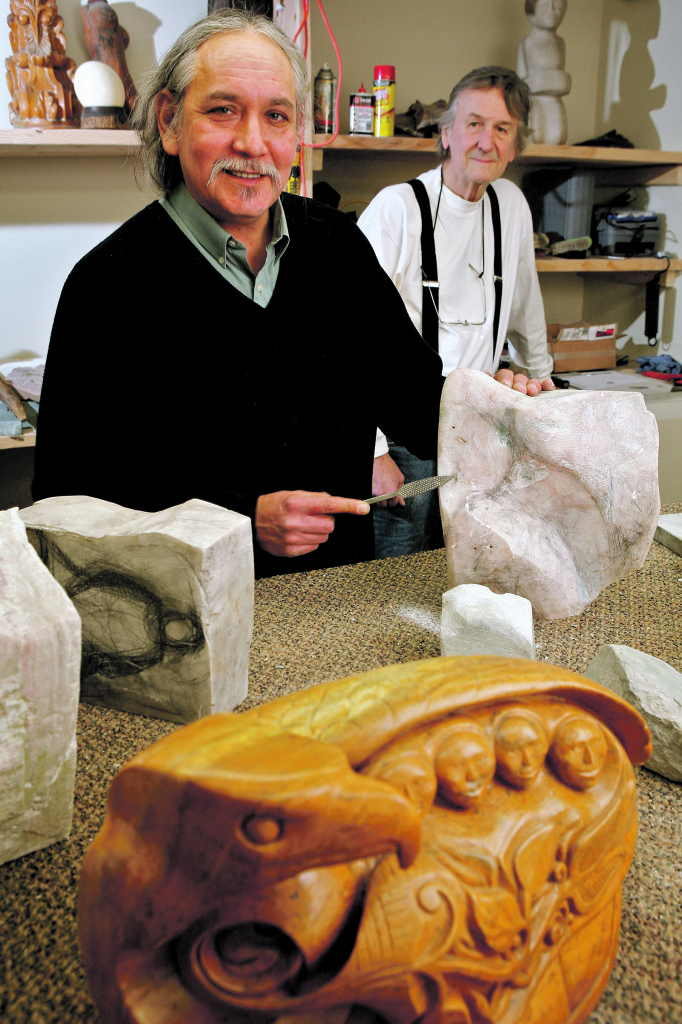 While Summers walked around the space, Huff went to the back of the studio and re-emerged with bottled waters, croissants and two of Summers' old works. Because he's Huff the curator.
Summers couldn't remember the year he had done the paintings, but Tom did. "I think that's my favorite, curating," Huff said. "I like putting exhibits together. Telling stories."
That's Huff the storyteller, telling histories in stone. A small stone canoe sits high atop a shelf in Huff's studio, surrounded by smaller carvings, clearly in a place of honor.
"I'd like to make a life-size stone canoe and place it out at Onondaga Lake," Huff said, launching into a miniature lesson, detailing how there once was a man, sent by the Creator, to bring peace to the warring nations. "He came across what is now Lake Ontario in a stone canoe so people would know he was telling the truth."
It's a piece he takes with him. At the Native American Arts and Culture Festival at Colgate University on Oct. 19, his booth was set up with his sculpture, with the stone canoe front and center. People stopped to touch, to stare, to ask about the art.
Because, of course, Huff is just that: an artist.
"What I can say about Tom as an artist is that he just doesn't confine himself," said Rose Viviano, director of the ArtRage Gallery. "Just look at what he's doing over there at that studio. He's promoting other people's art as well as showing his own, and he teaches. He's just there. He notices everything. It always finds its way into his art."
Kimberley McCoy, the community engagement organizer at ArtRage, agreed with Viviano. "It seems like he just looks at a stone and sees what it's going to be inside," she said.
Inside those stones are stories of his life and the lives of others around him, stories that are new and that have been passed down from generation to generation.
"My grandfather, David Owl, was a gifted storyteller. And my grandmother, Janie Crow, was a teacher. They liked to travel and collected art from the various Native nations they visited. I grew up with their collection," Huff said. "I am Seneca, Cayuga, Cherokee, Catawba, Scottish and Irish. I got his gift for storytelling, I just tell my stories in stone."
CLICK HERE for more ART related articles!
[fbcomments url="" width="100%" count="on"]