The latest addition to downtown Syracuse's booming beer community isn't like other brewpubs. "It's all about the beer," noted Sahm Brewing Co. owner Ryan Sahm.
Sahm Brewing takes part of the space within the former Clark's Ale House on 203 S. Salina St. The operation offers a mix of production brewing with a homebrew feel. Sahm stores a 31-gallon batch barrel in the basement; for comparison, Empire Brewing Company has 60 barrels at its Cazenovia farm. Sahm also has three electric kettles and two stainless steel fermenters, along with several more that he fabricated himself.
Despite its smaller size, the brewery has a focus on education. Sahm wants people to come in and ask questions about the beers: what taste they were going for, the history of the type of beer, notable points about each batch. His bartenders also chat about the beers with customers.
"It's somewhere to come in and learn about what you're drinking," Sahm said.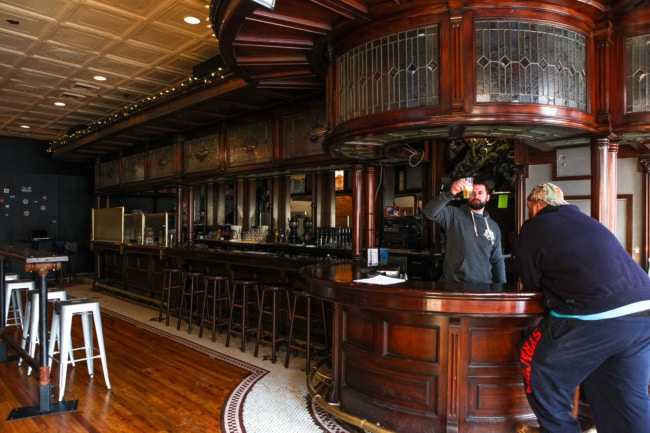 The brewery currently serves six house beers and six guest beers, along with some wine and cider. Sahm hopes to create a "beer bible," an encyclopedia of sorts to go along with the menu, outlining each drink for customers.
Sahm had previously brewed at the Cosmopolitan Building on West Fayette Street. He had to close his operation after learning the building wasn't properly zoned for all of his ambitions, most notably a tasting room.
Ironically, Sahm filled out the paperwork to get Sahm Brewing off the ground while sitting at a table at Clark's, shortly before the venue closed its doors in the summer of 2016. When Sahm finally decided to relocate, the Clark's spot wasn't on his mind; he originally envisioned opening his business in Manlius or another suburb. The rental space sign at Clark's caught his eye, however, and he decided to call.
Now Sahm thinks of himself as a Salina Street pioneer, bringing the same sense of revitalization he has seen throughout the city. Sahm was born in Central New York but was raised in Arizona; after a stint with the Navy, he returned to the Syracuse area five years ago.
Sahm's history with beer stems from his Navy years, when he would quaff a local brew wherever he was stationed. He has taken beer-related courses through the Cicerone Certification Program, and he plans to continue those studies. "Everything I learned, I want to give back," he said.
Sahm Brewing Company is open Wednesday through Friday, 3 to 10 p.m.; Saturdays, 1 to 10 p.m.; and Sundays, 1 to 8 p.m. For information, call (315) 877-7246.
[fbcomments url="" width="100%" count="on"]