The best family TV has something for everybody: slapstick for the kids, a cute teenage boy for the aloof older sister, a tragic love story for Mom, and some funny grown up jokes at which Dad can chuckle knowingly.
Red Band Society has all of those things, with a healthy dose of Spielberg schmaltz.
The new Fox series, for which Steven Spielberg is an executive producer, premiered on Wednesday. It centers around the lives of six young patients in a pediatric ward. Their struggles are as diverse as their skin colors (which is to say: not very), but they do have one specific thing in common: they're living in a hospital. Full time. This, it seems, is enough to foster deep emotional connections among teenagers who otherwise would never dream of looking each other in the eye.
The show opens with a cheerleader, Kara (Zoe Levin), flying up into the air, her hair splayed behind her, her arms and hands in perfect position. Through a series of quick cuts, we learn that she is quite the bossypants, with bad habits and few friends. Suddenly, she passes out. Each member of her cheer squad whips out their phone. Someone says, "shouldn't we call 911?"
"Not 'til I post this on Instagram."
Okay, Red Band Society. You're hip. Got it.

Next, the parking lot of the hospital. A nurse (Octavia Spencer) shouts at a driver who almost hits her. The name on her coffee cup? "Scary bitch." This woman is no-nonsense! And a stereotype!
Cut to two young men, Leo (Charlie Rowe) and Dash (Brian "Astro" Bradley), smoking weed in a supply closet. The narrator notes that Leo has been making bad choices lately. He has cancer, and his prognosis is uncertain.
Other characters include smart girl Emma (Ciara Bravo), who has an eating disorder, and musically talented Jordi (Nolan Sotillo), who came all the way from Mexico to seek help from the best pediatric oncologist in the biz. He didn't have an appointment, but Dr. McAndrew (Dave Annable) takes him on anyway – without ever talking to his parents or verifying his identity. Nice!
And what about our friendly narrator? His name is Charlie (Griffin Gluck), and he's talking to us from a coma. He sees and hears all, and can even talk to the other kids when they lose consciousness and end up "in between."
Such realism!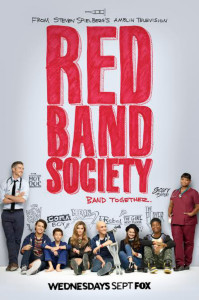 I had high hopes for Red Band Society. In the weeks leading up to the premiere, it drew potential comparisons to one of my all-time favorites, My So-Called Life. I watched re-runs of MSCL with my mom as a preteen. Maybe this was a little early for storylines about teen sex and drugs, but the show's exploration of homophobia, abuse and homelessness opened my little eyes to a big part of the world. Angela's (Claire Danes) honest voiceovers stuck with me for years. It was one of the first TV shows that spoke to me, and made me feel a little less alone in zit-faced, crush-obsessed, self discovery hell.
RBS could be exactly like this, if it toned down the schmaltz. By "tone it down," I mean lay off the unbelievable conveniences and the forced emotion. These kids' stories could be compelling and humbling on their own. We don't need lines like, "you might just change your world," or "life is full of black holes, and the only person who can pull you out is you." Let the kids speak for themselves – as kids, like Angela on MSCL did. I want to like these characters and be moved by their stories. Dear writers: calm down!
Hopefully, now that all of the exhaustive exposition is out of the way, we can move on to real storytelling.
Red Band Society airs Wednesdays at 9pm on Fox.
Fall TV: Premiering this week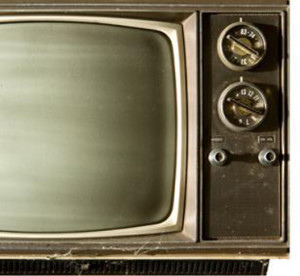 If you haven't yet found a new show you love, clear your schedule. This is the week for new network television; forty-one shows will premiere or return in the next ten days.
Monday, September 22
The Big Bang Theory (CBS), Season 8 – 8pm
Gotham (Fox), NEW – 8pm
The Voice (NBC), Season 7 – 8pm
Scorpion (CBS), NEW – 9pm
Sleepy Hollow (Fox), Season 2 – 9pm
Forever (ABC), NEW – 10pm
The Blacklist (NBC), Season 2 – 10pm
Tuesday, September 23
NCIS (CBS), Season 12 – 8pm
Marvel's Agents of S.H.I.E.L.D. (ABC), Season 2 – 9pm
NCIS: New Orleans (CBS), NEW – 9pm
Person of Interest (CBS), Season 4 – 10pm
Chicago Fire (NBC), Season 3 – 10pm
Wednesday, September 24
The Middle (ABC), Season 6 – 8pm
Survivor (CBS), Season 29 – 8pm
The Goldbergs (ABC), Season 2 – 8:30pm
Modern Family (ABC), Season 6 – 9pm
Law & Order: SVU (NBC), Season 16 – 9pm
Black-ish (ABC), NEW – 9:30pm
Nashville (ABC), Season 3 – 10pm
Chicago P.D. (NBC), Season 2 – 10pm
Thursday, September 25
Grey's Anatomy (ABC), Season 11 – 8pm
Bones (Fox), Season 10 – 8pm
Scandal (ABC), Season 4 – 9pm
How to Get Away With Murder (ABC), NEW – 10pm
Parenthood (NBC), Season 6 – 10:30pm
Friday, September 26
Shark Tank (ABC), Season 6 – 8pm
The Amazing Race (CBS), Season 25 – 8pm
Hawaii Five-O (CBS), Season 5 – 9pm
Blue Bloods (CBS), Season 5 – 10pm
Sunday, September 28
Once Upon A Time (ABC), Season 4 – 8pm
The Simpsons (Fox), Season 26 – 8pm
Brooklyn Nine-Nine (Fox), Season 2 – 8:30pm
Family Guy (Fox), Season 13 – 9pm
Resurrection (ABC), Season 2 – 9pm
CSI (CBS), Season 15 – 10pm
Revenge (ABC), Season 4 – 10pm
Monday, September 29
Mom (CBS), Season 2 – 8pm
Castle (ABC), Season 7 – 9pm
NCIS: Los Angeles (CBS), Season 6 – 9pm
Tuesday, September 30
Selfie (ABC), NEW – 8pm
Manhattan Love Story (ABC), NEW – 8:30pm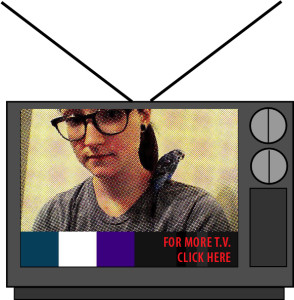 Sarah Hope is a graduate student at Syracuse University, where she focuses on television, entertainment history and classical music. Find her on Twitter @sarahmusing.
[fbcomments url="" width="100%" count="on"]