Way back in February 1977, a small group of New York City cycling enthusiasts had a dream. They would launch a ride across the city that would become so popular that a Marriott in the Financial District would be able to gouge guests $20 per night to store a bicycle in a nearby garage.
Thus was born the Five Boro Bike Tour, which has since exploded into an annual spectacle of 32,000-plus cyclists of all ability levels, from "Where Do My Feet Go?" to "Class 7 Elite Assbite."
Sunday, May 3, was my first time doing the 40-mile, car-free ride. It didn't go off without a hitch. There was too much stopping and starting as cyclists bunched up at bottlenecks, and the wait for the ferry from Staten Island back to Lower Manhattan was interminable as exotic fungi colonized thousands of Spandex-ensconced personal zones.
But what fun! We saw riders on bikes with boom boxes, on fat tire bikes, on tiny subway bikes, on tandems and in tutus.
Almost without exception, a spirit of good-natured civility ruled the day as riders juggled two contradictory tasks: 1. Taking in the breathtaking views of New York City, and 2. Trying not to crash into other riders taking in the breathtaking views of New York City.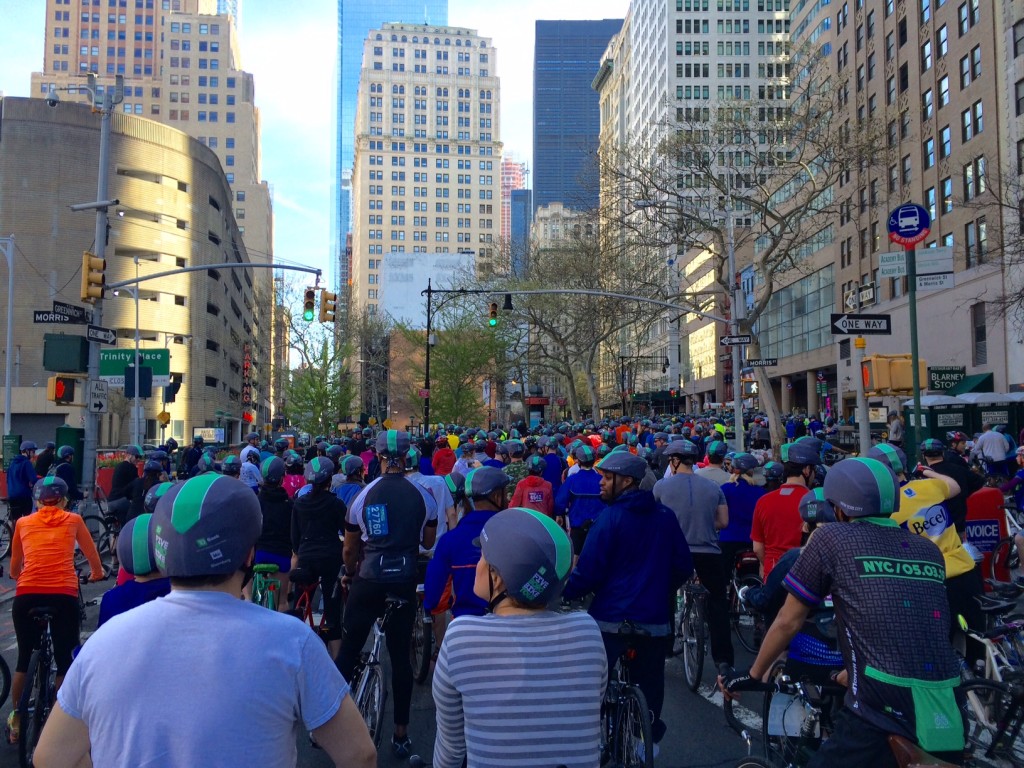 One of my favorite moments: As we coasted off the Ed Koch Queensboro Bridge, a portly volunteer with a bullhorn declared, "Welcome to Astoria, home of Greek gods such as myself."
Everyone was especially smitten with fun-and-funky Brooklyn. Even my ride-mate, Chin Okigbo, who was experiencing some cramping, couldn't stop raving about it. You know a place is cool when even cramps can't kill the fun.
You might recall that I've written about Chin before. He's an unduly stern indoor cycling instructor at the Fayetteville YMCA who boasts a hulking, muscular frame and an energetic nature. Why he showed up for the Five Boro ride on a chunky-tired mountain bike that was almost small enough for a child is unclear, but on some level it worked for him.
Zipping around at uphill speeds topping 140 miles an hour, Chin looked like the world's largest Nigerian-born Shriner. Unfortunately, sprinting on a dwarf bike in summer-like heat without drinking enough water has a way of catching up with you.
Midway through the ride, Chin complained that his quads and hands were cramping up, so from that point on we needed to make multiple Chin replenishment stops to allow him to intake staggering amounts of complimentary sustenance provided by corporate sponsors. Then he would resume sprinting. At a rest stop in Queens, organizers imposed a 30-bagel limit per rider the moment he departed.
Not that I didn't have issues of my own. As the ride got under way it struck me that I had to use the bathroom in a major New York City kind of way. I'll say this: Regardless of how many times you have been to New York City, you can't fully appreciate the scope of Manhattan until you cycle its length searching for a portable toilet. I was so focused on the quest that I probably missed some of the bands and other attractions. (Apparently, there's a big park or something in Manhattan.)
When a comfort station finally appeared in Harlem, I nearly wept with relief, but my joy was premature. The lines were desperately long. I distracted myself by wondering what might possibly explain why one portable toilet was still locked after 15 minutes. Eventually someone else had the same question and summoned the cops, who investigated. About then, Chin and I pedaled off to the Bronx, which seemed a somewhat better alternative to hanging around to discover what those poor officers found when they jimmied open that toilet.
We took six hours to go 40 miles, but who cares? This was Bucket List stuff, an unforgettable day capped by a majestic climb over the Verrazano-Narrows Bridge. On the ferry back, I looked back over the refugee-like mass of cyclists on the car deck, and the Statue of Liberty came into view, framed by the ferry's stern. Perfect.
OK, Marriott. You can keep your $20 storage fee.

[fbcomments url="" width="100%" count="on"]