In his usual colorful way, Syracuse University assistant men's basketball coach Mike Hopkins says what the Orange offense is going through right now is like "speed dating."
In other words, the Orange players are desperately trying to find out everything about each other in a relatively short period of time.
"That's what happens with young players," Hopkins said. "We have a lot of inexperience at a lot of positions."
Through the first three weeks and six games of the season, the Orange offense remained "a long ways away," according to head coach Jim Boeheim. Only senior center Rakeem Christmas (17.5 points per game before Tuesday's game at Michigan) and freshman forward Chris McCullough (15.3) have played consistently well on offense.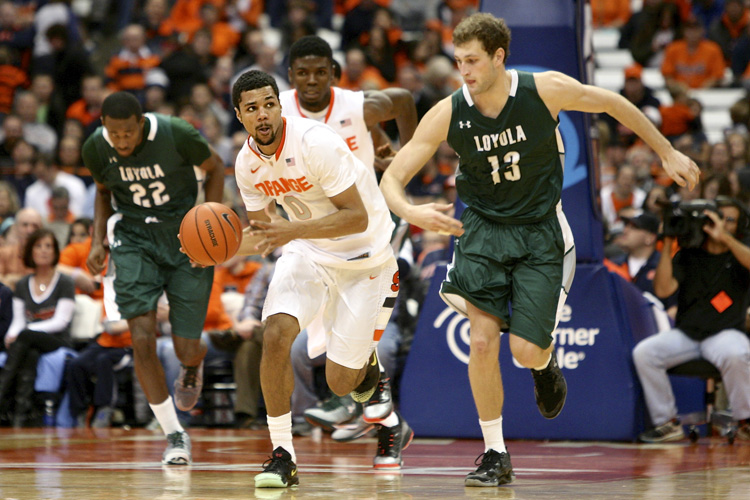 Shooting guard Trevor Cooney was averaging 10.3 points per game, but shooting only 27 percent (9-for-33) from 3-point range. Freshman point guard Kaleb Joseph shows promise but hasn't been a steady scoring threat. Guard/forward Michael Gbinije and forward B.J. Johnson aren't producing nearly enough for the amount of minutes they've played. Forward Tyler Roberson missed two games because of a strained abdominal muscle.
Take away Christmas and McCullough, and the rest of the team is shooting 37 percent overall and 19 percent (18-for-88) from 3-point range. SU has scored more than 70 points just once, against lowly Kennesaw State, and that's not going to cut it in the Atlantic Coast Conference.
"You can't win," Boeheim said, "with two guys."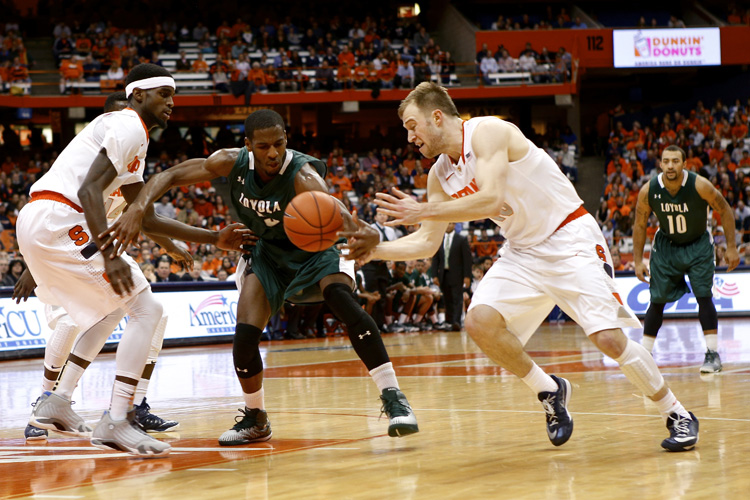 In recent years, the Orange (5-1 before Tuesday) has won a bunch of games because of a balanced offense that had at least four players in double figures and a few others just below that mark. Boeheim expected growing pains entering this season, but he was counting on more from his veteran players: Christmas, redshirt junior Cooney and junior Gbinije, who sat out a year at Syracuse after transferring from Duke.
Despite his early-season shooting woes, Cooney remains the team's best 3-point shooting option because Johnson (5-for-20), Gbinjie (2-for-16) and Ron Patterson (1-for-10) have been even worse.
"We have to take better shots and take advantage when we get good looks," Cooney said. "We just have to continue to find the open spots and take advantage of it."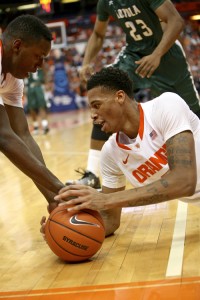 Gbinije missed the Orange's first game because of an undisclosed disciplinary reason and hasn't been able to get on track.
"Somehow, we've got to get Mike to play better," Boeheim said. "That's paramount in my mind, thinking about this team right now. He's just not effective, at all. That's not something we envisioned going into this year."
Here's another sobering thought when it comes to the offense: Even with C.J. Fair, Tyler Ennis and Jerami Grant last season, the Orange ranked 10th in the ACC in scoring, at 68.2 points per game. Boeheim said the Orange offense "needs time" just to get to last year's level, if it ever does.
"We had a number of really, really smart players who understood the game and knew how to play the game for a long time," Boeheim said. "We're young. We have guys who are trying to figure out how to play the game."
And so the "speed dating" continues. And while it may not be love at first sight, Joseph sees the potential for a long-term relationship.
"It's still early in the season and no team in the country is as good offensively. Coach is just a little more blunt about it," Joseph said. "We have to keep coming to practice every trying to get better. That's all we can do."
Fast Fact: After losing to California Nov. 20 in the 2K Classic (its first November loss in seven years), the Syracuse University men's basketball team dropped out of the top 25 rankings for the first time since Nov. 16, 2009.
Matt Michael is a freelance writer based in Syracuse. Email him at [email protected].

[fbcomments url="" width="100%" count="on"]