Through the early part of this college basketball season, you could make the argument that the Syracuse University men's basketball team has improved along with the quality of its opponents. And that's a good thing, because the schedule is about to get a lot tougher.
The Orange opened this season with wins over Cornell, Iona, Texas Southern and Oakland. Cornell is a middle-of-the-pack Ivy League team, Iona (Metro Atlantic Athletic Conference) and Texas Southern (Southwestern Athletic Conference) are mid-majors that made the 2017 NCAA Tournament, and Oakland was the preseason favorite to win the Horizon League.
And on Wednesday, Nov. 22, 7 p.m., at the Carrier Dome, the Orange will continue its march through the mid-majors when it plays a Toledo team from the Mid-American Conference that defeated Oakland 87-74 Nov. 18 as part of the round-robin Hoophall Miami Invitational that also includes Syracuse, Texas Southern and Kansas.
After Toledo, the Orange faces a three-game gauntlet against Maryland in the Big Ten-ACC Challenge Monday at the Dome, No. 4 Kansas Dec. 2 in the Hoophall Miami Invitational championship game in Miami, and Connecticut Dec. 5 in the Jimmy V Classic at Madison Square Garden in New York City.
"I feel like these young guys are getting more experience out there and every game we're getting better," said Geno Thorpe, a senior graduate transfer from South Florida. "We're making mistakes but we're able to learn from our mistakes and coach (Jim Boeheim) is obviously, you know, on our young guys and me especially about making the right play. So I think by the time our schedule gets a little harder we'll be prepared."
Having lost six key players from last year's team (Tyler Lydon, Andrew White, John Gillon, Taurean Thompson, DaJuan Coleman and Tyler Roberson), the Orange entered this season with only one returning starter — guard Tyus Battle — and a lot of question marks. In the preseason Atlantic Coast Conference media poll, Syracuse was picked to finish 10th in the 15-team league — the lowest the Orange had ever been selected in all its years in the Big East Conference and ACC.
But so far, the Orange has overcome an inexperienced roster that includes only three players who appeared in a game for Syracuse last season (Battle, point guard Frank Howard and center Paschal Chukwu). Battle has been spectacular, Howard's shot and decision-making are improving and the 7-2 Chukwu has given SU size and a shot-blocking threat in the middle of its 2-3 zone defense.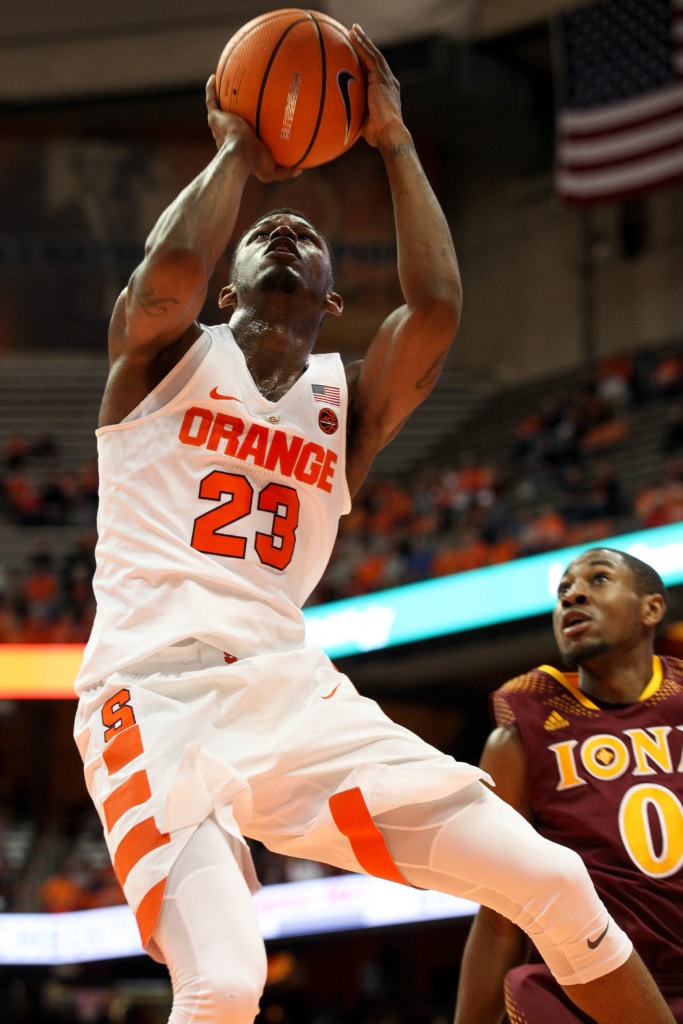 Freshman forward Oshae Brissett is oozing with potential, freshman center Bourama Sidibe is pushing Chukwu for more playing time, and freshman forward Marek Dolezaj has become a fan favorite as "he goes after the ball better than anybody on our team," Boeheim said. Watching Dolezaj and Sidibe run the high-low on offense as freshmen makes you wonder what they can accomplish as seniors if they stay that long.
Redshirt freshman forward Matthew Moyer and freshman guard Howard Washington are still finding their way, while Thorpe flashed his promise with 13 first-half points against Texas Southern while Battle sat on the bench with two fouls. Thorpe had been bothered by an ankle injury at the start of the season and said he's "still working my way back."
While this year's team won't match the offensive firepower of last year's squad, it appears that it will play far better defense. The Orange limited Cornell to 25 percent shooting and Iona to 36 percent before Texas Southern shot 44.9 percent in a game Syracuse led by 22 midway through the second half before winning 80-67.
Against Oakland, the Orange cooled off guards Kendrick Nunn and Martez Walker, who entered the game averaging a combined 52.3 points per game. Walker and Nunn combined for 26 points and 27.5 percent shooting (8 for 29).
"We're bigger at the guard spot and we're moving up on the shooters better than we did last year," Boeheim said after the Oakland game. "We discouraged them from taking them, and when they got in the post they have to deal with Paschal in there."
Battle, whose spin move along the baseline and thunderous dunk against Texas Southern will make NBA scouts drool, said the team is improving but cautioned that the young players will have their ups and downs.
"We're still learning, so there's going to be some bumps in the road," Battle said after the Texas Southern game. "We're so young and it's the first time we're playing together, but I definitely see our improvement over the last three games."
How much they've improved is about to be tested against Maryland (5-0, including a win over Butler), powerhouse Kansas, and a 5-1 Connecticut team that upset the Orange 52-50 last year at the Garden. Looking ahead, and knowing how the NCAA Tournament Selection Committee has emphasized non-conference wins and losses in recent years, this stretch could help determine whether the Orange makes the NCAA Tournament.
"That's why I came to a school like this, a big school, so I could play those big games," Brissett said. "Everyone's excited, we're ready to play those big and better teams and then we'll really know who we are as a unit. Everyone's excited for that."
No Bowling for SU Football
After the Syracuse football team's 27-24 upset of then-No. 2 Clemson Oct. 13, the 4-3 Orange appeared to be a lock to win two of its final five games and reach a bowl game for the first time in four years. But after getting blasted by Louisville 56-10 Nov. 18, the Orange is still looking for its fifth win and now won't qualify for a bowl game even if it defeats Boston College on Saturday, Nov. 25, 12:20 p.m., at the Dome.
Saturday's season finale is Senior Day and will include a salute to the 2017 senior class that includes such stalwarts as wide receivers Steve Ishmael and Erv Phillips, linebackers Zaire Franklin and Parris Bennett, and kicker Cole Murphy. Tickets are available online (Cuse.com/tickets), by phone ((888) DOME-TIX) and at the Carrier Dome Box Office (Gate B) during regular business hours. SNT
[fbcomments url="" width="100%" count="on"]