For the past few months, I've been actively working on a UFO statistics book. Needless to say there has been some number crunching going on in my household.
Recently, several friends asked about what time of year is best for UFO spotting. Off the top of my head, I told them the only high sighting months are July and August, but this was based on my weekly research writing this column. To date, I really hadn't actually compiled a chart based on real statistics, it had always been a gut sense of the numbers.
As it turns out, this is one of those times that my gut had it wrong. Both summer and fall are the peak time to see UFOs!
The chart below is a 15-year compilation of National UFO Reporting Center data of over 4,000 New York State UFO sighting reports. This data was scrubbed for reporting errors and database errors.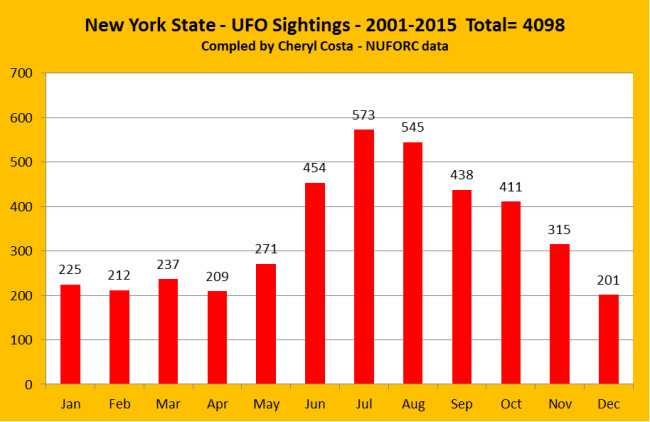 I always knew that January, February and March were somewhat slow months for UFO reporting. I always figured that it was the cold weather here in New York. What I didn't realize was the almost flat sighting season from December through May. I really expected April and May to be good sightings months, given the temperate spring time weather.
June, July and September were about where I expected them to be, as they are the peak summer months here in Central New York. My other surprise was the gradual drop off in sighting reports in September, October and even November. My gut was telling me that after the summer season the weather really starts to cool off. I expected the UFO sighting report to dip off sharply; they didn't. Not until December do we see a distinct flattening of the UFO sighting reports.
To be honest with you, I never expected 15 years of actual UFO Sighting report numbers to shape up the way they did. A high school math teacher once told me, "Numbers don't lie!" I guess he was right.
Let's look at some recent UFO sighting in New York Skies:
Feb. 26, 2016: At 7 p.m., a resident of Melville reported seeing three bright flying objects over the city.
Feb. 27, 2016: At 6:20 p.m., a resident of Cazenovia reported a linear flying object with white light at either end, flying slow and silently.
Feb. 29, 2016: At 10:45 p.m., a resident of Woodside witnessed two cigar-shaped UFOs flying in a parallel formation.
March 2, 2016: At 6:50 a.m., a New York City resident reported several long thin objects with bright colored light hovering near the Statue of Liberty.
If you are interested in joining a monthly UFO discussion group in the Onondaga County area, drop Cheryl an email [email protected]. If you have a UFO sighting to report, you can use either one of the two national database services: nuforc.org or mufon.com. Both services respect confidentiality.
Cheryl Costa would love to hear the when, where and what of your New York sighting. Email it to [email protected]. The names of witnesses will be omitted to protect their privacy.
[fbcomments url="" width="100%" count="on"]