Many critics cite Mikhail Bulgakov's surreal, anti-Stalinist satire The Master & Margarita as one of the top 100 novels of the 20th century. As tweaking the regime was then a hanging offense, Bulgakov (1891-1940) had to work on it furtively, and the work was thought lost until it was widely published in 1967. Although only 384 pages in the vintage paperback and a fairly easy read, Master is so filled with allusion it could easily occupy an undergraduate literature class for two weeks. Not only does it draw deeply from European culture, especially the Faust legend, but several characters in the story were written to skewer specific Soviet personages.
Not to worry. A new stage adaptation by Le Moyne College's Matt Chiorini, together with students Jessie Gherardi and Nastasia White, seizes on the abundant good theatrical fun Bulgakov offers. Le Moyne's Boot and Buskin Theatre Group presents The Master & Margarita through Saturday, April 5.
This is not the first adaptation. Program notes remind us that there have already at least 13 live action and animated movies, television series and graphic novels. This one is set apart by being self-contained and fairly short (two hours and 20 minutes with intermission) and set in a nether-present. Many men still wear fedoras, but language is more up-to-date. A stuffed-shirt skeptic named Berlioz (Alex LeBlond) dismisses the Jesus of the Gospels as a "post-modern, deconstructed metaphor." When there is a complaint about lax security, one character sneers that too many people are so naïve as to use "1-2-3-4" as a PIN number.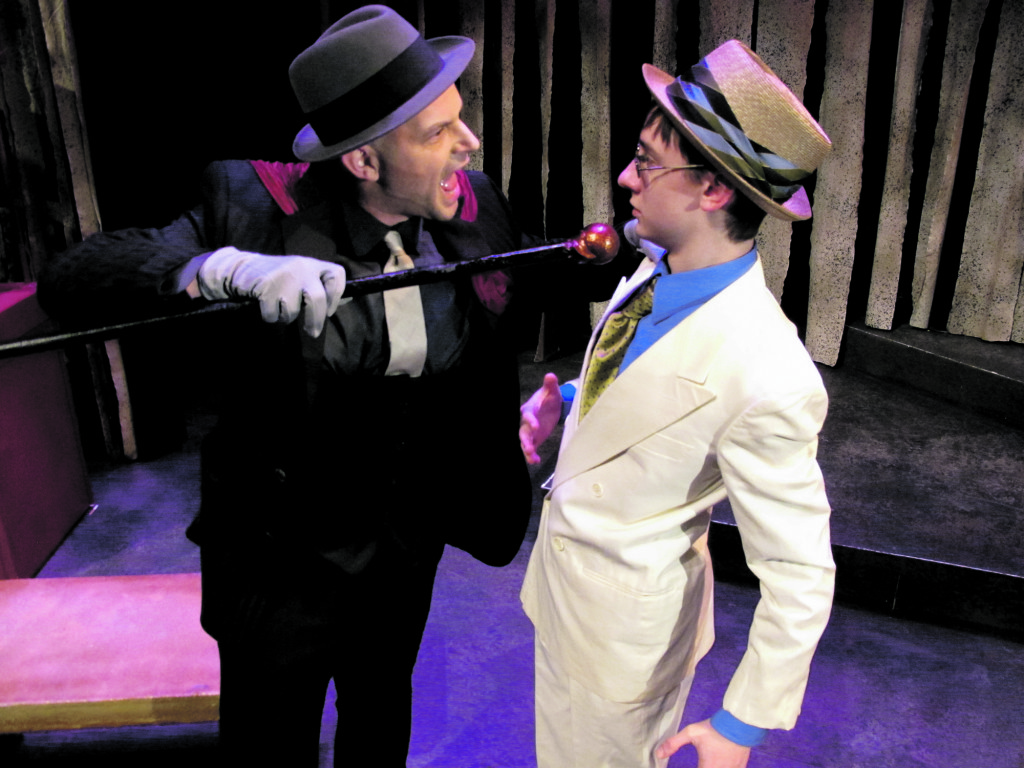 The three story lines jump around centuries in time and space but move quickly and are easy to follow. Adapter Chiorini prudently handed over the direction to veteran Leslie Noble, who has worked closely with ace scenic designer Karel Blakely. Not only do substantial-looking sets fly about in a trice, but the canopied bed, where one character suffers nightmares, turns into an open channel for infernal creatures to pour onto the stage.
Two strands begin in a Moscow of the present, a grim city of doubt and cynicism. Two writers struggle to be heard: Ivan the homeless poet (Peter Medici), who risks being declared mad, and a novelist called the Master (Drew Gripe), clearly a stand-in for Mikhail Bulgakov. His lover Margarita (Brittany Fayle) is already married to somebody else, but she returns his love and gladly serves as his muse. She disappears for a while but lives up to her double billing in the second act. No mere beauty, Fayle's muse delivers some of the most compelling emotional heavy lifting.
A second force challenges the pedestrian rationalism of unexcitable Muscovites. It's smirking, self-confident Professor Woland (Matt Chiorini), who brings along a magic show with an entourage. Defying reason, he can predict the future. When he declares that the self-important popinjay Berlioz will soon be decapitated, his head indeed does not rest on his shoulders very long. Eventually, without changing costume, Woland is revealed to be the Devil. In that persona, paradoxically, he grumbles, "Evil isn't sexy any more."
"Sexy" is not a bad term for the folks traveling with Woland. They are the snarling, somewhat goth Hella the vampire (Lexi Bedore); rakish, bare-midriffed Azazello the Pirate (Marco Tutino); and most surprising of all, Behemoth-the-Cat (Travis Milliman), who loves vodka and plays chess. Milliman, the largest player we see, is superbly outfitted by costumer Lindsey Quay Sikes with a wide red tail and six-inch black nails. All of the Devil's people have an advantage on stage, and Milliman makes the most of it.
The third strand is set in biblical times, in which Pontius Pilate (Vincent Randazzo), the Roman governor, equivocates and vacillates over the execution of a possibly treasonous holy man named Yeshua (Kahlil Russel Starks). Pilate and Yeshua are the subtlest and most intense roles in a flashy show, and director Noble guides the student players well here.
Evil upon evil exudes from Chiorini's dual role as the magic show man and the sulfurous deity. With all his side teeth showing in a threatening smile, he's no mere taunter like Mr. Applegate in Damn Yankees. This one could have overcome Daniel Webster in the courtroom. The founder of Methodism, John Wesley, said the Devil had all the best songs. He has the best jokes, too.

[fbcomments url="" width="100%" count="on"]