Mary Fahl doesn't believe in following the rules. A singer since childhood, Fahl had her first big break with the October Project in the early 1990s. But after leaving the pop group in 1996, Fahl had to figure out how to keep competing against the odds.
"I would say to my own management, 'How come so-and-so has a deal?'" recalls Fahl. "And they'd say, 'She's 19. There's your answer.' (After the October Project) they said I'd never get a deal; I was too old. But I didn't get one deal: I got two. I was 40. I was no kid."
Fahl signed with Odyssey/Sony Classical and in 2003 released the daringly cinematic, orchestral record The Other Side of Time. Her songwriting talents, which hadn't been put to full use in the October Project, were suddenly on full display. And her robust vocals, which have been called "a voice for the gods" (Boston Globe) and "soul-permeating" (Portland Press), gained even greater attention, although it had actually worked against her in the past.
"Initially I thought I wanted to be in musical theater," Fahl, 56, explains. "But I didn't look the way I sounded. I was impossible to cast. I was a small girl who looked like a soprano, but instead I had this very deep, big voice.
"I sing from my gut," Fahl declares. "Not even my gut: I sing from my feet."
Her signature sound led her to covers-driven work and a signing with V2 Records. The label found her when she was working on a reinterpretation of Pink Floyd's 1973 LP Dark Side of the Moon in 2005 and 2006. It was during those sessions that she also started working with Mark Doyle, the noted Syracuse multi-instrumentalist, songwriter and producer.
Fahl and Doyle recorded the project in Doyle's home studio. "I can't believe we pulled it off in that space," Fahl says of the "walk-in-closet"-size studio. "We got to know each other over those months of From the Dark Side of the Moon and Mark played almost every instrument on the record. We became good friends and wanted to do larger shows."
Unfortunately, the V2 label went under just before the CD's planned 2007 release. Fahl self-released From the Dark Side of the Moon in 2011 and hopes to issue the record on vinyl next year.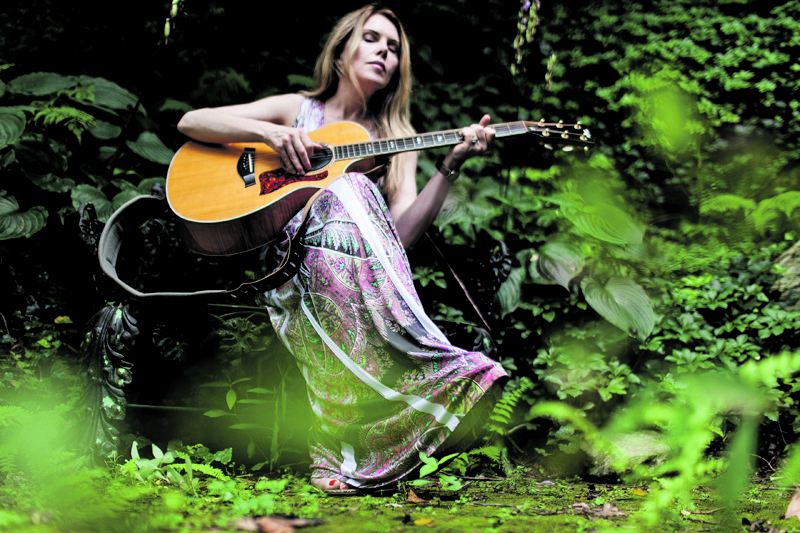 Fahl and Doyle still work together regularly and will do so again at the Redhouse Arts Center on Saturday, Oct. 4, 8 p.m. They'll be joined by members of Syracuse-based band Grupo Pagan, including Joshua Dekaney, Edgar Pagan and Bill DiCosimo. Fahl will likely perform tracks from her new double-CD release Live at the Mauch Chunk Opera House (Rimar Records), recorded in September 2013 at the Jim Thorpe, Pa., venue.
"I like to give the boys moments where they can stand out and do their thing," Fahl says about the Syracuse crew. "I like to give Mark moments to be the rock'n'roll guitarist he is. The whole show we do as a band takes you to a lot of different places. Emotionally, there are a lot of highs and lows."
Those highs and lows come with the material. Aside from Pink Floyd and the October Project, Fahl covers songs from the 11th century, a testament to her college studies at McGill University in Montreal, where she took classes in medieval history and literature.
"If I hear something and it speaks to me, I fall in love instantly with songs," she says. "From the moment I hear them, I know if I love them or don't. You have to sing these songs over and over, so you have to adore them to the point that they happen all over again for you every time you sing them. There's one song, 'Ben Aindi Habibi,' that reached across centuries for me. I sing it in an archaic language and I must have sung it 1,000 times by now. But it happens to me all over again every time."
Fahl plans on singing that song, and others, many more times throughout her career. "I see myself doing this when I'm 90 years old," she says. "I'm in this for life."
Mary Fahl performs Saturday, Oct. 4, 8 p.m., at the Redhouse Arts Center, 201 S. West St. Accompanying Fahl will be Mark Doyle and Grupo Pagan members Joshua Dekaney, Edgar Pagan and Bill DiCosimo. Tickets are $25. For more information, call 362-2785 or visit theredhouse.org.
Advice from the Artist
"Be yourself. I sound like who I sound like. I don't think I sound like anybody else. I never have. You can like what I do, or hate it, but you know it's me when it starts. It's very hard for artists to be singular nowadays. Find your own signature. Judy Garland said something like, 'Be the best you, not a good somebody else.' And don't give up. They say shake the apple tree and get a pear. You gotta shake the apple tree a lot."

[fbcomments url="" width="100%" count="on"]