For the first time since 1993, the Syracuse University men's basketball team will not participate in a national postseason tournament (either the NCAA or NIT). And for the first time since 1979 — the year before SU joined the Big East Conference — the Orange will not play in a conference tournament.
That means we won't be taking long lunches to watch the noon games. We won't be — cough, cough — coming down with a sudden touch of something so we can skip out of work early to catch the 2 or 4 p.m. game. We won't be arranging our evening schedules around the 7 or 9 p.m. game, and we won't have to spend a day sleepwalking through work because we stayed up for the 10 p.m. or midnight game.
We won't be throwing on our Orange T-shirts and hoodies and meeting friends at Tully's for the SU games. We won't be sitting in the same spot on the couch where we sat for the Notre Dame game last week because that seemed to work. And while we'll still fill out NCAA Tournament brackets, it won't be the same without one corner of our bracket reading Syracuse … Syracuse … Syracuse … Syracuse … Syracuse … Syracuse … Syracuse.
March Sadness, indeed.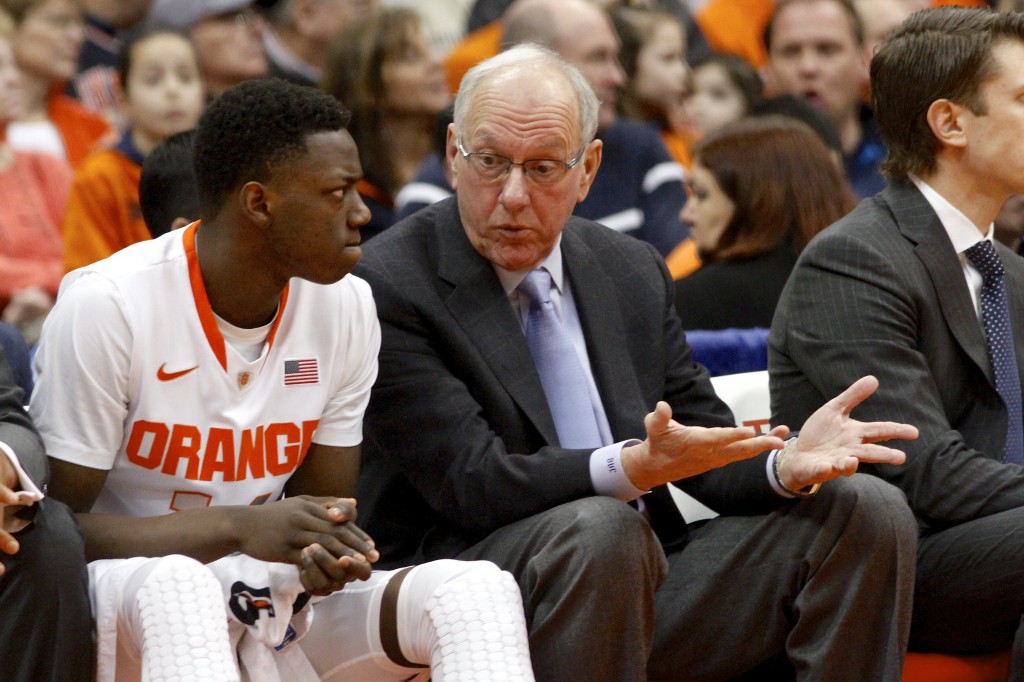 "Empty," Liverpool native and lifelong Syracuse fan Bob Lindsley said. "Empty because we've been spoiled. We're used to winning 20 games every season, going to the NCAA Tournament every season, and in many seasons going to the Sweet 16 or further.
"I'll watch the NCAA (tournament selection) show, but the feeling won't be there," Lindsley added. "Just no enthusiasm for it."
"It's a March without meaning," said Jay Stith, of Skaneateles, a 23-year-old Syracuse fan who was 1 year old the last time SU missed a national postseason tournament. "But on the other hand, it'll be nice to casually watch the ACC (Atlantic Coast Conference) Tournament or the first weekend of the (NCAA) Tournament without having to worry about rearranging my schedule."
"What we'll have to do is start following the Crunch," Orange fan Joe St. Louis, of Camillus, said, referring to Syracuse's first-place professional hockey team.
Cold Day in the 'Cuse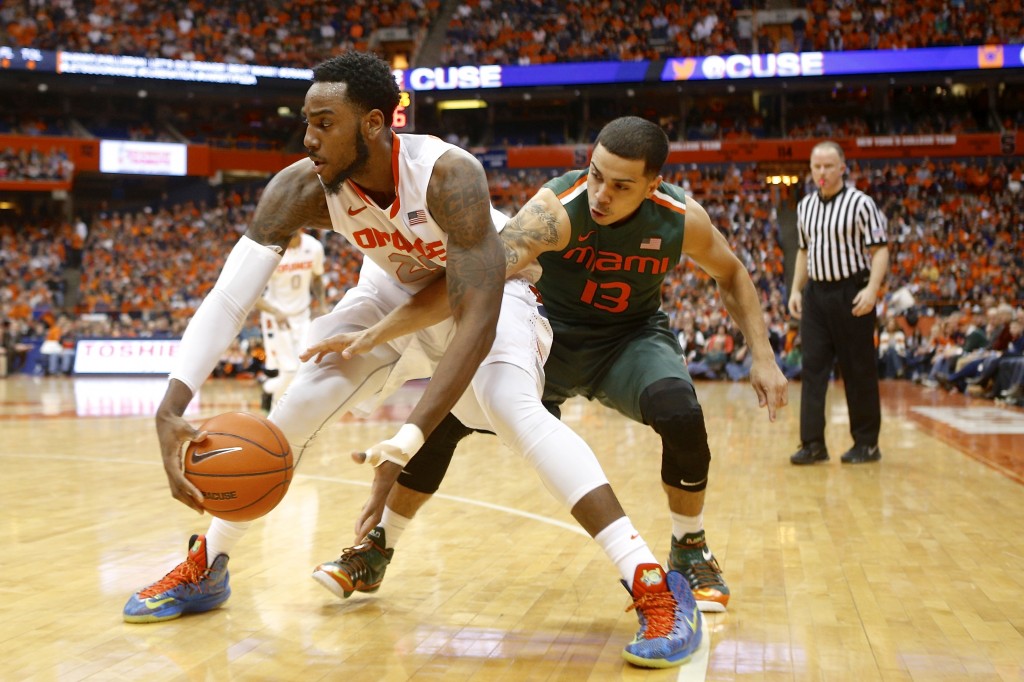 On Feb. 4, the day after Syracuse held on to defeat Virginia Tech 72-70 at the Carrier Dome to improve its record to 15-7 overall and 6-3 in the ACC, Syracuse officials announced a self-imposed ban that will keep the Orange out of the NCAA, NIT and ACC tournaments. Read into it what you like, but we haven't had a day with the temperature above freezing since Feb. 4.
The ban is part of SU's case pending before the NCAA Committee on Infractions. Syracuse is still waiting for the committee to release the official report of its findings from an investigation that started when SU self-reported violations to the NCAA in 2007.
Because Syracuse self-reported the violations, and because university officials appeared before the NCAA Committee on Infractions in October, SU officials already know most of what will be in the report. The self-imposed ban was a pre-emptive strike because Syracuse anticipated a severe penalty and now hopes the NCAA will accept the one-year ban and put the case to bed. But you never know what you're going to get with the NCAA, and it's possible the Orange will be hit with additional penalties, such as the loss of scholarships.
Syracuse officials haven't commented publicly on the investigation since sending a Feb. 4 news release to students, faculty and the media. Following a Feb. 7 loss at Pittsburgh in the Orange's first game after the ban was announced, Coach Jim Boeheim was asked if he was worried about critics who wonder if he's running a clean program.
"I don't give a shit what those people think," Boeheim said. "I know what I've done and I know what we do and I'm proud of it."
Want something to be proud of? After the self-imposed ban was announced, Orange captains Rakeem Christmas, Trevor Cooney and Michael Gbinije released a joint statement expressing their disappointment but also saying the ban "won't change how hard we will continue to work in practice and games." In a players-only meeting that day, Cooney said the Orange players vowed to "keep fighting," because "pride goes a long way, too."
Fans Rally 'Round the Orange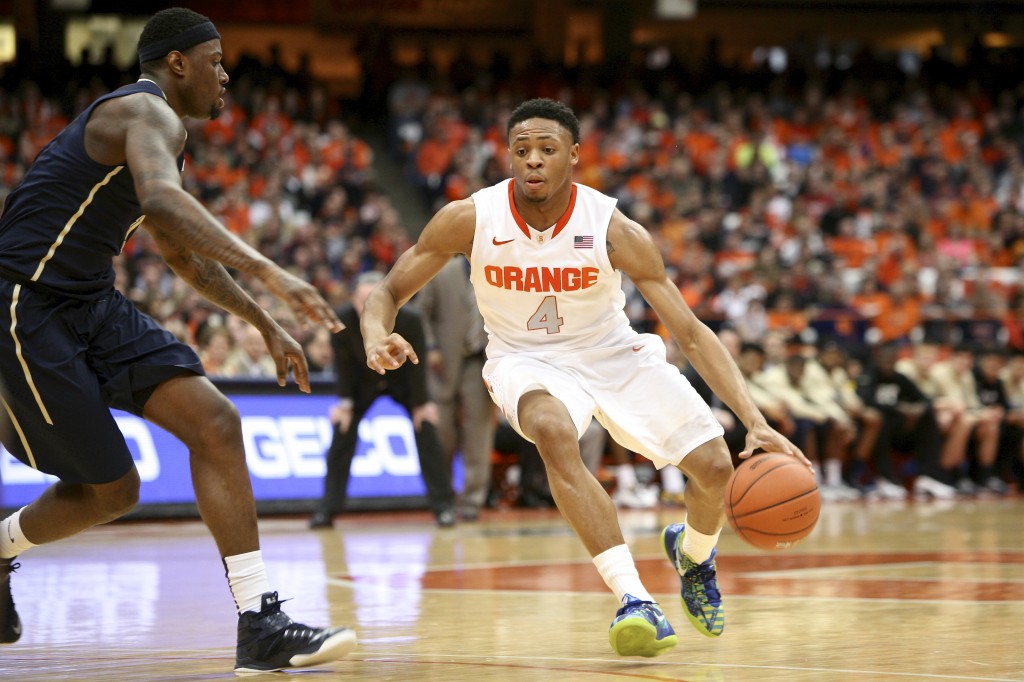 In its Feb. 4 release, Syracuse said, "Much of the conduct involved in the case occurred long ago and none occurred after 2012. No current student-athlete is involved."
And that's the saddest part of this whole affair: The players on this year's team didn't do anything wrong and deserved the opportunity to play their way into the NCAA Tournament. At 18-12 overall and 9-8 in the ACC after the March 2 loss to Virginia, the Orange remains a bubble team that's probably on the outside looking in right now. But perhaps a few wins in the ACC Tournament would have changed that.
In 1993, when the Orange was last banned from national postseason play because of NCAA violations, SU still played in the Big East Tournament and reached the championship game before losing to Seton Hall. The Orange won't have that opportunity this year, which means its wins over No. 12 Louisville on Feb. 18 and No. 9 Notre Dame on Feb. 24 will go down as the highlights of the season.
As for signature moments, there are two from those games that stand out: Gbinije's never-give-up block on Louisville's Terry Rozier on a first-half breakaway when it appeared that Rozier was gearing up for a momentum-altering dunk; and Cooney overcoming a nagging back injury to hit two clutch jumpers with the 35-second clock running out at the end of the Notre Dame game.
"It's just a matter of pride," Gbinije said when asked why he didn't give up on Rozier's breakaway. "We really want to show people we're good and we realize that our record doesn't reflect how good we are."
While upset with the ban, Syracuse fans rallied around this year's team because they knew the players didn't deserve to miss the postseason. In the four Carrier Dome games after the ban was announced, the Orange attracted 35,446 fans against Duke (tying an on-campus record set at last year's Duke-SU game), 26,160 against Louisville, 30,144 against Pittsburgh, and 25,338 against Virginia. Syracuse's final game of the season is at noon on Saturday, March 7, at North Carolina State.
"I think people feel for us a little bit," Cooney said. "We're not rolling over here, we're playing hard, and I think that's what they want to see. They don't want to see a team that just gives up. I think if we were to give up I don't think they'd come out and support us. Heck, I wouldn't support us if we rolled over, either."
So even in a season without any March Madness or memories, this year's players should still be fondly remembered for the way they played with heart and hustle even after the rug was pulled out from under them.
"Syracuse fans, I've loved them since I transferred in," said Gbinije, who played one year at Duke. "They get it. They definitely understand the situation and they've been receptive of us. The crowds that we've had (since the ban) shows that we have true fans that just love basketball and want us to win."
The Highs. . .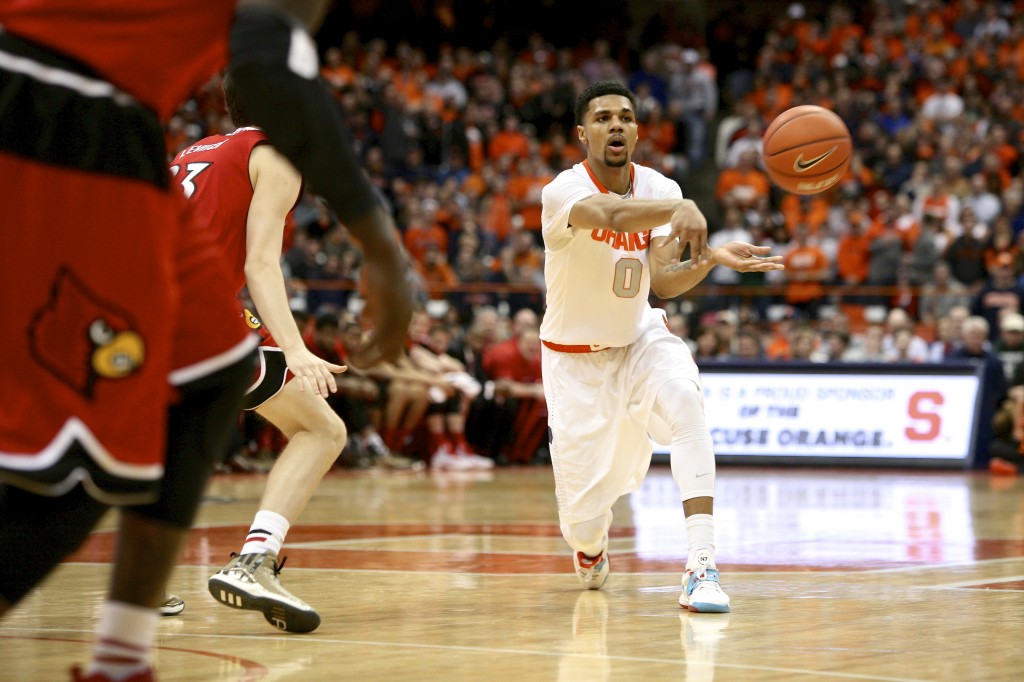 1. Give Rak the Rock. You thought this season was a bummer because of the postseason ban? Imagine what it would have been like if senior center Rakeem Christmas hadn't emerged as an ACC and national Player-of the-Year candidate.
2. A Week to Remember. After losing its first four games against ranked opponents this season, the Orange recorded its two biggest wins of the year within a week against then-No. 12 Louisville, 69-59, on Feb. 18 at the Carrier Dome and then-No. 9 Notre Dame, 65-60, on Feb. 24 at the Joyce Center.
3. Louie and Bouie. At halftime of the Feb. 21 game at the Dome, the Orange retired the jerseys of former All-Americans Roosevelt Bouie and Louis Orr in a long-overdue ceremony for two of SU's best and classiest players.
4. Didn't See That Coming. Junior guard Michael Gbinije was suspended for SU's first game for an undisclosed disciplinary reason and didn't start until the seventh game but developed into one of SU's best players.
5. 35,446 (Again). Despite the postseason ban, or maybe because of it, SU fans continued to come out in droves with an NCAA-best average attendance of 23,854 per game at the Dome. The Duke game on Valentine's Day attracted 35,446 fans, matching college basketball's all-time on-campus attendance record set at last year's Duke-Syracuse game at the Dome.
. . . And The Lows
1. Down and Out. On Feb. 4, Syracuse officials announced a self-imposed ban that will keep the Orange out of the NCAA, NIT and ACC tournaments. Even worse, the NCAA could impose additional penalties when it finally releases its report of its investigation.
2. Ouch. Junior forward Dajuan Coleman didn't play at all while recovering from knee surgery, and freshman forward Chris McCullough suffered a torn ACL in the 16th game, ending his season. The injuries depleted SU's bench and forced several starters to play nearly 40 minutes every game.
3. The Ones That Got Away. One less turnover here, one more free throw there, and the Orange could have won close games against then-No. 17 Michigan, then-No. 7 Villanova, then-No. 13 North Carolina, and both games against Pittsburgh.
4. Bad Losses. The 13-point loss at Clemson is inexcusable, the four-point loss to Miami sticks in the craw because of 8-for-19 shooting from the foul line, and the 19-point loss to Duke wasn't a big shock but still stings because it's Duke.
5. What Took So Long? Forget about SU misspelling Roosevelt Bouie's name on the jersey that the university gave him at the Feb. 21 ceremony (the university gave him a corrected one later). The real issue is that Bouie and Louis Orr should have had their numbers retired a long time ago.
Looking Ahead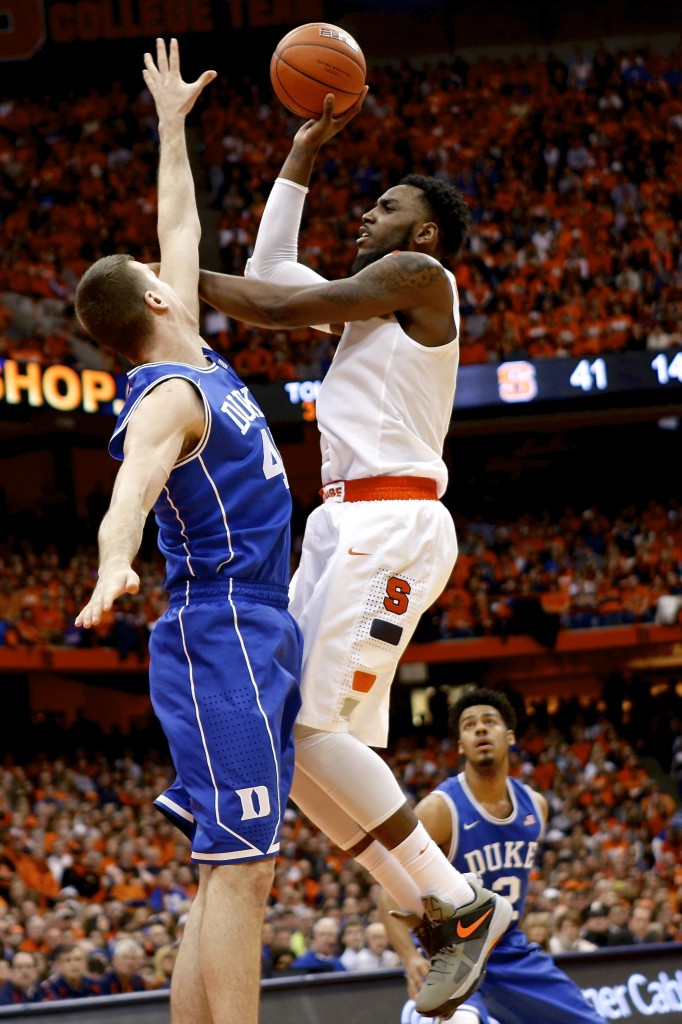 Good News: Coach Jim Boeheim called SU's 2015 recruiting class the best in his 39 years as head coach. The class of guards Franklin Howard and Malachi Richardson and forwards Moustapha Diagne and Tyler Lydon is ranked fourth by ESPN.com and eighth by Scout.com. And there's still a chance that highly rated prospect Thomas Bryant, a senior at Huntington Prep in West Virginia by way of Rochester's Bishop Kearney High School, will return to upstate New York to play at SU.
Bad News: From the What's-Taking-So-Long Department, the NCAA's Committee on Infractions still hasn't released the official report of its findings after an investigation of Syracuse's athletics program that started in 2007. The NCAA could accept SU's self-imposed postseason ban, or it could tack on additional penalties.
Five Teams to Watch in March (since you won't be watching SU in a tournament)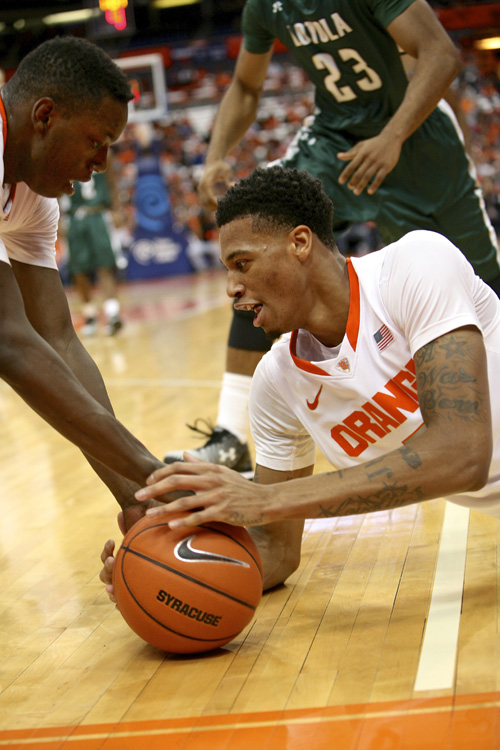 1. Syracuse Crunch. Don't look now, but the Crunch is in first place in the American Hockey League's Northeast Division with one of the best records in the AHL.
2. Syracuse University women's basketball team. Coach Quentin Hillsman's Orange is ranked No. 23 in the country and will be the No. 5 seed in the Atlantic Coast Conference Tournament that starts Wednesday, March 4, at the Greensboro Coliseum.
3. Syracuse men's lacrosse team. Ranked No. 2 in the country before thumping No. 5 Virginia 15-9 on March 1 at the Carrier Dome.
4. Syracuse women's lacrosse team. Ranked No. 2 in the country before the Feb. 28 10-9 loss to No. 6 Boston College at the Dome.
5. The NCAA East Regional. Syracuse will host the NCAA East Regional semifinals and final at the Carrier Dome March 27 and 29. You might not want to hear this, but the field could include Duke.
See Michael Davis' SU Basketball 2015 Photo Gallery – HERE

[fbcomments url="" width="100%" count="on"]