John Allred and Charlie Bertini. Live & Unplugged (AppleJazz). If pure, passionate and powerful horn-playing is your cup of tea, take a big gulp of this CD featuring Orlando-based trumpeter Charlie Bertini and Big Apple trombonist John Allred. Ably backed by bassist Phil Flanigan, pianist David Solazzo and guitarist Tom Bronzetti, the two brassmen waxed 10 terrific tunes on Oct. 2, 2010, at Homer's Center for the Arts, a former church sanctuary blessed with near-perfect acoustics.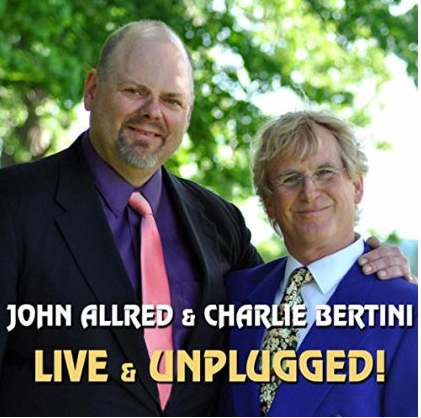 The set starts rather wistfully with "It's Only a Paper Moon" as the 'bone and the brass interweave effortlessly to frame the familiar melody before breaking off into a series of rousing leads. Bertini's commanding trumpet lines rarely veer far from the melody, a good habit which only strengthens his statements. On honky-tonk-tinged tunes like "Top Shelf" and "The Blues Walk," both Allred and Bertini demonstrate their eminent improvisational skills.
Working on the center's grand piano, Solazzo joins the fray on "Top Shelf" before facing down the frontmen on John Katalenic's groovy arrangement of "I'm in the Mood for Love," the Jimmy McHugh-Dorothy Fields ballad from 1935.
Guitarist Tom Bronzetti, the youngest man on the bandstand, can be heard to good effect on "Sweet Georgia Brown." Renowned bassist Phil Flanigan duets delightfully with Allred's trombone on Shelton Brooks hit from 1910, "Some of These Days," a tune that was later recorded by the Original Dixieland Jazz Band.
Issued on Bertini's AppleJazz Records, this 79-minute disc was recorded by Ray Ackerman, mixed by Kendall Thomsen, mastered by Bob Katz and produced by Bertini.
Along the way, some of Flanigan's bass work remains hard to hear, but his playing nevertheless lays a solid foundation for the rest of the band. Luckily, he's plenty audible on "Some of These Days," as his bass does friendly battle with Allred's 'bone.
Throughout the set, Allred and Bertini revel in their reinterpretations of swing-era standards for modern listeners. They devote a solid 10 minutes and 10 seconds, for instance, to a lovely arrangement of "Squeeze Me," also known as "Just Squeeze Me (But Please Don't Tease Me)," the 1941 ditty composed by Duke Ellington with lyrics (unsung here) by vocalist Lee Gaines.
Bertini, Allred and their sidemen conclude the show with a seriously swinging rendition of the Gershwin brothers' 1927 hit, "Strike Up the Band." And strike it up they do!
Flanigan's bass is well-mixed here, fortunately, and he propels the uptempo action. Before long, Bertini blasts off into the stratosphere, blowing like Bolden. His attack is well-complemented by Allred's earnest improvisations on his mellower instrument. Bronzetti added a swinging, single-note guitar lead followed by Solazzo's supercharged finger work followed by some peppy and playful chording.
The horn players climax "Strike Up the Band" with an over-the-top counterpoint interlude, a thrilling tit-for-tat trumpet-and-trombone tandem. Believe it: Live & Unplugged is good to the last drop!
The CD is available for $11 at applejazz.com. It can also be downloaded from iTunes and other digital sites, and it can be streamed on Spotify.
Bertini and Allred will be featured at the 33rd annual M&T Syracuse Jazz Fest, as part of the AppeJazz encore presentation on Friday, July 17, 6 p.m., at the Onondaga Community College campus.
J.T. Hall Jazz Consort. Rain after Midnight (independent). This six-piece unit alternates between Caribbean grooves and moody tone poems on this effervescent EP showcasing six of Hall's original compositions. The set kicks off with "Zanzibar," a musical travelogue transporting us to the Spice Islands off the eastern coast of Africa. Guitarist John Magnante and pianist Tom Witkowski deliver dreamy lead lines while Hall blows a breezy flugelhorn.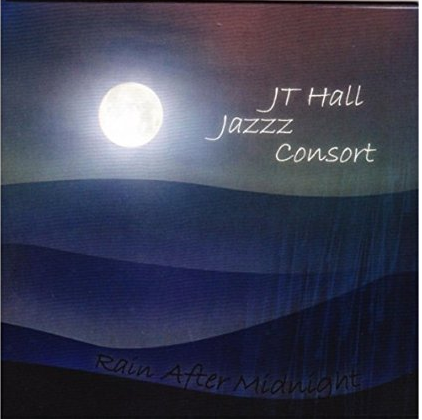 Things turn darker on "Carlo" as vocalist Cookie Coogan tells the tale of a romance sullied by a drug dealer beau more scammer than sweetheart. "He was no ordinary guy," indeed! As though to sound the alarm, Hall's flugelhorn sounds nearly as strident as a trumpet on this danceable mid-tempo tune. And "Carlo" is well-textured by two guests: Latin percussionist Josh Dekaney and the late saxophonist Tom Walker.
An introspective instrumental, "I Think of You," features a finessing flugelhorn and sympathetic piano and guitar, all ably supported by bassist John Dancks and drummer Jason Jeffers.
The title tune, "Rain after Midnight," starts with Coogan's ominous vocal intro like a rhythmic darkening before a storm followed by a throaty reading of the lyrics: "The sweet glow of light, at the end of the night/ sun coming up before dawn." Hall's haunting horn sets the tone, complemented by Witkowski's lively piano and Magnante's magnificent guitar.
Another island instrumental, "Margarita," blows hot and cold, like yin and yang or sugar and lemon. And the disc climaxes with the ironically upbeat "I Feel Like Feelin' Blue." Dancks' deft bass intro precedes Coogan's fetching interpretation of Hall's clever but bittersweet lyrics: "Happiness and fun, they say/ Are sure to chase the blues away/ And happiness is what we all pursue/ But my appetite for fun is sated/ And happiness is over-rated/ I feel like feelin' blue."
Produced by Hall at Subcat Studios and engineered by Ron Keck, the recording is available at [email protected].
Central New York Jazz Combos and Pebble Hill Presbyterian Congregation Singers. A Holiday Vespers and Swing to the Lord (independent). Late last year, Central New York's Jazz Central released two discs capturing the spirit of the jazz vespers performances staged since 2002 at Pebble Hill Presbyterian Church on Jamesville Road. A Holiday Vespers features a dozen tracks of yuletide tunes such as "The Little Drummer Boy" and "O Holy Night." A highlight is "Go Tell it on the Mountain," the 19th-century slave spiritual showcasing lead vocalist Cookie Coogan supported by the 14-voices of the Pebble Hill Presbyterian Congregation Singers.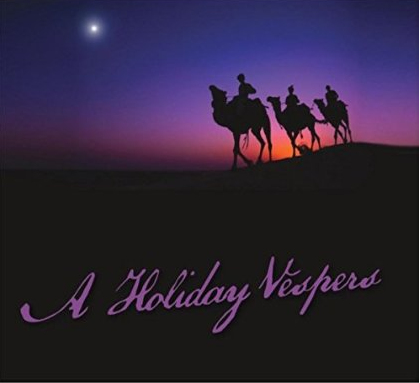 The second disc, Swing to the Lord, An American Vespers, leans lightly toward jazz roots with tunes such as John Coltrane's "Dear Lord," Bill Evans' "Catch the Wind" and Horace Silver's "Peace." Scatman Ronnie Leigh sings that Silver number and another, "Song for My Father."
Several compositions are by pianist and bandleader Barry Blumenthal. His tunes include "St. Mom," "Majestic Whisper" and "Father Joe." And Blumenthal plays a clever piano improvisation over Rev. Peter Shidemantle's observations about graffiti seen in a Manhattan subway tunnel: "You Can Punch My Lips."
The musicians on both discs are pianist and music director Barry Blumenthal, bassist Darryl Pugh, drummer Larry Luttinger and saxophonist Joe Carello. The albums were recorded, mixed and mastered by Ron Keck at Subcat Studio. Visit cnyjazz.org for details.
The Djangoners. En Direct Et Endiable (Alive and Swinging) (independent).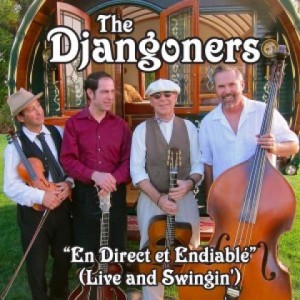 Guitarist Bobby Henrie grew up in western New York playing bluegrass with his brothers and now leads a popular rockabilly band named Bobby Henrie and The Goners. Some years ago, the talented southpaw six-stringer started playing music by Django Reinhardt, the Gypsy jazz guitarist who died in 1953. Henrie hooked up with Ithaca brothers Eric and Harry Aceto and bassist Brian Williams, all of whom shared his affinity for Gypsy jazz. So their acoustic combo was dubbed The Djangoners.
En Direct Et Endiable, the hot string quartet's 14-track CD, includes gems such as "Songe d'Automne," which — according to research, not legend — was the last number performed by the Titanic band as the great ship went down in 1912. Other tracks which showcase Henrie and Harry Aceto's guitar talents, Eric Aceto's soaring violin and Brian Williams' propulsive bass include "Troublant Bolero," "I Surrender Dear" and "Douce Ambiance." For band information, visit reverbnation.com/thedjangoners.

[fbcomments url="" width="100%" count="on"]