If a bad guy trying to make up for a nasty past by doing good is your thing, Run All Night is the action drama for you.
The story written by Brad Ingelsby and directed by Jaume Collet-Serra places Liam Neeson and Ed Harris as two old friends staring into a shared past that they'll never escape and a couple of adult sons that they can't quite get a handle on.
Harris stoic, taciturn and pragmatic, plays Shawn Maguire, an aging but still confident boss who accepts an audience and a business proposal put in front of him by his overconfident and freewheeling son. He turns these modern Albanian mobsters down cold, flashing anger toward their drug dealing plan and his son for daring to bring such a mess in front of his legitimized operations. Danny, played with a sharp edge by Boyd Holbrook, warns his father that this pair is nobody to anger, and then proceeds to anger them. A lot.
And that bad scene drags in the other father and son. Mike Conlon, a boxer and youth mentor by day and limo driver by night, was unlucky enough to have ushered these gangsters to Danny's lair, where he witnesses the fireworks. Mike, played with appropriate angst and cool fire by Joel Kinnaman, has to flee Danny. Danny calls dad Shawn, because Mike's pop Jimmy was his right-hand man back in the day and, though now a sloppy drunk, still his friend. Jimmy, played by a haggard looking Neeson, goes to Mike's place because, even though they've been estranged five years, he wants to protect his son and his son's family.
Shawn's hot head son Danny does not listen to his advice to sit still on this. He, too, goes to Mike's place, looking to get rid of the witness. Jimmy does not allow this to happen.
And so we have Jimmy calling the only person in the world still on his side to tell him what he did to his son. Shawn does not take the news well.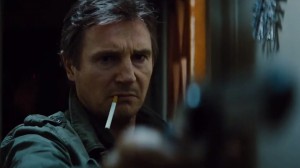 All of a sudden Liam Neeson looks as if he hasn't had a drink in 10 years as he orchestrates a night of moves that call upon every little trick he learned in all of those years at Shawn's main operative in his attempt to keep his own son alive.
Bad cops and good cops — particularly detective Harding, well hard boiled by former Law and Order: Criminal Intent sideways sleuth Vincent D'Onofrio join the fray, as well as a hired killer played with a scowl and a scar by Common.
It's all quite robust, exciting and well told as Harris' Shawn and his old family get more intent on corralling Jimmy and Mike, and Jimmy keeps showing Mike new ways of escape, flight and fight back, a father who was hated for being a thug needing that very thuggery to save an innocent son the world now believes killed people he did not. The violence is plenty and realistic.
The hate-love chemistry between father and son is as realistic as the violence as it becomes more and more clear to each what is at stake.
There are other scores that must be settled, too. The fathers must confront each other, once and for all. And sins must be addressed, sirens advancing.


Mark Bialczak is a veteran journalist who has lived in the Syracuse area since 1983. In early 2013, he was set free to write about whatever he wants. Click here to read Mark's BLOG.
[fbcomments url="" width="100%" count="on"]