The building at 207 Oswego St., Liverpool, was once a Ponderosa Steakhouse and more recently home to Juanita's Mexican Kitchen.
Now it's home to Ascioti's to Go, a satellite shop of the century-old Solvay meat market of the same name and Francesca's Pizza and Italian Kitchen, a more casual sister restaurant of Francesca's Cucina on the North Side of Syracuse.
"It's a big Italian building now," says Dawn Ascioti, co-owner with her husband, Marc, of Ascioti's to Go.
Ascioti's occupies the small space in the building formerly occupied by Squadrito's market. The meat case features Ascioti's signature meatballs and meatball mix, Italian sausage and braciole, plus deli meats like salami, mortadella and sopressata. Meatball subs are a popular menu item and there are daily soup and sandwich specials (check their Facebook page at https://www.facebook.com/asciotistogo). A bakery case holds half moons, cannolis, Italian cookies and pasticiotti baked for the shop. Dry pasta and sauces and DiLauro's Bakery Italian bread and pizza dough are also available for sale.
Hosting a game-day party or heading out to watch the game somewhere? Call ahead and pick up a "basket of balls" — 13 meatballs with sauce and bread/rolls ($13.99).
Meanwhile, on the other side of the building: The smell of sauce bubbling on the back burner and pizza baking in a hot oven comes from Francesca's Pizza and Italian Kitchen.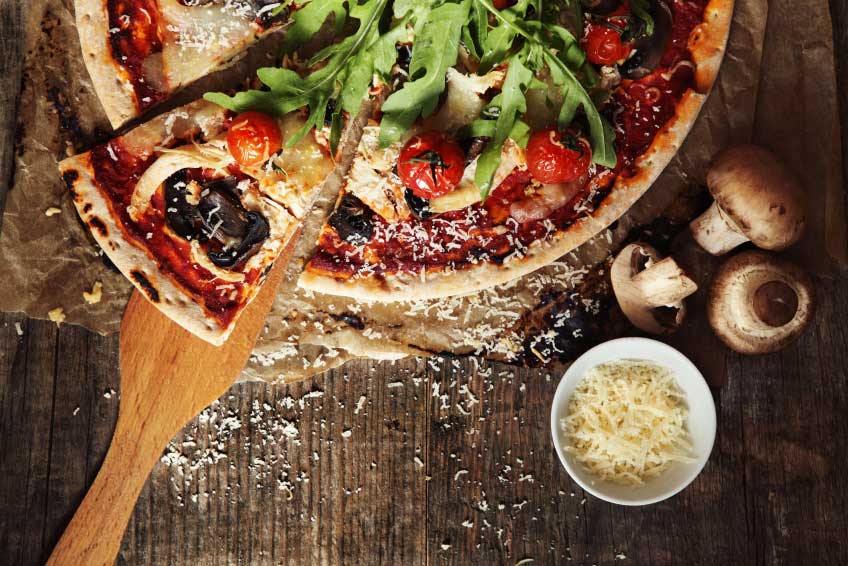 The restaurant offers salads, sandwiches, chicken wings, calzones, traditional and specialty pizzas and favorites from the Syracuse restaurant, like Utica greens, chicken, seafood and vodka riggies, homemade gnocchi and lobster ravioli.
Francesca's offers several creative takes on pizza, like a vodka sauce pizza and Utica greens pizza. Can't decide on one? Try a pizza with half of each. Feeding a crowd? Ask about sheet pizzas (32 slices).
Francesca's Pizza and Italian Kitchen is open 11 a.m. to 9 p.m. Sunday to Thursday and 11 a.m. to 10 p.m. Friday and Saturday. The restaurant has counter seating and tables; everything on the menu is available for takeout and delivery is available in the Liverpool area. Information: 451-1200
Ascioti's to Go is open 10 a.m. to 6 p.m. Monday to Friday and 9 a.m. to 3 p.m. Saturdays. For more information, call 457-0683.

[fbcomments url="" width="100%" count="on"]