Once upon a time there was the address book. Then came the rolodex. After that, Excel spreadsheets and then Access: a program that was about as efficient as a stampede of wildebeests during a fire drill.
Customer relationship management. If you don't have it, not only will you have disgruntled customers that slip through the cracks, but eventually, you won't have any at all. Put together a good system, and money can be multiplied – just like that.
Here's the good news: no one has to reinvent the wheel. In the past decade, the business world has been introduced to a host of CRM software programs created to streamline how businesses manage ongoing relationships with clients and prospective customers. Oracle, Sugar, Nimble, Insightly, and Workbooks have all climbed out of the code pool to provide the answer to every executive's question: "How do I make my business make more money?"
And at the top of the list is one company in particular: Salesforce.

The reigning king of CRM and the most efficient system by far, SF topped the CRM charts with over $900 million in revenue in 2008. Last year they made $3.2 billion, showing a steady rise among all CRMs as the "need" increases in a lean economy to be faster, better, and more efficient at handling more and more business. With endorsements such as Tony Robbins and Sir Richard Branson, Salesforce often needs no introduction, but as a complex yet power system it often needs something else – training and support.
Forbes named them "The Most Innovative Company of 2014."
Thanks to the modern CRM, incoming leads can be managed all the way down the pipeline and across various sales teams, executive levels, and customer service people to where they become a living, breathing client within the same system. Tasks can be assigned per team or member from within the portal as regards project management – all accessible from any mobile or desktop device at all times. Reports on any spectrum of work or sales pipeline can be exported without even thinking; you can even follow clients on Twitter and "like" their LinkedIn statuses.
It's basically a dream come true; hence SF branding its annual CRM pilgrimage into "Dreamforce."
According to Base.com, another CRM contender, the average company that uses customer relationship software sees a 5-to-$1 return on investment.
The Syracuse New Times caught up with the only Syracuse area Salesforce certified provider – Spark Orange.

"Any company that takes itself seriously needs to be running on a CRM," said Spark Orange CEO, Derek Vargas. A Brooklyn native, Vargas, a former CMO and Stamford graduate uprooted to CNY years ago and has become a prominent localist, working closely with Syracuse First and many local-based clients.
"Spark Orange because we wanted to do just that," said Vargas, "Help local Syracuse businesses grow in this economy through more streamlined software solutions."
Vargas explained that Salesforce pays for a third party to survey itself each year, noting a 30-40% increase in all major business metrics: gross revenue, operational efficiency, lead generation and conversion, and more.
"We deal with three types of clients," said Vargas, "Those who don't have a CRM, those who do and don't like it, and those who already have Salesforce."
Sitting next to him was Aliza Seeber, a Newhouse graduate and Managing Partner at Spark Orange.
"The first thing we do is go into a company and find out how operations work, learn their business inside and out," said Seeber, "We then develop our technical solution to integrate with their existing systems."
Since Salesforce offers its software as an open-API system, the code is available to developers to create customized software to fit every businesses particular needs.
"Anyone can be effective using the tool," said Vargas, "But it's important to have experienced consultants to teach you how. When you really start to grow as a business is not when you take the software 'out of the box' but when you have a team help you develop exactly how to implement it and train your entire team."
"We can show business executives and managers how it will make their job easier and more effective," said Seeber.
Vargas commented on today's business world being more tied to individual accomplishments and goals. CRM software offers on demand transparently and makes sure leads do not get dropped.
"It makes life easier," said Vargas, pretty much summing it up.
Mark Strong, a Sales Engineer for Salesforce.com in Upstate New York and friend of Spark Orange with over a decade of experience in the CRM world had this to say about the growing trend of software in the workspace.
"The biggest change in CRM in my 10 years in the business is the shift in focus from Contact and Opportunity management, to a focus on Customer Experience. Companies are no longer in a position where they can control the conversation about their products and services. They need to a part of the conversation and allow customer to have that conversation in their channel of choice. Whether through traditional phone and email channels or Social Media channels, a modern company needs to be engaged. CRM platforms of today have to not only support this new model, but help companies transform the way they do business."
Consultants such as Spark Orange are helping local companies do just that.
"Overall we are seeing companies that are serious about growth implement Salesforce and see incredible returns on their investment within the first six months," he said.
"We've worked with NFP's, startups, mid-tier, and enterprise level companies: needs are different but yet the same – everyone is looking to grow," continued Vargas, "We've talked to a lot of sales teams and have effectively freed up 35% of a sales peoples' work time, creating, in effect, another employee per work time per set of 3 employees."
"The end result is very tangible," said Seeber, "A solution built just for them: report chart skyrocket as sales reps close more deals; sales managers rejoice with increasing ability to manage their team; CEOs see and better forecast their needs. It's empowering."
For more TECH – Click Here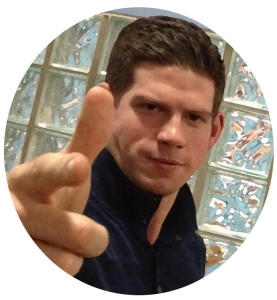 Joe Cunningham is a Marketing Consultant and Writer for Kinani Blue and SEO Brand Strategist at Terakeet. You can follow him on Twitter or email him at [email protected].
[fbcomments url="" width="100%" count="on"]