This already being such a big week for country music — the Country Music Association Awards were last night, which you know if you tuned in at 10 to watch the ABC drama Nashville and thought you had your favorite 60 minutes of Reyna and Luke and Deacon's uneasy triangle for awhile before realizing, no, this is the real deal — there's news to report about a biopic that should go over pretty well in those circles.
Empireonline reported Wednesday afternoon that Bradley Whitford and Cherry Jones have joined the cast of I Saw the Light. Already signed up for the main role in that one is Tom Hiddleston, who will be playing none other than Hank Williams.
Phil de Semlyen, who credits Screen Daily, reports that Jones will play Williams' mother Lillie, and Whitford will play Nashville music publisher Fred Rose.
"I Saw the Light sees Marc Abraham directing the script he wrote," de Semlyen writes. "It adapts Colin Escott's biography of the man who scored hits with songs such as Your Cheatin' Heart, I'm So Lonesome I Could Cry, and Lovesick Blues. Williams, who died in 1953, is still considered one of the most significant country music artists and rose quickly, burned brightly and died at the age of 29 from heart failure brought on by pills and alcohol."
The shooting of I Saw the Light is already taking place, in Louisiana.
And you thought Nashville the TV show was juicy with Juiliette finally announcing publicly she's pregnant with Avery's baby … Next week, fans, next week.
From sports hero to music hero to superhero? Not exactly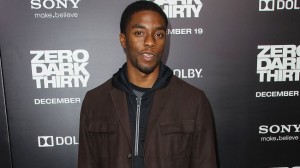 Chad Boseman actually is taking a sidestep to bad guy in between all of the hero-types he's becoming best known for up there on the big screen.
In 42, Boseman was fantastic handling all of the tension and attention as Jackie Robinson, the man who broke the color barrier in Major League Baseball.
In Get on Up, Boseman was equally adept at accepting the accolades and tirades as James Brown, the Godfather of Soul.
On the horizon is his five-film deal with Marvel Universe, including his role as Black Panther.
First, writes James White for empireonline Wednesday, Boseman will play a man "looking for justice" in Message from the King.
"The plot follows a man named Jacob King, who touches down in Los Angeles from South Africa in search of his younger sister. He has only a few hundred dollars to his name and a plane ticket," writes White, "which means he must return home in a week, but is devastated to learn his sister has died. Burning with the need for vengeance, he tracks down the people responsible …"
Director Fabrice du Welz has Message from the King in pre-production.

[fbcomments url="" width="100%" count="on"]