When the Baby Boomers (over 40) Basketball League opened for its 16th season in November, a cloud of concern hung over a new location for the Sunday-afternoon games. Unable to broker an agreement between players and the administration at the Southwest Community Center over rental fees, the league was forced to relocate out of the neighborhood–way out of the neighborhood, to the gym at McChesney Park, on the city's far North Side.
The major concern focused on means of transportation for the players' friends and family traveling from the Southwest Side. On Sunday, Feb. 23, however, at the opening round of the league championship tournament, the trek was accomplished by simply closing one's eyes.
As game time approached, sneakers clomped as players jogged and stretched, and backboards and rims echoed as impossible warm-up shots were fired from dreams of last-minute heroics. Within minutes, the sound system more than filled the gym with traditional J.A. James, what deejay Joe Parks calls, "Forty and over, old music. No swearing." Even the kitchen had experienced an occupation of color, with chicken at $5 a plate and soul burgers for $2.50.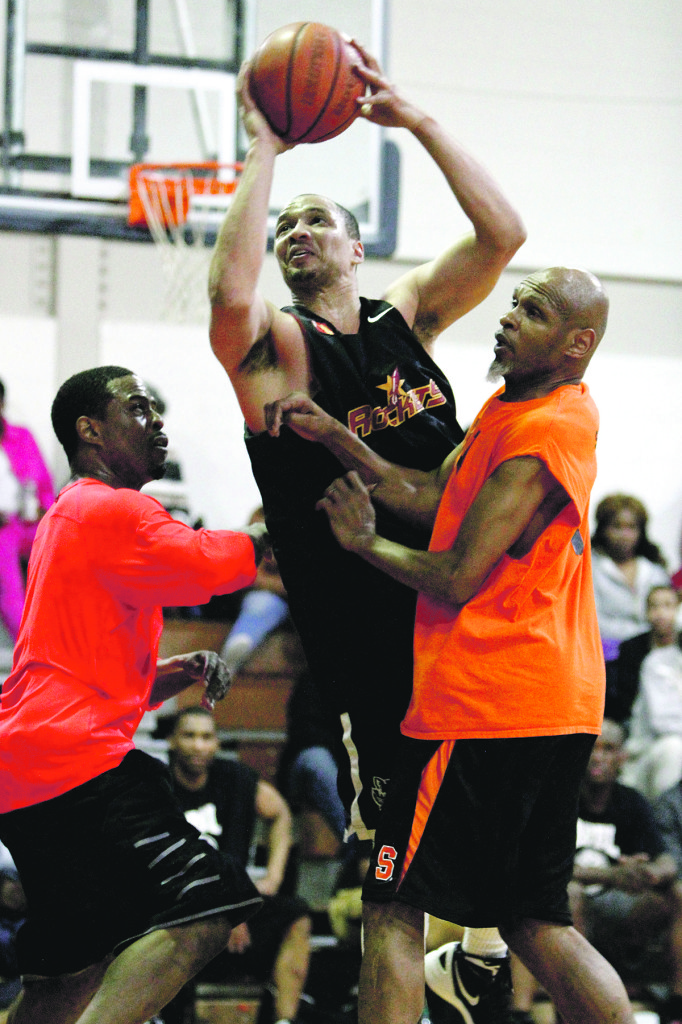 The McChesney kitchen had been taken over to establish a taste of Southwest by Marisha Heard, wife of league coordinator Ed Mitchell, who provided the major difference between the league's old and new digs. At Southwest, Mitchell–a league co-founder and mainstay at the electronic scoreboard, who coached Brick City to a tournament championship back in the day–ran a constant loud and unnerving color commentary on shortcomings of individual players and the visual limitations of referees.
"I had to give it up," Mitchell says, reflecting on the stature required of his new role as league administrator.
Early play on the new floor harkened to images of the league's traditional pace and intensity. Two 3-pointers by Julius "Pops" Anderson to open tournament action for Showtime, building an early lead in an 81-43 drubbing of International, recalled his announcement last year that he would retire at the end of the season. Having broken his wrist in last year's tourney final loss to Flav's Unit, he is back declaring he will go out a champion, even if it takes next year, too. Last year's finalists appear heavy favorites to repeat this year's match for the top spot, scheduled for McChesney, 2300 Grant Blvd., Sunday, March 9, at 3 p.m.
The semifinals the week before will pit Showtime against Ballard Florist at 2 p.m. and Flav's Unit against Tighten Up at 3 p.m.
As always, the games are free and open to the public, with plenty of players' friends and family anticipated for the 200-seat bleachers. In another similarity with last year, Syracuse University and NBA veteran Howard Triche has undergone surgery and is questionable for Showtime's run to the finals.
As for next year, Mitchell expects the league will be back home at the Southwest Community Center. Team captains will meet to discuss and vote on the issue, but Mitchell is confident.
"Players spent a lot on gas this year," he wryly observed.