Food
From the Ground Up: Clean, organic produce the pride of Grindstone Farm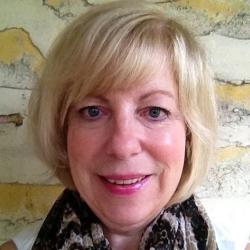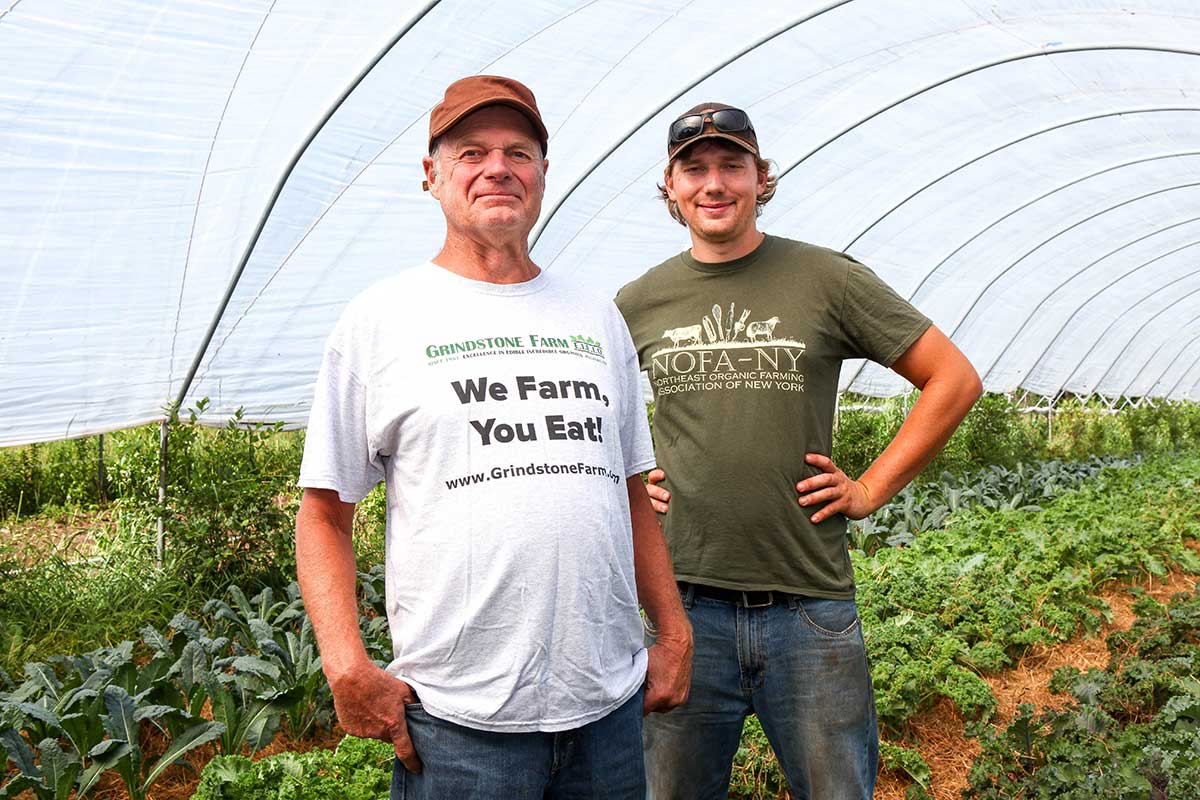 Richard and Victoria de Graff walk into the kitchen of a local restaurant carrying a "Mystery Box" of organic produce from Grindstone Farm. A chef pulls out onions, carrots, acorn squash, butternut squash, beets, turnips, watermelon, radishes and more, plus pastured meat, and sets out to prepare a spontaneous, creative multi-course meal for two dozen guests, some of whom will descend on the kitchen, cellphones in hand, to snap photos to share on social media.
The Grindstone Farm owners, better known as Dick and Vic, are long accustomed to supplying restaurants with their produce, but don't always see preparations firsthand and sample the end results. But they have been attending most of the Chef Challenge Syracuse dining events for going on a year now and often share a few words about the farm and take a bow during the events.
"Anything that gets our name out there in front of people is a good thing," says Vic de Graff, who handles marketing and other assignments for the farm.
Photos: A look at Oswego County's organic-certified Grindstone Farm
Grindstone Farm has been putting itself out there as a grower of organic vegetables and fruits for more than three decades. This year marks the 30th anniversary of Grindstone's organic certification by the Northeast Organic Farming Association of New York (NOFA-NY). The farm is located on 240 acres of land off Tinker Tavern Road (County Route 28) in Pulaski.
Long before "clean food" became buzzwords, that's what Dick de Graff decided to grow: produce grown naturally, in soil not treated with pesticides and synthetic fertilizers. He wanted to grow food that tasted better and was more nutritious — and he wanted to protect himself, his soil and the watershed.
"I was going to be the guy to do the spraying," he recalls. "And I decided I have to find a way to grow without pesticides."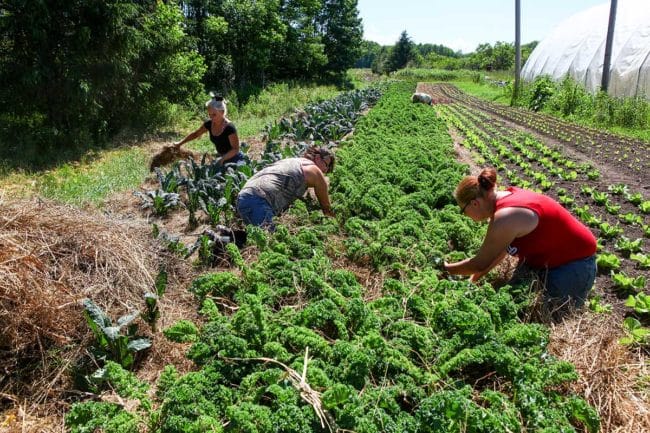 Back then, de Graff was one of just a handful of organic farmers in New York state. New York is now third in the nation in number of organic farms  — nearly a thousand, according to NOFA-NY.
Grindstone Farm is one of the most established and diversified, growing more than 120 varieties of organic fruits and vegetables on about 30 acres. It also serves as a training ground for emerging organic farmers, offering internship and mentorship programs.
"In the 1980s, you were kind of embarrassed to say you were a farmer," Vic de Graff says. "Now, people tell you you're a rock star."
"Farmer Dick" grew up on a farm in Williamstown but did not set out to become a farmer himself. He attended the State University of New York at Canton, where he earned a degree in civil engineering. He thought he would buy some land, maybe 20 or 30 acres, grow food and eventually live there. He ended up with more than 100 acres.
"I got the urge to own property, and if you own property you've got to make money," he says. "Coming from a farming background, I could see the potential here."
De Graff, now 65, started the farm as a part-time venture in 1981, while working construction projects around Central and Northern New York. A year after Grindstone earned its organic certification, he left construction work to operate the farm full time.
Grindstone's motto is "Excellence In Edible Incredible Organics: E.I.E.I.O." He and Vic built a house on the property and raised their son, Lucas, there. Parts of the farm have been preserved for nature and others are used for recreation.
Vic de Graff, 63, has taken on new roles on the farm since retiring from her job off the farm. She served more than 20 years as emergency planning coordinator for National Grid in Syracuse and is well-suited to help tackle any challenge. She handles communications and marketing and has refurbished a small cabin her husband and a former team member built on the property, which she offers as lodging via Airbnb. It's minutes from Lake Ontario and the Salmon River and well outfitted for farm-to-table cooking and dining.
Grindstone Farm operates year-round and employs a small team of assistants. Transitioning owner Lucas de Graff, 28, went to college and worked other jobs before joining his parents in the operation of the farm. He likes that every day is different, he says, and loves working outdoors. He has been instrumental in introducing livestock to the farm, including chickens, turkeys and pigs. Pastured eggs and meats (non-GMO and raised without antibiotics) are available to customers, as well.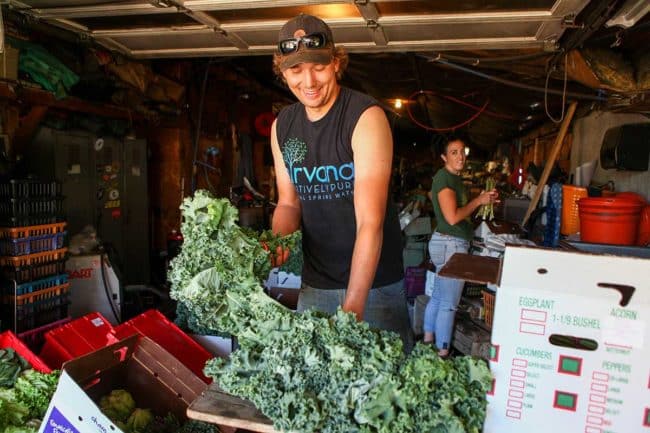 Travis Pistello and Elisabeth Wells own and operate Freedom Rains Farm, a certified organic farm down the road from Grindstone Farm. They worked for Farmer Dick for four years, from 2009 to 2013, and leased land from the de Graffs that was already certified organic while their own farm was in transition to organic certification — a three-year process.
At Grindstone, Wells managed the greenhouses and the CSA program and worked the farmers markets. Pistello did a little of everything, from building greenhouses to maintaining equipment to making deliveries. They have three young children, who sometimes accompanied them to work.
"When we knew we wanted to get into farming, we were looking for a farm that would give us work and allow us to learn," Wells says. "Dick gave us that opportunity. He showed us the ropes of organic. We got to look at all sides — going from small-scale backyard gardening to large production, the CSA, all their wholesale. It gave us a really solid foundation going into operating our own farm."
The growing season, now well underway, got off to a slow start at Grindstone Farm, as it sometimes does. Late-season snow and lashing winds took down one of the de Graffs' high tunnels (large, unheated greenhouses that help to extend the growing season) and delayed the installation of others.
On an early May day at the farm, onions, shallots, peppers, bok choy, collard greens, cucumbers, zucchini, tomatoes and other plants, started inside in the main building, waited to be moved to the fields and planted.
Asparagus, an important early season crop, was beginning to poke through the earth and show its tips tinged with green and purple. A good asparagus crop helps pay for seeds, equipment and other farm necessities, the de Graffs note. It is said that you can literally watch asparagus grow in the spring, and a few weeks later, the de Graffs and their crew would harvest 300 pounds of it in a single day.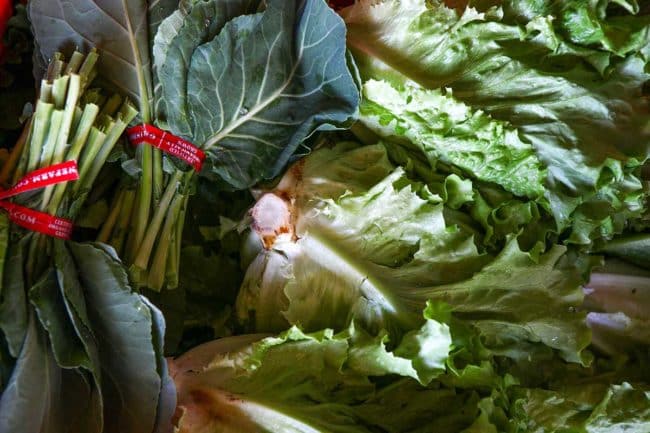 Restaurant customers like Defi Cuisine Corp., a new restaurant in downtown Syracuse, give the asparagus a starring role in dishes like spring asparagus salad with blueberries and walnuts, and alfredo pasta with chicken and asparagus.
Another important crop at Grindstone — and a customer favorite — is blueberries, available from late June into early September, "if we're lucky," Dick de Graff says.
A major change in recent years is how Grindstone Farm brings its organic produce to market. The farm makes appearances at seasonal markets in Watertown (Wednesdays) and Oswego (Thursdays) and has switched from a traditional community supported agriculture (CSA) model of farm subscriptions and box shares to online ordering, with a choice of farm pickup, home delivery or group pickup sites.
Orders placed by Monday are delivered by Thursday. Box contents change weekly and vary in price, from a micro box (lettuces, chard, veggies and fruits; $20) to a meat box (whole chicken, chicken breast, meatballs, sausage, etc.; $75). Don't want a pre-determined box? Individual items can be ordered as well, with a $15 minimum order for group delivery sites and $25 minimum for home deliveries.
"You can get what you want, when you want it," Vic de Graff says. "It's very flexible."
For more information, visit grindstone farm.com, call (315) 298-4139 and look for the farm on Facebook and Instagram
Margaret McCormick is a freelance writer and editor in Syracuse. She blogs about food at eatfirst.typepad.com. Follow her on Twitter, connect on Facebook or email her at [email protected]
Best of the Harvest Dinner
Grindstone Farm will host a farm-to-table dinner event on Saturday, Sept. 8, in association with Anything But Beer, a brewery in Syracuse that produces craft alcoholic beverages for non-beer drinkers. Details, including time, price and menu are still being worked out. Follow Grindstone Farm or Anything But Beer on Facebook and Instagram for more information.
[fbcomments url="" width="100%" count="on"]