The tall windows at 208 W. Water St. are papered over for two reasons. First, the home of new restaurant Defi Cuisine Corp. is under construction, with the goal of an early May opening. Second, chefs Cody Dedischew and Nicholas Salvetti want to keep the restaurant under wraps for a big reveal.
"The windows are covered up with paper because we want what's inside to be a surprise," says Dedischew. "That's kind of important to us. We can't wait to show the place off."
For months, Dedischew, 28, and Salvetti, 35, have been on-site, overseeing details large and small. A concrete floor is in and was scheduled to be polished last week. Walls are up, waiting for paint, lighting and artwork, and a large hood has been hung in the area that will house the open kitchen.
The reclaimed wood that is the foundation of the long bar was salvaged from an 1870s barn near Camillus. That's an important tie-in, the chefs say, to the local-focused restaurant they have planned, with an emphasis on produce, meat and dairy sourced in Central New York.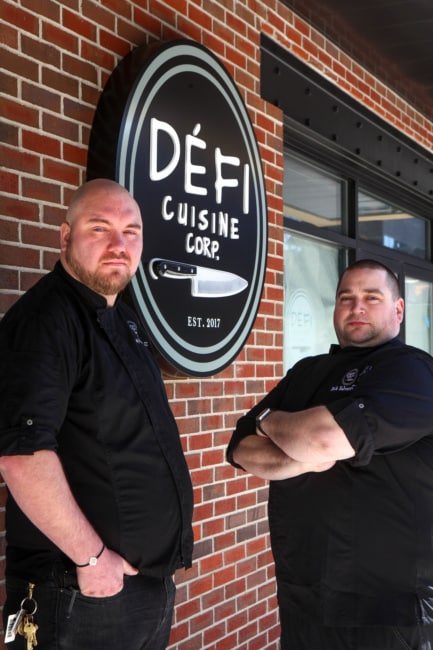 Their local purveyors, so far, include Main Street Farms, Cortland; Grindstone Farm, Pulaski; Fresh Herbs of Fabius; and Morehead Cattle Co., Jamesville.
Paint colors, in earth tones that invite guests to relax and linger, have been selected, as have tables, china and glassware. Salvetti and Dedischew have been meeting with potential cooks, servers and bar staff and have their fingers crossed for a tentative May 2 soft opening.
Questions they are often asked: What is "Defi" and "Why Defi?" Defi (pronounced de-fee) is a French word that means challenge. The chefs say they chose that name because they have taken on the challenge of opening a restaurant and want to challenge themselves in the kitchen. They also want to challenge the way we, as diners, think about food and dining out, creating an experience that begins with breaking down the walls that often separate restaurant kitchens and dining rooms.
The 2,200-square-foot restaurant in the Amos Building, across from Clinton Square, will include approximately 20 seats at the bar and 20 more at tables, all with a view of the kitchen. The restaurant will be open Mondays through Fridays for lunch and Wednesdays through Saturdays for dinner. The restaurant will be closed Sundays, so staff members have a day to spend with their families.
Monday and Tuesday evenings will be reserved for special events, like multi-course seasonal dinners and wine dinners. There will be no table service for lunch. Food will be prepared to order and served in compostable containers. Guests can eat in or get their food to go.
A key feature of the dinner menu is "defi," an offering that gives guests elements of surprise and challenges the chefs to create customized, four-course meals based on the likes and tastes of the diner and what is available in the kitchen on a given night. Dedischew and Salvetti say the menu will change often and include nightly specials. Entrees on the inaugural menu, already posted online, include beef, seafood, duck, rabbit, chicken and a local grain and vegetable risotto.
The restaurant is a dream for both chefs, who met while working at the Crowne Plaza Syracuse. Dedischew, a native of Michigan, graduated from Johnson & Wales University and came to Syracuse to earn his MBA in hospitality administration/management at the Whitman School of Management at Syracuse University. He previously served as executive chef at the Crowne Plaza and executive sous chef at the Marriott Syracuse Downtown.
Salvetti grew up in Central New York and is a graduate of the Culinary Institute of America. His resume includes stints at restaurants, resorts, casinos, colleges and on cruise ships. He also served as executive chef at the Crowne Plaza. Both are board members of the American Culinary Federation, Syracuse chapter.
"This is something I've wanted to do for the last 15 years," Salvetti says. "We both got into this for the love of cooking and the love of food."
"To meet someone with the same ideas and same vision for a restaurant, the same passion for food: What are the odds of that?" Dedischew says. "You have a better chance of being struck by lightning."
For more information, visit deficuisinecorp.com.
Margaret McCormick is a freelance writer and editor in Syracuse. She blogs about food at eatfirst.typepad.com. Follow her on Twitter, connect on Facebook or email her at [email protected].
[fbcomments url="" width="100%" count="on"]