What is good public art? Who decides? Questions like these spark debate in communities around the world when it comes to spending public funds on public art. This week's blog focuses on the process that goes into selecting public art. The process is what leads to the end product – either good or bad, so, it's really important to get it right, be transparent about it, and to invite conversation. Thanks again to our partners at the Syracuse New Times for this blog series to generate dialogue about these topics.
Selecting public art is not just a decision by a jury. Each small decision along the way plays a role in commissioning work. This week, we want to discuss the process behind the Connective Corridor's call for public art, which is currently among the largest open calls in the country. It is attracting a great deal of attention.  As of today, nearly 50 international, national and New York State artists have applied to showcase their work in Syracuse. The call is being picked up in leading art journals and art blogs around the globe. That's significant because the first goal of this project was to build buzz in the art world about Syracuse as a place where established and emerging artists want to be.
Some key decisions by the Connective Corridor and The Syracuse University College of Visual and Performing Arts about how to shape this call are behind this good buzz.
It starts with the type of call used. There are three main categories of call: open competitions, limited calls and direct selection. Open competitions are widely advertised. Limited calls are open to a pre-selected short list of artists. A direct selection is used to engage a single specific artist.
We elected an open competition to cast a wider net to a larger universe of artists, including emerging artists that the jury may not be familiar with. Utilizing best practices designed by Americans for the Arts, and working with a recognized public art platform called CaFé, we conveyed that this is a professional process. We carefully crafted an outreach program through global and national networks such as the Public Arts Network listserv, PublicArt.org, CODA, ArtistsRegister.com, Retitle.com and many leading art journals and arts blogs around the world. Over the past year we developed a database of national and regional public artists, and worked with colleagues at NYSCA, the New York Federation of Artists, CNY Arts, the Syracuse Public Arts Commission, and regional groups such as the 40Below Public Arts Task Force, and our area cultural institutions.
We reached out to arts schools and SU alumni who are artists, as well as faculty and students. We networked with regional arts associations from Brooklyn to the Berkshires, and from the Hudson Valley to Napa Valley. We personally connected with leading artists in the world of public art, as well as the talent right in our own backyard. We made a special outreach to national veteran's arts networks. We launched a social media strategy that landed us in art blogs across Europe. National arts leaders and arts organizations re-posted and tweeted our message. Thanks to our colleagues at SU-VPA for helping guide this process.
If you have not yet seen it, here is the link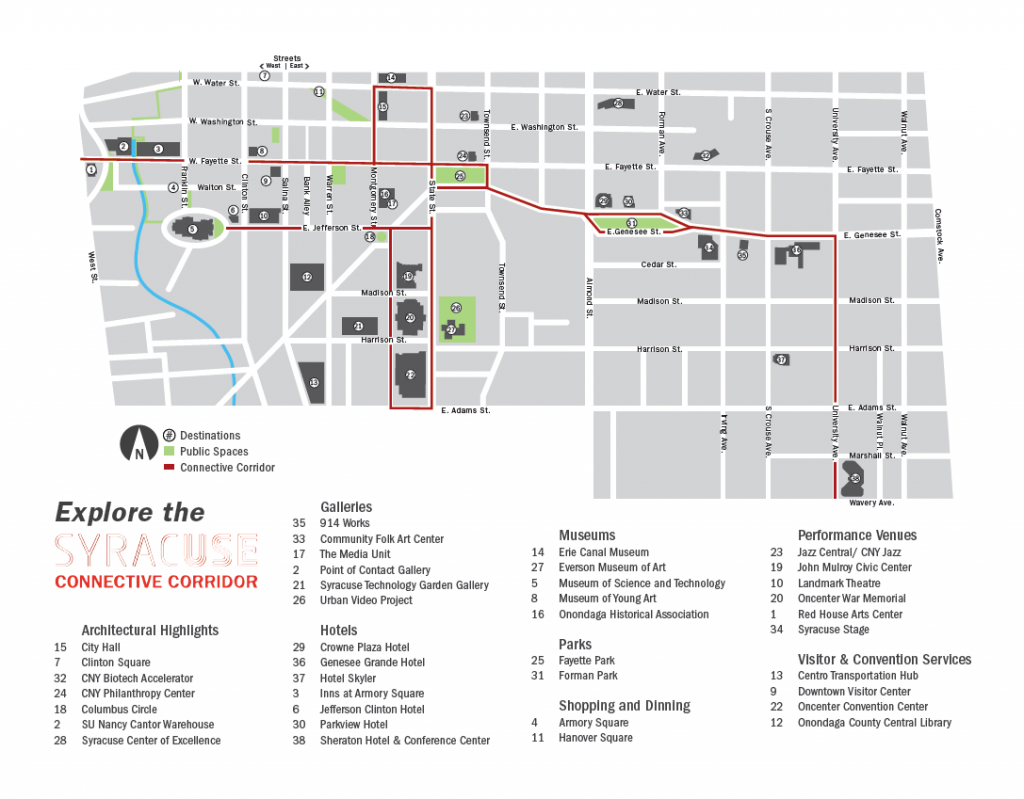 Many of the world's arts publications now have Syracuse on their radar screen because of our call. Regardless of who is selected, Syracuse is becoming branded as a place that is serious about public art and its role activating public spaces. We've heard back from artists that they are interested because of the uniqueness of the Connective Corridor. They are impressed with our complete streetscape infrastructure project, and see public art as a way to engage people and move them through this new pedestrian and bike-friendly urban landscape. They like that local artists are engaged in community building. They love the mix and want to be part a rust-belt renaissance story. Syracuse is giving good vibes to the art world.
Right now, artists – both national and local – are submitting applications to our RFQ, in the form of their resume, artist statement, letter of interest and examples of past work. A RFQ is the most common type of open call – unlike an RFP which invites a short list of artists to submit more detailed site-specific proposals. Think of the RFQ process as a talent search to find a group of semi-finalists best suited to produce high quality work and engage with the community in a collaborative process that will result in more detailed proposals for specific sites. This is simply round one, with a jury guiding the selection of these semi-finalists and finalists, along with public input.
Before picking artists, the real selection process starts with the jury itself. The skill sets and experience of jury members determines the kind of artwork selected.  A top-notch jury ensures that work is based on high quality artistic merit, is meaningful and enduring, and meets community expectations. Our jury includes national and regional experts who are arts educators, professional artists, arts curators, emerging artists and arts professionals, arts journalists, urban planners, art historians, and community and national arts leaders, along with a student representative.
Next week we'll tell you who the jury is, how they will rank the applicants, and what the timeline will be, so stay tuned!
Answer our survey questions below:
Create your free online surveys with SurveyMonkey , the world's leading questionnaire tool.
If you have any questions about the process, contact us at [email protected]
Quinton Fletchall is the public art project coordinator for the Connective Corridor. He is also is a part-time SU VPA instructor of design, a current graduate student in the communication and rhetorical studies (G'15) and a graduate of industrial and interaction design ('13).

[fbcomments url="" width="100%" count="on"]