Each winter, the Erie Canal Museum is transformed from an educational and historical institution into something more akin to Candy Land, flooded with gingerbread, frosting, gum drops and just about every other sugary item on the market.
For more than 20 years, the museum has hosted the Gingerbread Gallery, a display of "gingerbread creations" — they're not all houses — made and submitted by members of the Syracuse community.
"It has become a tradition for everybody," said Vicki Krisak, director of development and marketing for the museum. "People just love it."
This year marks the 29th anniversary of the gallery, which will be take over the museum's temporary exhibit space on the second floor through Jan. 4. There will be more than 30 submissions on display. Last year, Krisak said, 6,000 people visited the exhibit.
It all started with the Weighlock Guild, which used to have an annual holiday-themed exhibit. In 1985, when the Weighlock Building's weigh chamber was being restored, they wanted to do an exhibit highlighting architecture and historic preservation, so they decided to create a gingerbread gallery, Krisak said.
Gingerbread is, after all, an architectural term, she said.
There are entries from both professional and amateur bakers and decorators. Krisak said the gallery contains diverse items, such as traditional gingerbread houses and more elaborate creations, like a zoo scene with animals and a waterfall, and scenes based on of movies like Ice Age or The Lego Movie.
Joanne Balfour has been submitting gingerbread creations to the gallery for years. She makes them with her grandchildren. For the past few years, Balfour, of Fayetteville, had been on "hiatus," because the grandchildren she used to make the creations with had all grown up. But this year, she and her 8-year-old granddaughter brought the tradition back. Their creation features Olaf, the snowman from the movie Frozen. Balfour gives her granddaughter all of the credit for the idea.
"I haven't seen the movie Frozen. I mean, I'm familiar with what it is and so forth, but this was her idea this year that this was what she wanted to do was Olaf," Balfour said.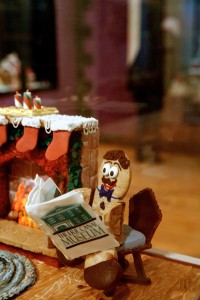 Balfour's grandchildren always choose the themes of their creations. Often, they're based on children's stories. One of the most memorable ones for Balfour was a Rapunzel-themed creation, with braided hair cascading down the tower and all.
Crafts are something that Balfour has always enjoyed doing with her grandchildren. And it's something they enjoy doing with her, as well.
"It's pretty hard to make something if they're not excited," she said, laughing.
When Janie Olmsted's son Samuel was little, he liked to watch instructional videos and movies. One of the videos he watched was about making gingerbread houses. Olmsted's son took an interest in the video and wanted to create a gingerbread house of his own.
While the homes looked nice, Olmsted said she always thought it sounded pretty elaborate and difficult to pull off. But after visiting the Erie Canal Museum and seeing what others had made, she and her family decided to give it a try. It has since become a yearly tradition.
Olmsted homeschools her 12-year-old son and 10-year-old daughter, so the gingerbread project serves not just as something fun for the family to do together, but also as art class.
This year's creation is a traditional gingerbread house entered in the family category. The family made the gingerbread themselves with a recipe from the "Joy of Cooking" cookbook, Olmsted said.
In the past, Olmsted's children have done their own projects entered in the youth category – which her daughter, Noah, won last year – but this year they decided to do one project as a family.
It serves as a lesson in working together and cooperation, Olmsted said.
Olmsted helped her kids create their traditional-style gingerbread house. She stayed up until 3 a.m. one night, putting on all the finishing touches the kids missed.
But Olmsted said the hardest part of the process is transporting the creation from her home in Manlius to the museum.
"(I go) pretty slow," she said. "And I usually don't go the highway."
Though the gallery has a competitive element to it — a crew of guest judges will be selecting winners — for the Olmsted family, it's not about winning. It's simply about getting to do something together.
"I don't know if we're good at making them, but they're so much fun," Olmsted said.
Quick Fact:
 
Gingerbread was brought to Europe in 992 by Gregory of Nicopolis (Gregory Makar), an Armenian monk who taught gingerbread baking to French Christians, according to Wikipedia. In medieval England, gingerbread was thought to have medicinal properties. It became widely available in the 18th century.

[fbcomments url="" width="100%" count="on"]