There's a red-headed actress out there who can make all eyes in the place focus on her, even when she's sharing scenes with better-looking people in the traditional sense.
Leslie Mann, meet the legend of Lucille Ball.
With the cock of an eyebrow, a twitch of the cheek or the unorthodox lift of a leg — or both legs — Mann is the pivot around which the comedy "The Other Woman" happily revolves.
Mann, like the centerpiece of the classic comedy TV series "I Love Lucy," "The Lucy-Desi Comedy Hour and "The Lucy Show," probably would bowl you over with her good looks if you met her on the street. She is a movie star. She's the wife of producer Judd Apatow. She's piled up escalating credits from "The Cable Guy" to "The 40-Year-Old Virgin" to "This Is 40" and beyond.
Using the formula that worked so well in the 1950s, 1960s and right up until her death in 1989 for the native of Jamestown, Mann's most memorable moments come from her Gumby-like physicality and impeccable sense of comedic timing.
Writer Melissa Stack and director Nick Cassavetes surrounded Mann's character Kate King with beautiful people and given her a story that's as interesting as it is unlikely.
In the beginning we meet Cameron Diaz's character Carly Whitten on a date with Mark King, played with ample equal parts charm and smugness by Nicolaj Coster-Waldau. Whitten is suitably smitten, as she shares in a quite funny scene with her ultra-wise assistant Lydia, given cocky New York City law firm street cred by hip-hop star Nicki MInaj.
But one important afternoon, Mark backs out of his date to meet Carly's dad, a confident dude played with ageless confidence by Don Johnson. Dad tells Carly to go out to the burbs of Connecticut to fix Mark's plumbing, so to speak. With plunger and heels, she meets the wife at the door.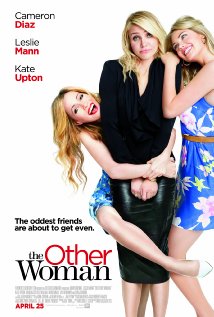 The chemistry between Mann and Diaz sizzles as they become odd friends and discuss two-timer Mark. Lo and behold, their tail on the cad leads to the discovery of another other woman, Amber, played with beach blonde bombshell innocence by Sports Illustrated magazine swimsuit model Kate Upton.
And they become a trio set on making the man miserable. The mystery and high jinx ramp up as they discover that using Kate's opportunity and access as the wife, Carly's cunning as the attorney mistress and Amber's allure as the young, firm body can help them steer this cheater into quite an unenviable corner.
A Sunday matinee audience at Destiny USA, tilted toward the female gender, cheered and laughed as the lead women worked together to settle the score, and they obviously liked it when Kate's smart and good-looking brother Phil, played by "Chicago Fire" star Taylor Kinney, finds his way into their avenging circle.
The ending made the crowd — men, too — satisfied that good things happened to good people.


Mark Bialczak is a veteran journalist who has lived in the Syracuse area since 1983. In early 2013, he was set free to write about whatever he wants. Click here to read Mark's BLOG.
[fbcomments url="" width="100%" count="on"]