Bringing NoLa North
Since 1983, The Rebirth Brass Band has been delivering traditional New Orleans brass band music, complete with second line, funk, jazz, soul and hip-hop. They released their first album on Arhoolie Records in 1984 and were signed to Rounder Records in 1989. Since then, they've released more than a dozen albums, tour North America and Europe consistently and won a Grammy Award (for Best Regional Roots Music in 2012).
This New Orleans institution, born out of two brothers – tuba/sousaphone player Philip Frazier and bass drummer Keith Frazier – is one of the most celebrated in the world. The brothers are joined by Derek Shezbie, Chaderick Honroe and Glen Andrews, Stafford Agee and Corey Henry on trombone, Derrick Tabb on snare drum and Vincent Broussard on saxophone, and they'll be in Syracuse on Friday, March 27 as part of the Legends of Jazz Series Arts Across Campus program, produced by M&T Jazz Fest founder Frank Malfitano.
Keith Frazier took a few minutes to speak with the Syracuse New Times about the New Orleans tradition, being a band of brothers and how important it is to feel the music.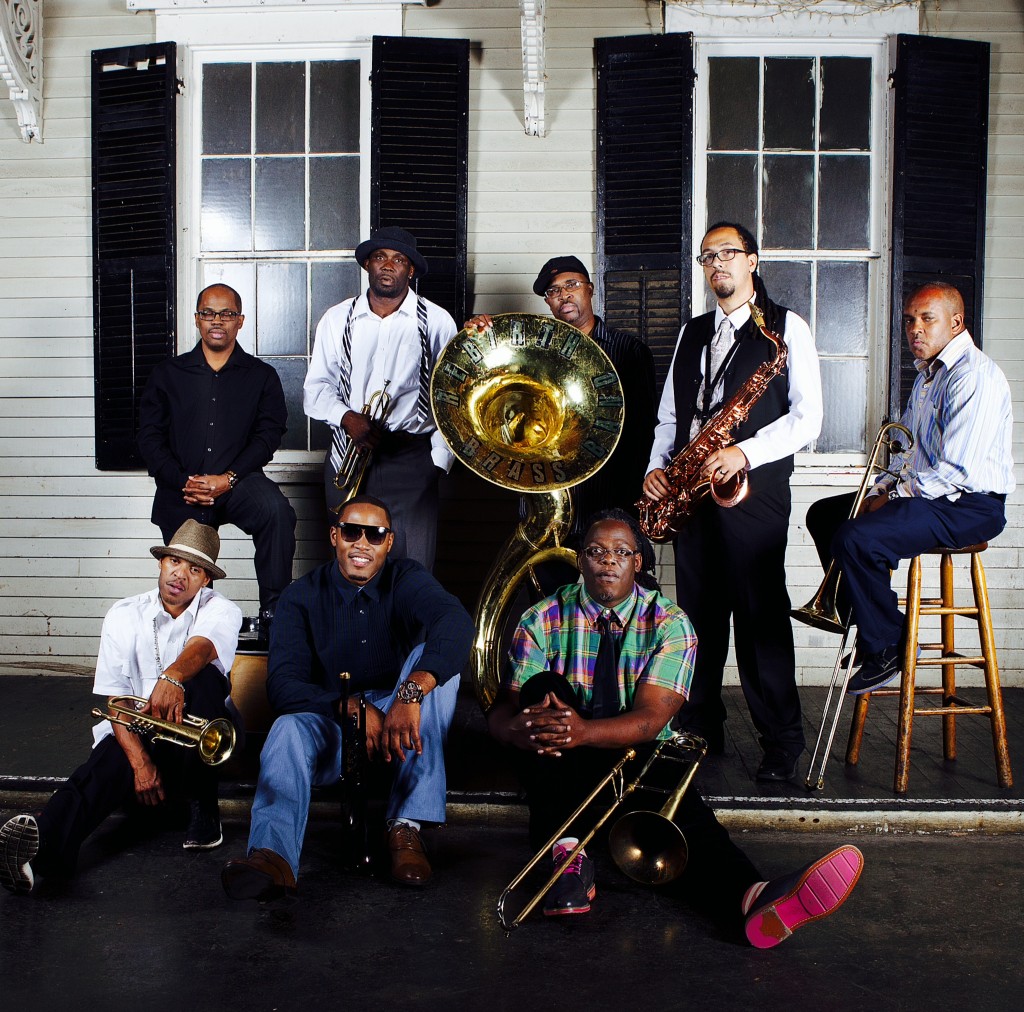 JN: Tell me how the band started.
KF: We were in high school and my brother, Phil, was captain of the marching band. We decided to go down and play at a hotel, but we were too young. They couldn't let us play while they were serving alcohol. So, we said, 'Let's go down to Bourbon Street and play for tips.' It was something constructive to do and we could make money.
JN: How did it go?
KF: We made tips! We only knew, like, three songs, so we just played them over and over, but it worked and we found out we could make some money playing traditional New Orleans music. We started rehearsing and practicing throughout the whole summer.
JN: When did you start making it as a band?
The very next summer (in 1983), we were playing in New Orleans at The Grease Lounge. They allowed us to play even though we were still under age and a guy from a Los Angeles record company (Arhoolie Records) was there. We were 14 to 18 years old, but pretty good. And this guy from LA says, 'You should record an album.' We were like, 'Record an album?' We started as the Rebirth Jazz Band, set up a few mics on a Thursday night in the bar – not a studio – and recorded the whole first album in 1983.
JN: What's it like listening to that first album today?
KF: Every time I go back and listen to Here to Stay!, the energy was just a regular Thursday night at the bar. We performed like the mics weren't there. Mistakes were captured, it's not very polished, but the energy is captured, too. It was just a regular Thursday in New Orleans.
Listen to "Here To Stay!"
JN: What is it about New Orleans music that pulls you in?
KF: New Orleans music is so rich in tradition. It's not a modern fad that's here today and gone tomorrow. You can reach back 200-300 years. People still love it today.
JN: Tell me more about that tradition.
KF: One thing most don't realize is the way it (New Orleans music) was put together. People congregated at Congo Square (in Louis Armstrong Park in the Treme neighborhood of New Orleans) one day out of the workweek to really enjoy themselves. They'd bring out their instruments and that's how jazz was born. New Orleans is the real birthplace of jazz. It's real, free, improvised music. You can go back and listen to songs from 100 years ago, and that music is still similar to what's played today. Whenever people hear it – it's like they're discovering America all over again.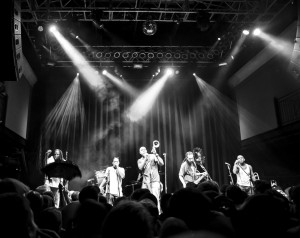 JN: You've been in one band for more than 20 years. How do you keep it together?
KF: We're like a family, like brothers. Most guys have been in the band for a very long time. Instead of treating it like a job, we treat it like a family. Like a family would wash cars or cut grass, we each do our thing. We respect each other and listen to each other. If someone has an idea to kick around, no matter how good or bad, we listen and try to implement it.
JN: You're unique that you started together in high school and are still playing together, like you did then, today. How have you grown as musicians?
KF: Most lessons we took were in high school march and concert bands. We've grown together as musicians and formed our own craft. We've taken some individual classes and courses along the way and when someone learns something that someone else doesn't know – we try to bring them up to speed. It makes everyone better. You're only as strong as your weakest person, so if someone doesn't know something – you say, 'You need to understand this.' We are all together in the music.
JN: You've been writing for a long time. What continues to inspire you?
KF: The city of New Orleans is very inspirational. The stuff we see around us inspires us. Something as simple as two people having a conversation triggers something in your mind. That could be a song. You could think of a tune to go with whatever they're talking about – politics, religion, relationships – it makes you want to create a song.
JN: What advice do you have for aspiring musicians?
KF: Play from your heart. Music should be played from the heart and not the head. You can study, study, study, but play exactly what you feel. People will feel that more. Know the music and be educated and play professionally and properly, but always play from the heart.
The Rebirth Brass Band performs Friday, March 27, 4:30 and 7 p.m., at Onondaga Community College's Storer Auditorium, 4585 W. Seneca Turnpike. Tickets are $30. Call 498-2772 for details.


[fbcomments url="" width="100%" count="on"]