With John Wick hitting the theaters, it's good to be Keanu Reeves, kicking butt on the big screen and picking up dinner checks in real life.
Right.
Right?
Not so fast.
A story by reporter Mike Reyes for Cinema Blend says that Mister Matrix, Johnny Point Blank, Sen`or Speed, ain't quite feeling the love like the years that brought those major successes.
Writes Reyes, "as the ensuing decades went by, a string of flops and modest hits … didn't do any favors for his career. Which has left us with a world where Keanu Reeves is sad, because not as many studios want to work with Keanu Reeves."
In the Cinema Blend story, Reeves is quoted from a piece in IndieWire to promote John Wick — out widely to theaters Friday, in fact. When asked if he's OK with his falling studio star, Reeves said, "No, it sucks — but it's just the way it is. You can have positive and negative experiences, but what I like about studios are the resources and the worlds they can create. Obviously, a lot of good filmmakers work on studio movies. Even when I was working on studio movies more often, I was always doing independent movies, so for me, that was just not happening."
In John Wick, Reeves plays an assassin who reluctantly comes out of retirement. In real life, he just turned 50, good golly. Good casting. And good early reviews, too. "It scored an early 100% on Rotten Tomatoes," writes Bryan Alexander in USA Today.
Will he be big, and will he be bad?
Come Christmas Day, the tale of Little Red Riding Hood will get a jolt on the big screen, among other famous fables.
Into the Woods will come from the Walt Disney Company, adapting the Broadway musical by that name with lyrics and music by Stephen Sondheim.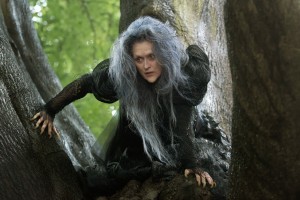 Writes reporter Sandy Schaefer for Screen Rant: "Into the Woods, as directed by Rob Marshall (Chicago, Nine), features a number of A-list stars — like Meryl Streep, Anna Kendrick, Chris Pine and Johnny Depp — playing well-known fairy tale characters that a Baker (James Corden) crosses paths with on his journey to undo a witch's (Streep) curse that has led him and his wife (Emily Blunt) childless. Depp, as the Wolf in the Red Riding Hood story thread of Into the Woods, is kept under wraps in the film's teaser trailer, but a fresh set of magazine covers has revealed the actor's look as the character."
Remember, this movie is being sold as family friendly.
So get your fingers out from over your eyes, and go search for the right one of four collector's edition covers of Entertainment Weekly's Holiday Movie Preview edition that feature the cast members of Into the Woods.
I personally hope that the one with Kendrick as Cinderella comes to my mailbox. She's been a favorite of mine since she played opposite George Clooney in Up in the Air. And I liked her a bunch in Pitch Perfect, too.With John Wick hitting the theaters, it's good to be Keanu Reeves, kicking butt on the big screen and picking up dinner checks in real life.

[fbcomments url="" width="100%" count="on"]