Tickets are on sale for the eighth annual Downtown Living Tour, scheduled noon to 6 p.m. Saturday, May 17.
And for the first time, only one of the stops — 410 S. Clinton St. — is in Armory Square.
"It's exciting that some stops are in areas the tour has never been to before," said Lisa Romeo, director of the tour, which is organized by the Downtown Committee of Syracuse. "It shows how much residential development is spreading."
Tour stops include:
Pike Block, 300 S. Salina St.
Dey's Plaza, 401 S. Salina St.
Merchants Commons, 220 S. Warren St.
Former Quartier Printing building, 443 S. Warren St.
Creekwalk Commons, 324 W. Water St.
Former Onondaga Music Building, formerly home to Daisy Dukes, 410 S. Clinton St.
Courier Building, formerly home to L'Adour Restaurant Francais, 110 Montgomery St.
Mission Landing, 429 N. Franklin St.
Tour headquarters again this year will be the Pike Block. VIP Structures Inc. is turning four underused historic buildings — the Witherill, Chamberlin, Wilson and Bond buildings — into a 130,000-square-foot mixed-use facility. The four buildings include 67 apartments, ranging in size from 650 to 1,300 square feet.
Also returning to the tour this year are Dey's Plaza and Merchants Commons.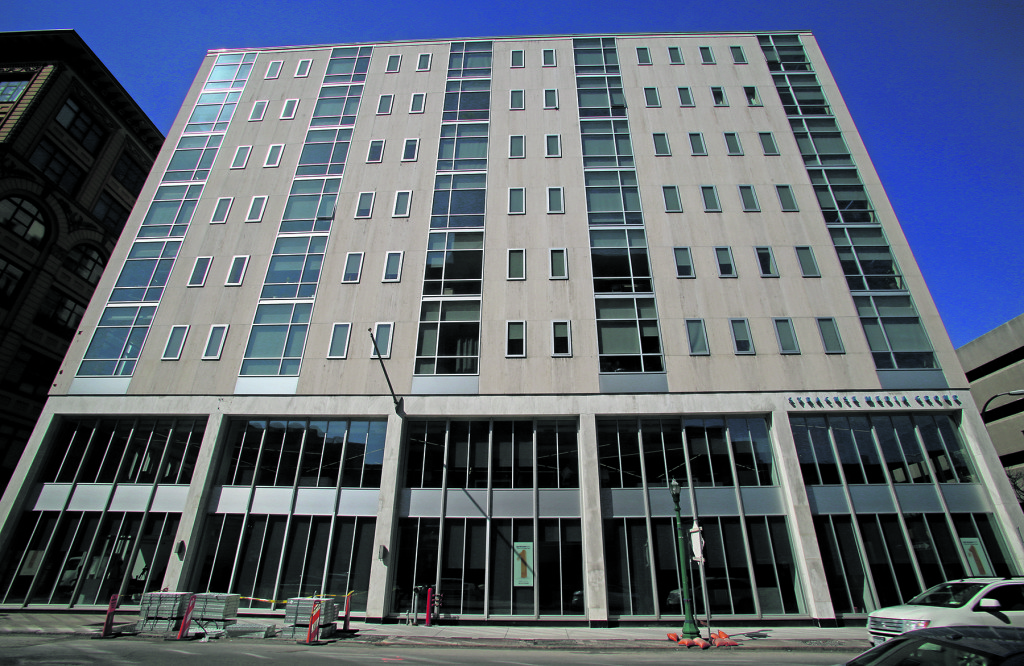 Mission Landing, 429 N. Franklin St., is a stop on the eighth Downtown Living Tour May 17.
Photo: Gloria Wright | Syracuse New Times
Mission Landing has also been a stop on past tours.
Last year, both Merchants Commons and the Pike Block were under construction, so tour-goers this year can see the finished projects, Romeo said.
Some of the new stops, including 443 S. Warren St., are under construction, Romeo said.
The former Quartier Printing building was built in 1920, and the space is being renovated into a multi-unit building, with two condominiums on the second and third floors.  The first floor will include a private fitness room, a recreational room with pool table, and an in-house theater.
Construction on 325 E. Water St., is just starting, she said, but the developers will be on hand with renderings showing what the completed project will look like.
Once completed, the building will have commercial space on the first floor and loft-style apartments upstairs.
The Courier Building, built in 1844, is listed on the National Register of Historic Places. A balcony on the Montgomery Street side where Daniel Webster gave his famous "Syracuse Speech" on May 26, 1851, is intact.  Webster warned local abolitionists that aiding and abetting fugitive slaves would be considered treasonous. The ground floor will house an Ameriprise Financial office and a bistro with interior and street side seating. The upper three floors will house nine apartments ranging in size from 850 square feet to 1,350 square feet.
Another new project on this year's tour is Creekwalk Commons, 324 W. Water St., which will house up to 146 students from area colleges in 75 apartments as well as 12,000 square feet of retail space.
About 3,000 people live downtown, Romeo said, in about 1,000 market-rate units. The downtown occupancy rate is 99 percent.
More than 2,600 tickets were sold for the 2013 tour, a record.
Pre-sale tickets are $12 and will be available through May 15 on the Downtown Committee's website, downtownsyracuse.com.
The tickets can also be purchased in person at these AmeriCU Credit Union locations:
Armory Square
Auburn
Camillus
Cazenovia
Cicero
Fayetteville
Liverpool
Onondaga Community College
Thompson Road in Syracuse.
Tickets can also be purchased on the day of the tour for $15 at Pike Block.
Children ages 10 and under are free.
No tickets are mailed. All tickets must be picked up at Pike Block the day of the tour.
For more LIVING SPACE – CLICK HERE

[fbcomments url="" width="100%" count="on"]