Children walk down Lebanon Street in tiny lines; boys and girls of all different kinds. The bundled youngsters want a glimpse of an illusive cat, guided across town by a red-and-white striped hat.
Hamilton went crazy for all things Dr. Seuss on Seuss Saturday, March 1. About 200 people came out to attend the village's second annual celebration of the literary icon and cartoonist's birthday, on March 2.
The day began with a special green eggs and ham breakfast at the Barge Canal Coffee Company at 8 a.m. and wrapped up with an interactive telling of The Lorax at the Hamilton Center for the Arts at 4 p.m. No matter where you went, from the computer lab at the public library to Oliveri's Pizzeria, there were Seuss-related games and activities for kids and adults.
"Last year, we only expected 20 to 30 people, and 200 showed up," said Hilary Virgil, director of the Hamilton Public Library, whose favorite Dr. Seuss book is The Lorax.
The library and the bookstore started the event last year with a few activities and readings. This year, the bookstore and the library enlisted the help of more than 10 local organizations and businesses to get more of the community involved and to spread the celebration across the village.
Bridgette Gaebel, of Utica, and her daughter, Jaelynn, 4, came to Seuss Saturday after Gaebel's 99-year-old great-grandmother told her about the event.
"Dr. Seuss is Jaelynn's favorite. We've read all the books," said Gaebel, whose favorite Dr. Seuss book is The Cat in the Hat.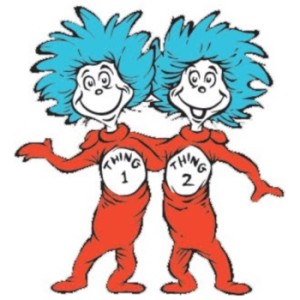 They met the cat and his infamous blue-haired companions, Thing 1 and Thing 2, during one of the readings in the Colgate University bookstore. After the reading, they went off to find a Seuss-themed lunch and to stop by the Hamilton Movie Theatre for the screening of Horton Hears a Who and, of course, for the "Hop on Pop" popcorn.
During craft time at the Hamilton Center for the Arts, children and adults made Seuss-inspired whatch-a-majig creations from pipe cleaners, yarn and an assortment of other household knick-knacks.
"The crafts are a good Seuss inspired-activity because there are no right or wrong answers in his books," said Kathy Herold, director of the center, whose favorite Dr. Seuss book is The Sneetches. "His books are inspiring because anything is possible and everything is outside the box."
[fbcomments url="" width="100%" count="on"]