Word gets out fast.
Warner Brothers has confirmed that it will release a big screen version of a story based on the increasingly popular DC comics The Flash.
And the winner of the lead role is Ezra Miller.
Film Reporter Justin Kroll wrote Wednesday for Variety that WB Chairman and CEO Kevin Tsujihara announced at an earnings meeting that The Flash would come out in 2018.
The Flash's fanworld is buzzing because The CW last week launched its TV show based on scientist Barry Allen, who suddenly finds himself with amazing speed when he awakens form a coma. And the show, which stars Grant Gustin as the Scarlet Speedster, set ratings records for The CW. The big-screen version will have no ties to the TV series, Kroll writes for Variety.
Miller is still probably best known to the younger crowd for his role as Patrick in 2012's The Perks of Being a Wallflower. The 22-year-old native of Hoboken, N.J., also played Leon Dupuis in this summer's Madame Bovary.
It will be a good year for DC Comics. Aquaman, based on the DC hero who does pretty well under the waves, also will be released in 2018. That one will star Jason Mamoa.
St. Vincent talks Peter Venkman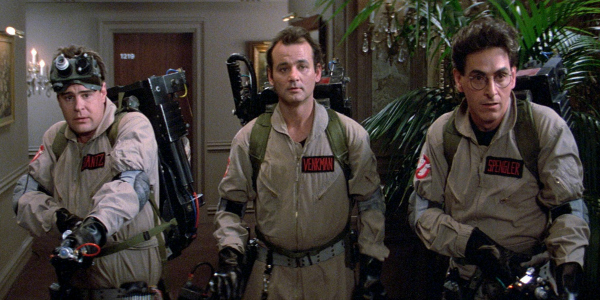 Or, back here in the real world, we shall explain it as "Bill Murray takes the time during the release of his latest movie St. Vincent to explain why he kept saying no to offers to reprise his role as Peter Venkman in any sort of Ghostbusters 3."
According to a Wednesday story on Cinema Blend by reporter Sean O'Connell, "everyone from Dan Aykroyd to Ivan Reitman tried to get Bill Murray to commit to a third Ghostbusters movie. And while Murray stayed elusive, he never gave a concrete reason as to why the various screenplays presented to him fizzled. Until today."
O'Connell writes that Murray told Variety that one version of the movie had him playing Peter Venkman as a ghost who came back to haunt the other three ghostbusters. Another draft, written by Aykroyd, he called "crazy bizarre and too crazy to comprehend." It may have taken place in another dimension, with a title of Ghostbusters 3: Hellbent, O'Connell writes, and included a city versionof Manhattan called Manhelton, where the 'busters had to fight demons.
In any case, Murray also talked to Variety about how things were so good back in the days of the original that he feared trying to again approach that kind of juice.
So O'Connell wishes those that have taken on the responsibility for GB3,/em>, director Paul Feig and screenwriter Katie Dippold, a new and clear vision free of the past.
"No one needs to see those guys in this new movie," he writes. … "And let's stop asking Bill Murray Ghostbusters questions for the next few years." Amen.

[fbcomments url="" width="100%" count="on"]