I'm not giving anyone the George W. Bush biography of his father for Christmas this year, but for my oldest son I did pick up the book that Jim Boeheim wrote with Jack McCallum.
As is my habit, I read the book before gift wrapping it. If you read this column and happen to know my son, please do not mention this to him. I am also hopeful that he will not notice the coffee stain that begins on page 224.
W's book, 41, tops this week's New York Times bestseller list for non-fiction. So, after bringing death and destruction to much of Iraq, and enraging every real painter in the country with his dilettante art, W has now gone on to cause many writers of prose to tear their hair out, shake their heads and wish they'd gone into the business of being born to someone rich and powerful, instead of say, working for a living. I mean, John Quincy Adams didn't even do a biography of his father, John Adams, a father who founded a country, not just a second-rate political dynasty.
Sports bios being pretty lame for the most part, I was not expecting much from Bleeding Orange: 50 Years of Blind Referees, Screaming Fans, Beasts of the East, and Syracuse Basketball (HarperCollins).
I was happily surprised.
The tale that the boy from Lyons tells starts and ends with fear. Most fans and players don't think of Boeheim as a fearful man. His players and those who cover him are known to fear his outbursts. But in the book, Boeheim talks of his fear of losing and not being good enough.
Fear was an obstacle for the walk-on from Lyons to overcome in 1962, and it's still an issue for him. He starts each season fearful that his team will never win another game. His opening thoughts on fear as part of the process make this a worthwhile read for any young person. Fear, he points out, is the norm for most of us engaged in any human endeavor. It's how we step through the fear, how we get past it, that determines whether we head back to Lyons to run the family funeral business or lead a national champion-caliber sports program at a major university. That's good coaching.
Boeheim emerges in the book as a guy you want to like in spite of his many faults. He acknowledges and even finds humor in his foibles, though you can sense throughout that you do not want to be the one to point them out. He is also not someone to keep around when you're feeling vulnerable.
He teases most of his coaching colleagues and heaps luscious praise on those he admires — Dave Bing seems to serve as a surrogate brother, Gerry McNamara as an extra son — and then there are the moments when he can't seem to keep from taking cheap shots at players or coaches who don't deserve it.
But the book is worth its price just to relive the great moments in SU basketball history: the six-overtime defeat of Connecticut, the Duke game in which he tore off his sports jacket, stormed the court and got ejected, and, of course, Hakim Warrick leaping through space and making time stand still to block the final shot of the 2003 championship game, which led to Boeheim's vindicating national championship and his worst fashion choice ever: the goofy floppy cowboy hat.
Boeheim tries not to care about what people think, but he usually seems to be writing as if he had just overheard someone speaking badly of him. His marriage to Juli, his choice of eyewear and coats, his love of the 2-3 zone, each topic he writes about like he's on the defensive. Which is, of course, this coach's strength.
Worth the read.
Coach Boeheim as Activist?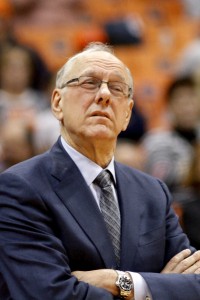 The book offers just a few glimpses into Boeheim's political outlook, which he describes as "basically centrist, possibly leaning more Republican."
He was awestruck by his encounters with Bill Clinton, a man whose charisma, says the coach, made you want to hand over your wallet. Barack Obama, the first good basketball player to occupy the Oval Office, gets a thumbs up from Coach Boeheim. He chastises the tea party, which, he says, "only wants to bring down President Obama, who, Boeheim believes, "has done a pretty fair job overall."
On only one non-hoops topic does the coach argue forcefully enough to earn a technical: a call for action to control assault weapons.
Two years ago, four days after the Sandy Hook tragedy, after his 900th win, Boeheim shook his head and, thinking of his own four kids, asked, "If one person in this world — the NRA president, anybody — can tell me why we need assault weapons with 30 shots. . . . If we can't get this thing done, I don't know what kind of country we have."
Later in the chapter, Boeheim says that he "desperately" wanted to win another NCAA championship, not just for the winning, "but so I could repeat (the gun control message) on a national stage."

[fbcomments url="" width="100%" count="on"]