Last month, Fox News' Laura Ingraham faced criticism after making a comment about a survivor of the Valentine's Day mass shooting at Marjory Stoneman Douglas High School in Parkland, Florida.
David Hogg, an MSD senior-turned-activist, mentioned in early March during an interview that he had been denied by four universities in California, according to the L.A. Times. Ingraham shared the story on her Twitter profile, adding her own twist on the headline by commenting: "David Hogg Rejected By Four Colleges To Which He Applied and whines about it. (Dinged by UCLA with a 4.1 GPA…totally predictable given acceptance rates.)"
In response, Hogg urged his social media followers to contact companies who advertise on The Ingraham Angle, to bring up the issue. Within days, more than a dozen companies pulled their advertisements from her television program, according to The Washington Post. Ingraham later apologized for her comment.
However, when she returned from vacation Monday, Ingraham described the culture around free speech as "Stalinist," with liberals acting to stifle and silence conservatives with "left-wing retaliatory hit squads" who'd rather shove opponents out of the public light than debate an issue, the Associated Press reported. Bill Maher of HBO's Real Time with Bill Maher, who is a Democrat and normally leans left politically, went to Ingraham's defense on his show, saying it was her First Amendment right to have her own opinion, The Washington Post stated. Show guest and former New York governor Elliot Spitzer countered by saying boycotting is also a First Amendment right.
We're asking you: Do you think conservative opinions are treated the same as others? Vote now and share your thoughts.
Here are the results of last week's poll, which discussed the prepared scripts Sinclair Broadcast Group had its news anchors nationwide read on air: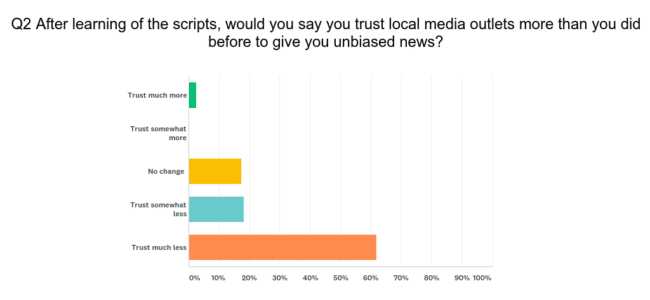 [fbcomments url="" width="100%" count="on"]