It's a wrap. Our call for public art closed this week and it was a call seen round the world. The Connective Corridor, in partnership with the Syracuse University College of Visual and Performing Arts, received 276 applications from five continents, 17 countries, and 36 U.S. states. Of those, 85 are New York State-based, with more than 30 regional artists. Applications are very high quality, with an impressive portfolio of work by both established and emerging artists. The results are truly world-class.
In many ways, the call is a literal window into the world of public art. We received entries from artists working in sculpture, mosaic, murals, metal fabrication, lighting and landscaping. Their tools are bronze, aluminum and steel, concrete, ceramic and glass, water, wood, stone, and plantings, as well as optics and LED lighting. They have installed work around the globe, from very small to very large, high profile installations. Along with work samples, they submitted statements which talk about their expertise in creative placemaking – an approach that fuses public art, design and community revitalization. And, we asked each to write about why they wanted to work in Syracuse, and what makes this project unique.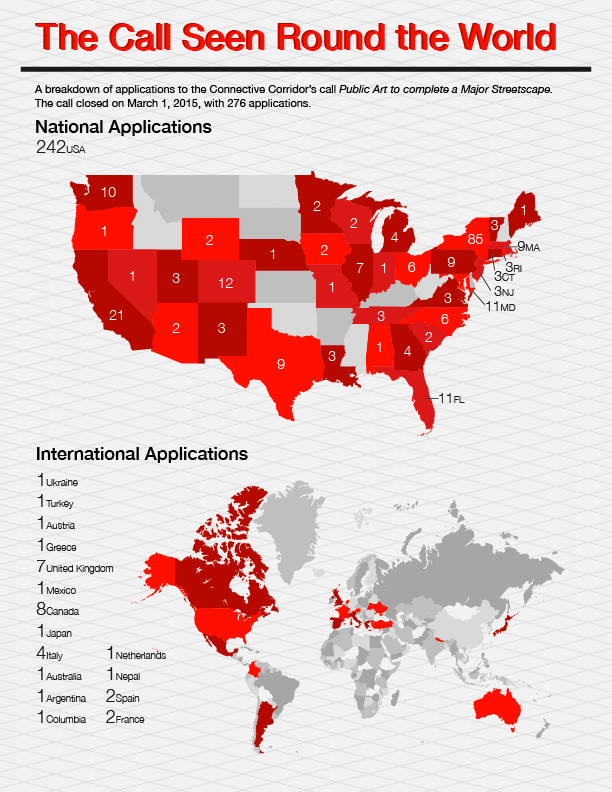 Now it's time to start picking art. This will be a formidable task for the jury, given the number of talented artists who applied. And, it's a chance for reader feedback, so we encourage you to use this weekly Syracuse New Times blogpost to share your thoughts.
Here's what you said:
We've enjoyed reading comments by Syracuse New Times readers the past few weeks, and their responses will be shared with the jury. Here's a quick recap of reader comments to date. Send more!
Public art is important. On a scale of 1-5, (with five being highest), we asked how important it is for a community to have public art. 89% of respondents picked 5, and another 11% picked 4 – a huge thumbs up for public art.
Public art should be a creative mix. Respondents reacted most favorably to art that incorporated landscaping, lighting, or sculpture with "serendipitous" interactions between the public and the art. Readers want to see playful, creative elements working together in visually stimulating ways.
Public art is a "nonverbal dialogue" about a place. It creates perspective, instills beauty, connotes innovation, creates a sense of place, instills pride, and makes a symbolic statement about the community.
Public art invites you in. And invites you back. It's something that can be played with. It encourages you to pause and want to spend time, or to come back because it is changing. Public art should be an iconic anchor but also fresh and engaging
Public art mixes mediums. It's an interplay of materials and mediums that keeps it interesting and dynamic.
Public art is about working with the community. A collaborative process leads to good art.
Now the selection panel, discussed in last week's blog, gets to work evaluating the applicants based on the following criteria:
Does the artist have aesthetic merit and produce high quality work? Is their work meaningful and enduring?
Does the artist's work seem appropriate within the context of City of Syracuse? Would it enhance the City's existing collection or add diversity?
Is the artwork engaging? Would it help activate the Corridor? Would it help create spaces that are more vibrant?
Are the materials appropriate and durable? Are the works susceptible to vandalism or graffiti? How might works weather over time? What are the maintenance requirements?
Does scale of work match availability of an appropriate site? Are works compatible in size, scale, material, form and style for the area in which they are to be placed?
Is there an opportunity to "illuminate" the completed work? Is that cost feasible?
Does the cost of an artist's work match what is available in this call for art?
Does the artist's work engage the public? Does the artist bring a process to the work, or just produce work?
Does the artist have a record of working with communities to commission, fabricate and install public art?
Does the artist understand the requirements of working with a municipal public art commission?
Can the project be completed by June 2016?
The steering committee and jury are just starting the process of reviewing applications submitted by these talented artists. Over the next month we'll be scheduling a public outreach session to share more information on the artists, and to talk about how public art can make Syracuse even more inviting to people who live, work and visit here. We'll be talking about how we use the power of this call seen round the world to focus on Syracuse's creative energy and assets.
This is an exciting project for Syracuse – both the city and the university. We look forward to bringing together good minds to talk about innovative design, and how creative placemaking can enhance community revitalization.
Now it's your turn to weigh in by answering the survey below:
Create your free online surveys with SurveyMonkey , the world's leading questionnaire tool.
Quinton Fletchall is the public art project coordinator for the Connective Corridor. He is also is a part-time SU VPA instructor of design, a current graduate student in the communication and rhetorical studies (G'15) and a graduate of industrial and interaction design ('13).

[fbcomments url="" width="100%" count="on"]