Mike Odd, manager of Mac Sabbath, didn't see the band's success coming. What started with an anonymous phone call and a strange meeting in a hamburger joint has since become an international sensation — in less than three years.
"I had no idea how big it would get or how fast it would move," he admits in a phone interview from the road. The band, currently in the middle of their longest road trip yet, has already slammed its Rock-Sham-Shake tour through Texas, Florida and Virginia. They'll play the Lost Horizon on Saturday, March 26, 7 p.m.
According to Odd, the history of Mac Sabbath began when a singer named Ronald Osbourne anonymously called up Odd in late 2013 and persuaded him to meet at a restaurant in Chatsworth, Calif. Osbourne knew about Odd's experiences as a singer with Rosemary's Billygoat, the cultish Los Angeles rock outfit that dressed up in horrific costumes and was influenced by acts such as shock rockers Alice Cooper and GWAR.
"I sat there and waited and waited until this clown burst in the door," Odd recalls. "He was dripping with red and yellow dirty tassels scraping the floor. He sat in the booth I was in and started spewing out random ideas and concepts, completely bowling me over. He told me it was my destiny to manage his band Mac Sabbath, to bring his secret project above ground.
"By the time we got kicked out of that place, he asked me to come to another similar place, but at three in the morning. It was the basement of a burger joint where I watched Mac Sabbath perform among cardboard boxes of freeze-dried condiments and burgers."
Odd's experience was memorable, albeit bizarre and frightening. The band performed dressed like characters from McDonaldland, the fantasy world used in fast-food kingpin McDonald's marketing campaigns. Osbourne is the vocalist, with Slayer MacCheeze on guitar, bassist Grimalice and Catburglar smacking the drums.
"I saw them perform as these childhood characters who have a warm spot in my heart, but singing about fast food, GMOs, and government food controls in Black Sabbath songs," Odd explains. "It was like nothing I'd experienced before in my life. So, I thought, I'll give it a try, I'll work with this guy."
In July 2014 Mac Sabbath performed their first public concert as part of an art show in Santa Monica. In October they performed a Halloween festival for an elementary school in Silver Lake and headlined the Long Beach Zombie Walk.
A few months later, a video of the band performing "Frying Pan," their Mickey D-themed parody of Black Sabbath's "Iron Man," caught media attention from metal websites including Loudwire and Metal Injection. "Frying Pan" features mock-plaintive rhyming lyrics such as, "I once burned your meal/ My old job was cooking veal/ Now it's a culinary crime/ All our future is pink slime." From there, the band went viral. MTV News, Stereogum, Gigwise and MusicTimes all talked about the act, while publications in Germany, France, Italy and Poland covered their activity.
On Jan. 1, 2015, Black Sabbath shared the video on their official Facebook page. Odd relishes the moment: "Then it went crazy. They flew up to almost a million hits. That really helped. It was really wonderful to have their support."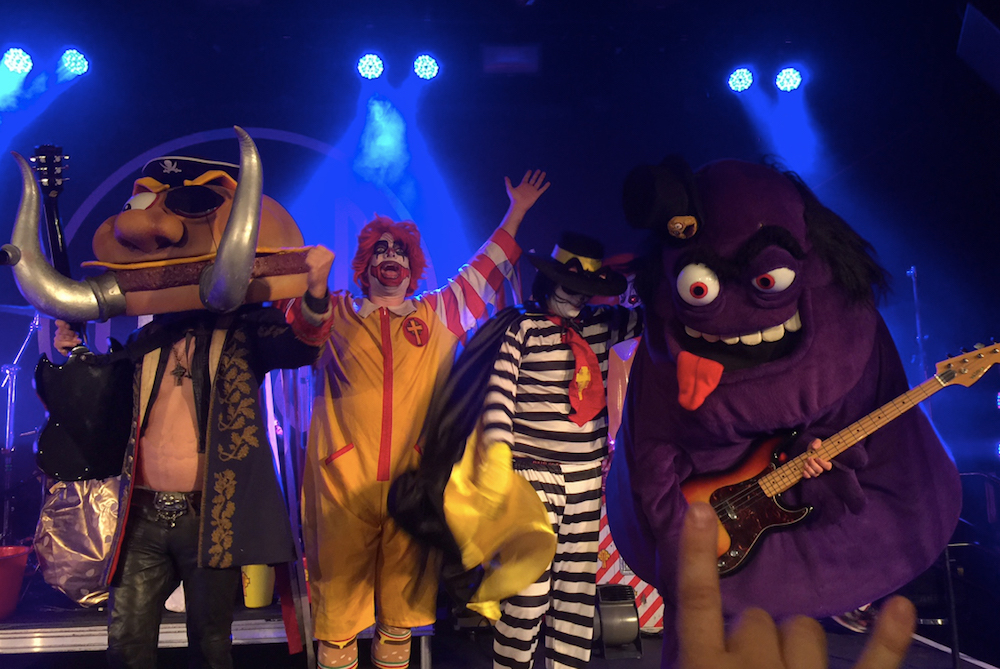 It's only gotten weirder since then. Although they hadn't played outside of California, in June 2015 the band performed at the Download Festival in Leicestershire, England, with KISS and Motley Crue. The french-fried funsters also played at San Francisco's Outside Lands Music and Arts Festival last year, performing prior to Elton John's show.
"After that I thought, 'Wow, I guess this is gonna work," Odd says. "It's completely changed my life and now I'm doing it full time."
Adding to the Mac mythology, Odd claims that Osbourne has traveled through the time-space continuum to spread the word about drive-through dining, kind of like The Terminator meets Fast Food Nation. "He insists he's been back to the 1970s to warn them what will happen to food and that we need to get back to the ideology of the 1970s when food and music were genuine," Odd says.
Despite their success, Odd isn't sure about releasing recorded music, either. Osbourne is slow to adopt modern technology, insisting that he'd rather release their tuneage on 8-track tapes, in keeping with the tradition of the 1970s-era music contraptions.
"I'm trying to find 8-track manufacturers," Odd says. "It's been very unsuccessful. Trying to figure out where it's headed is interesting, but I'm figuring it out."
Odd also insists that weird as the show sounds, it needs to be seen to be understood. "When we walk into the club, it's an eyebrows-up sort of situation," he says. "It's 'Why this?' and 'Why that?' But after they see it, it's completely different. People fall in love with it. Just watching these characters up there playing songs is one thing. Then this crazy weird thing goes on in each song. Ronald pulls in the crowd, there's audience interaction. There's birthday party tricks, laser-eyed skull clowns on the stage and inflatable burgers bopping around the crowd. It's a multimedia experience."
On top of that, Odd insists the music is great. "They're fantastic musicians," he says. "It's really hard to figure out how these creatures are manipulating the instruments as well as they do."
Mac Sabbath visits the Lost Horizon, 5863 Thompson Road, on Saturday, March 26, 7 p.m. Opening acts include Pale Green Stars and Reefer Southerland. Admission is $15 in advance, $20 at the door. Tickets are available at thelosthorizon.com. More information on the band can be found at facebook.com/MacSabbath.
[fbcomments url="" width="100%" count="on"]