Best of Syracuse® is a reader-generated poll trademarked by the Syracuse New Times. Each year, we ask our readers to nominate in seven categories: Metro Living, Sports & Leisure, Love & Sex, Shopping, Food and Drink, Arts and Entertainment and Family (formerly the Besties Awards from our sister publication, Family Times).
Your nominations are tallied, and the results bring out the top five in each category. We then turn it all over to you again for the final voting, and the Best of Syracuse emerges.
We are proud of the fact that Best of Syracuse is 100 percent reader-generated.
This year, we have begun making some updates to the annual process. For example, we've redesigned the Best of Syracuse print issue to include a handy, pull-out guide for you to use throughout the year. This way, you can judge for yourself in each category or bring your out-of-town visitors to the official best spots in the region. Needless to say, everyone seeks ideas for things to do from time to time, and we hope this re-imagined version serves you well.
Next year, we plan to add categories, including awards for visual art, haunted attractions and more. If you have an award suggestion, email us at  [email protected]. We want to hear from you.
Finally, we'd like to thank all of the readers who took the time to nominate and vote for your favorite picks. This year was a record-breaking year for nominating and voting for Best of Syracuse, and we couldn't be more excited about your response. Congratulations to all the nominees and winners this year. Even if you're not the Best, we still think you're awesome!
To view the results for Best of Syracuse 2014, click a category below:
***
To see the Best of Syracuse 2014 Photos – CLICK HERE
To see the Best of Syracuse 2013 Results – CLICK HERE
Best of Syracuse Cover Design by Cayetano Valenzuela of Black Rabbit Studio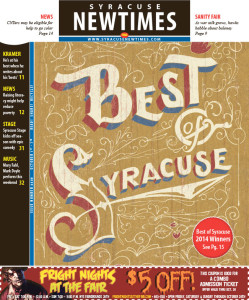 [fbcomments url="" width="100%" count="on"]