Ladies and gentlemen, start your ovens: The holidays are upon us. That means parties, host/hostess gifts, cookie exchanges and festive desserts that we make just once a year.
This season, why not incorporate some local and regional products into your baking?
About the only thing not produced locally is sugar — but if you keep it natural and bake with honey, there's no shortage of local options.
Some ideas for baking local:
Lard. For generations, bakers have turned to lard to make the most tender, flaky and flavorful baked goods — like pie crust. You can buy lard at the grocery store, but who knows where it comes from and how long it has been there?
You can get premium, super-fresh baking lard at Side Hill Farmers Meats and Market, 315 Fayette St., Manlius (in the plaza behind Sno-Top). Prepared foods chef Emily Prial is using fresh lard (from local pigs rendered by Side Hill butcher Kevin McCann) in the chicken pot pies sold at the shop. Pick up a container and try it in your own pie crusts — on its own, or in combination with butter. Information: www.sidehillfarmers.com; 682-6328.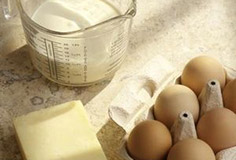 Butter. It wouldn't be the holidays without a refrigerator shelf-full of it. Look for Queensboro Butter at your grocery store or stock up at the Queensboro Dairy Products Store, in Canastota. You'll also find milk, cheeses and other products made from local milk. The store is at 4 Rasbach St., Canastota. Hours are 8 a.m. to 5 p.m. Monday to Friday. Information: www.queensborofarmproducts.com; 697-2235.
For an ultra-decadent butter, give Kriemhild Dairy Farms' pale yellow, European-style "meadow butter," produced in Madison County, a try. The milk used in the butter comes from grass-fed cows, and the higher fat content in the butter (85 percent; most supermarket butters are 80 percent) makes it sought-after by chefs and gourmets. Higher-fat butters are said to create more tender, flakier, flavorful baked goods.
For a special treat, try unsalted Kriemhild Dairy butter in butter cookies, shortbread recipes, pastries and pie crust. Look for Kriemhild butter at winter farmers markets in Central New York. It's also sold at Side Hill Farmers Meats and Market, Green Planet Grocery, Oh My Goodness Health Food Store (Homer) and others. For information, visit www.kriemhilddairy.com/index.html.
Eggs. Dozens of local farmers sell fresh, pastured eggs at the Central New York Regional Market each Saturday, which makes local eggs a super-easy addition to holiday baking. At Side Hill Farmers, look for eggs from co-op member Ingallside Meadows Farm, in Perryville. They sell dozens of cartons of them each week.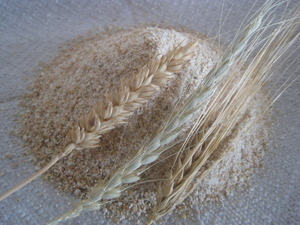 Flour and grains: Gianforte Farm, near Cazenovia, has grown grain for more than 20 years and has been certified organic since 2000. Judy Gianforte has been milling grain for about four years. She offers whole-grain flour, bread flour, pastry flour, buckwheat flour and rolled oats (for oatmeal, and for use in cookies, granola and granola bars). All products are grown, cleaned, milled and bagged at the farm — and flour is milled to order.
"We don't have things sitting around in bags," Gianforte says. "I wait for an order, then I mill. That way, when it comes to the customer, it's fresh. The benefits of local flour are freshness and a real added premium in taste."
Baking with whole-grain flour is different from baking with regular, commercial flour. Gianforte has taken classes at King Arthur Flour, in Vermont, to learn more about the nuances and differences and turns often to the King Arthur book Whole Grain Baking. With whole-grain flour, you have to experiment, she says. In recipes, she adds, you could substitute all whole-grain flour, or you could use a combination of whole-grain and regular flour.
"Substitute to your own taste and comfort level," she says.
To maintain its freshness and fresh taste, Gianforte says, whole grain flour should be stored immediately in a refrigerator or freezer, in a plastic bag or airtight container. When ready to bake, remove the amount you need and bring it to room temperature in a plastic bag to reduce condensation forming on the flour.
In Syracuse, look for Gianforte products at the Mumbling Market stand (Shed C) at the Central New York Regional Market, 2100 Park St. (Saturdays, year-round). For information about Gianforte Farm products, visit gianfortefarm.com. To place an order, call 877-1742 or email [email protected].
New Hope Mills is synonymous with pancake flour and mixes, but the company, based in Auburn, produces a wide range of baking products: all-purpose flour, cake flour, bread flour, rice flour, oat flour, yeast and  cornmeal. The New Hope Mills Store (and cafe) features all that, plus dozens of other baking products: nuts, grains, sugars, extracts, decorations, etc. Hours are 8 a.m. to 4 p.m. Monday to Friday and 10 a.m. to 2 p.m. Saturday. The store is at 181 York St., Auburn. Information: newhopemills.com; 252-2676.
Vanilla extract. Taberg, in Oneida County, is a long way from Madagascar, but that's where Rainforest Spice Company owner Tim Hoda is based, and where he handcrafts pure vanilla extract from fairly traded and responsibly produced vanilla beans from Madagascar.
For almost six years, Hoda, a beekeeper, has been producing vanilla extract for restaurants like The Tailor and the Cook, in Utica, and for some bakeries. This year, he started selling his vanilla products at the Oneida County Public Market at Union Station in Utica and via mail order. Prices start at $5 for vanilla beans (2) and $6 for vanilla extract (50 ml). Hoda also offers ground vanilla and vanilla sugar and plans to carry vanilla paste. To request a product and price list, email Hoda at [email protected] or call 292-8812.
Margaret McCormick is a freelance writer and editor in Syracuse. She blogs about food at eatfirst.typepad.com. Follow her on Twitter at @mmccormickcny

[fbcomments url="" width="100%" count="on"]