When many drummers today list off their influences, names like Phil Collins, Neil Peart and John Bonham may come up. But on Wednesday, March 11, a drummer is coming to ton who has been named as the influence of those skin-hitters.
Carmine Appice, 68, along and his younger brother Vinny Appice, 57, are two of the most well-known drummers in rock history. Known for their work with Ozzy Osbourne, Black Sabbath and Ronnie James Dio, they carry the weight of more than 100 years' combined professional experience. On March 11, 7 to 9 p.m., they'll be giving a master class to Central New York drummers at Jazz Central, 441 Washington St.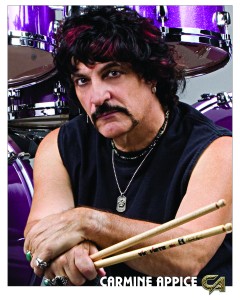 Carmine started drumming on pots and pans when he was a child. By the time he was in high school, he was drumming for a living. "I played my first gig in the Bronx when I was 14," he remembers. "We were paid $7.50 each to play and my father drove us there."
He had caught the performance bug. "I knew a guy who worked on weekdays and was a musician on weekends," he says. "He would play an afternoon wedding, then a night gig, a Sunday-afternoon gig and another night gig and make $50 to $70 a gig, which was good money back then. That's what I wanted to do."
He started booking himself, and made enough money to buy a Chevy four-speed Super Sport. "I decided to go to regular high school and major in music," he says. "It really did help my career. I learned theory and harmony, chords on a piano. I played piano, guitar, bass. Later in life, I wrote songs. It helped me in my adult career. Musicians always talk about having to sleep on floors, that kind of thing. I never had to do that. I always had gigs."
Vanilla Fudge was Appice's first project to break. They made the Top 10 charts without a smash single and went on The Ed Sullivan Show to perform their 1967 hit "You Keep Me Hangin' On," a grungy, bluesy cover of The Supremes' popular 1966 song. Soon, Led Zeppelin was opening for them.
Appice started another band, Cactus, and played with musicians including Jeff Beck and Rod Stewart, never with a lull in his career. Plus his 1972 instructional book, The Realistic Rock Drum Method, initially sold 400,000 copies.
"If I didn't keep pushing, if I waited for the phone to ring, nothing would have happened," he says. "I created situations. I learned that from Brooklyn. It's a survival technique: Don't sit around and wait for the phone to ring. I was networking before I knew what the word networking was."
Meanwhile, Vinny Appice, 11 years' younger than Carmine, grew up listening to his older brother. He was also influenced by Carmine, but he wasn't in competition. By the time he was 16, he had made his way onto John Lennon's 1974 track, "Whatever Gets You Thru the Night."
"I was in a band that had a rehearsal space in New York City and we'd go three or four times a week," Vinny says. "We worked with (producer) Jimmy Iovine from Interscope and one day he said, 'We need some handclaps.' And John Lennon's in the studio. Oh my God. Me and my band did the handclaps and John asked, 'Who were those guys who came down so quickly?' Jimmy told him he was producing us and a few days later John walks into the rehearsal space. He liked us and would hang out with us."
Vinny's band went on to play Lennon's last live performance ever, before he was killed in December 1980.
"I was 16 and would do all that and then go to school the next day," he says. "I just experienced everything so fast. I didn't want to learn algebra and French. I saw my brother being so successful and I knew it's what I wanted to do. I thought, 'School won't help me do this.' So I focused on music, went on the road and never came back."
Vinny found success with Rick Derringer, Black Sabbath and Dio, among others. But he also always wanted to collaborate with his brother. So the live rock show Drum Wars was born, where the brothers go back and forth behind the kit. "It's a very unique way to play together," Vinny says. They released the Drum Wars Live CD in November 2014 and continue to take their clinics and master classes on the road.
Carmine promises the local class will be worth the ticket. "Whoever comes will get their money's worth," he says. "We've done this cheap. It should be more money, but upstate New York is always a good area for us. Dio comes from that area. We're doing a payback. We're not in it for the money. We're teaching and keeping the art of drumming alive."
Vinny agrees: "We've done it in Syracuse before and a lot of people showed up. Everybody learned something. I'm looking forward to it, both of us teaching something. And Dio would always talk about Syracuse: It's Dio country!"
Advice from the Artists
"I was just talking at NAMM (the National Association of Music Merchants) about what it takes to make money as a new band today. Bands tour for years and years and sell maybe 30,000 records. In 1982 my solo album was selling 80,000 to 100,000 records and charted at like 130. I met a guy in a band that broke in at No. 3 on the charts and sold 50,000. It goes to show the difference in where the music business is today. I don't know how you really make it today. There used to be a formula. Today, it's not the same formula. But to be a musician, learn your instrument and play all kinds of music. Get in a band that plays music for all occasions. Play a wedding and make $500 a night. Work a weekend of weddings: corporate gigs, cover band, whatever. There are different ways to make it."
–Carmine Appice
"Practice a lot. Get really good and always take it seriously. And in business, be a nice guy. Be on time. Get along with people. Maybe you don't agree, but go along. If you're an asshole, you're late, people won't want to work with you. When I was with Sabbath, they were there 15 minutes before every rehearsal. These guys don't have to do that. People who are late, I don't deal with that. They let everyone else down. Network, use word of mouth, meet people, use social media, take phone numbers. Carmine's a master at that: He's survived his whole life doing this because he's a master communicator. Keep an eye on where the money goes. Keep your eye on the biz end: People will rip you off, especially when you're starting out. Once you get things going, it's great. There's nothing like it. It's the greatest feeling in the world. I'm lucky and honored to do this all my life. I love music. I love playing. I'm in my studio now. I have to do about 18 songs. I walk into my studio and play, create, and get paid for it."
–Vinny Appice
Carmine and Vinny Appice's drumming master class takes place Wednesday, March 11, 7 p.m., at Jazz Central, 441 Washington St. Tickets are $35. Call 479-5299 or email [email protected].

[fbcomments url="" width="100%" count="on"]