Each of the three community theater companies in the District Festival is going to retain its own identity and mission, but for this year's second edition they got serious about sharing resources. All of the action takes place at the snug Redhouse Arts Center, 201 S. West St., where host artistic director Stephen Svoboda has become a master at managing space.
Each show presented in repertory — the ultra-urbane Company from Rarely Done Productions, the epic musical The Civil War from Appleseed Productions, and the whimsical A Year with Frog and Toad from the Redhouse — is staged on the same set designed by Tim Brown. At rear is a plain white raised platform, with railings and approaching steps. Projected on the white back walls are all the atmospherics we need: skyscrapers for Company, bleak landscapes for Civil War, and drawn images of changing seasons for Frog and Toad. Tightening up each production is virtuoso sound designer Anthony Vadala, who smoothly integrates the musicians from the open art gallery upstairs and cuts back on necessary miking.
Stephen Sondheim's Company, the first-ever musical about not falling in love, redefined what the form itself is about. That puts it in a class with Oklahoma! and A Chorus Line. Despite being graced with biting wit and some of the master's best numbers, this welcome staging by Rarely Done is the first local one in more than 25 years. Sondheim and collaborator George Furth tinkered frequently with the script after the 1970 opening. This is the version in which the flight attendant Andy (Liam Fitzpatrick) is a guy, changing some of the dynamics about why the protagonist Bobby (Michael Riecke) can't seem to find the right girl.
Company Preview from Rarely Done on Vimeo.
At his surprise 35th birthday party, Bobby is unable to blow out all candles on the cake, a signal that his wishes are not going to come true. Urged that time is ripe to make a commitment, he visits five different couples so see how things are working. Things start badly when the squabbling Harry (Dan Bostick) and Sarah (Julia Berger) tumble on the floor in a karate match. Commenting on the action is the most cynical of Bobby's friends, the twice-divorced Joanne (Cathleen O'Brien-Brown) with the deeply ironic "It's the Little Things That Save a Marriage," not what you see on the surface. Later, when Bobby asks Harry if he regrets getting married, he responds with quintessential Sondheimian ambivalence in "Sorry/Grateful."
This does not mean Company is all of one mood. "Side by Side," one of the sunniest of all Sondheim songs, opens the second act, and the celebratory "Being Alive" closes it. Director Dan Tursi has Riecke giving warmer tones to "Marry Me a Little" (i.e., settling for the less than perfect) to close the first act.
Assuring Company's status as a landmark is the complex and revolutionary score, wonderfully delivered by music director Abel Searor. Even ahead of the quotable language are two show-stopping numbers, often performed as show pieces by themselves, one comic with a singer in white, the other bleak. Carmen Viviano-Crafts's motor-mouthed "Not Getting Married Today" turns anxiety into hilarity and achieves one of her finest moments ever. Pitch-black sarcasm pervades Cathleen O'Brien-Brown's "Ladies Who Lunch," a husky soprano takedown of putting on appearances.
Frank WIldhorn, Gregory Boyd and Jack Murphy's The Civil War (opening in 1999) from Appleseed Productions is the least known of this year's District Festival offerings. Prolific composer Wildhorn is known in these parts for his Jekyll and Hyde, a big success for director Sharee Lemos about 10 years ago, and the Covey Theatre Company will present his Bonnie and Clyde in July. It's a one-of-a-kind piece made up of words from the historical record and different kinds of original musical compositions. Joe Pierce, with mustache shaved and beard added, voices different speeches of Abraham Lincoln, and James Sanders, aged with a white wig, reminds us of the cogent and penetrating analyses of ex-slave and abolitionist Frederick Douglass. Sojourner Truth (Matellah Donzo) speaks for black women. No voice takes up the cause for the slave-owning Confederacy, but tenor Justin Bird humanizes rebel soldiers as Captain Pierce.
Behind the Scenes of The Civil War from Appleseed Productions on Vimeo.
Wildhorn's score often evokes the popular music of the 1860s, but he also draws on the idioms of rhythm and blues, rock, gospel, country and folk, once again under the direction of Abel Searor. As five members of the 19-player cast are African-American, they project in black voices, but Wildhorn makes no attempts to distinguish between musical traditions of North and South. Curiously, the most Southern-sounding number is "Oh, Be Joyful," in which the Union Army as a chorus complains about poor rations on the battlefield.
Early in the action Wildhorn's script quotes poet Walt Whitman, who had seen fighting firsthand, that no book would ever be able to capture the full horror of what took place. We are reminded often that 620,000 men perished. The dramatic arc of The Civil War is the same as history: a brief period of false expectation for a quick and glorious victory followed by slaughter, despair and grief. Two officers, both excellent singers, represent thousands: Captain Lochran (Trevor F. Hill) in blue and Captain Pierce (Justin Bird).
Some of the most affecting numbers, however, are sung by female members of the company who deal with the aftermath. Especially strong are Aubry Panek in black widow's weeds for "Five Boys," the nurses Marcia Mele, Catherine Osinski and Aubry Panek in "I Never Knew His Name," and Katie Lemos Brown's lament, "Missing You, My Bill."
Willie and Robert Reale's 2003 hit musical A Year with Frog and Toad is based on the "easy reader" books by Arnold Lobel (1933-1987), aimed at first and second graders. Most of our fellow citizens under age 40 have known them since the 1970s and see them as a kind of inversion of Charles Schulz's Peanuts. Here the anxieties of childhood, like fear of rejection and scary monster stories, are projected onto adult bodies, or adults representing the amphibians of the title. Cheery, ready-to-go Frog (newcomer Chris Coffey), dressed in green, is always reaching out to his downcast pal Toad (Dan Tursi) through all four seasons. Action begins at the end of winter's hibernation, and when Toad realizes he can take another month of shut-eye, he refuses to move.
Director Stephen Svoboda has jettisoned the bucolic look from Adrienne Lobel's distinctive watercolor illustrations from the original books in favor of brighter spirits. Patrick Burns' music direction and Caitlyn Geier's choreography put Frog and Toad in a well-lighted ambiance peopled with a high-stepping chorus of 13 in sequins, top hats, canes and fans of feathers.
The effect is to change the way we look at Toad. Elsewhere he has appeared as an even more taciturn version of Charlie Brown, exuding pathos with a hint of the comic. Here Toad's relentless drive to see the worst of every situation becomes absurd heading toward the hilarious. Thus the exuberant production number, "Get a Load of Toad," exploding Toad's mortification at being seen in a bathing suit, is one of the top moments in the show.
While this Frog and Toad is celebratory, it comes with a small tug of tension. Toad hates the hour of 10 a.m. because that's when the mail comes, and he never gets any. To raise his friend's spirits, Frog writes a letter but he entrusts its delivery to Snail (Anthony Malchar), who appears to be running in place. Costume designer Katharine Tarkulich puts Snail in a 1940s Boy Scout uniform with campaign hat and a bedroll on his back to represent his shell. Even with a year to run, can Snail get to Toad's place on time?
A Year with Frog and Toad Preview from Redhouse Arts Center on Vimeo.
Frog and Toad, like Peanuts, can play as well to adults as to youthful audiences. Tarkulich's witty costumes for the superb supporting players include Turtle (Julia Goretsky) in a bicycle helmet, the Mouse (Marguerite Mitchell) and especially the Large and Terrible Frog (Ashley Gusman).
Director Svoboda's heroic efforts to employ participants from Arc of Onondaga and area schools have never worked better. They effectively swell crowd scenes on cue, are never asked to do more than they can, and are always treated with love and respect.
District Details
The Civil War: Thursday, June 12, 8 p.m.; Saturday, June 14, 3 p.m.; Sunday, June 15, 7 p.m.; Wednesday, June 18, 8 p.m.; Saturday, June 21, 3 p.m.
Company: Wednesday, June 11 & Saturday, June 14, 8 p.m.; Sunday, June 15, 2 p.m.; Thursday, June 19, 8 p.m.; Saturday, June 21, 8 p.m.; Sunday, June 22, 7 p.m.
A Year with Frog and Toad: Friday, June 13, 8 p.m.; Saturday, June 14, 11 a.m.; Friday, June 20, 8 p.m.; Saturday, June 21, 11 a.m.; Sunday, June 22, 2 p.m.
Tickets are $25 for adults, $15 for students and seniors. A three-show option for adults is $60; with students and seniors paying $40. Dial 362-2785 for information.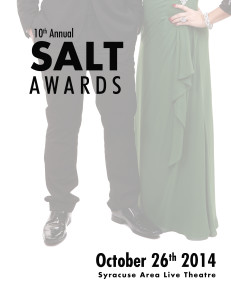 comments