***(Watch the latest Society Gurl video as she visits Modern Malt in Armory Square! – CLICK HERE)***
Downtown Syracuse has witnessed many changes – especially in the last few months.
We've gained SKY Armory for wedding and events venues, and The Hotel Syracuse renovation process is on its way. The housing and apartment boom is scratching at the ceiling of potential supersaturation. The desire to keep people coming downtown is still strong, even if full-time work, or affordable living is not available.
83 & Company and Sparky Town vacated their spaces in the Hawley-Green district – which is displeasing. The shit-stirring La Piazza, which came into the Downtown scene in the past year, couldn't hold its own and has since vacated the space. (Boy, wouldn't that be a swell spot for a grocery store or movie theater?)
The Funk 'n Waffles expansion has flooded the media as a sensational music venue. We need that: a place that offers music and comfort food and adult beverages every night of the week.
Next door to Awful Al's, where the Kandied Kernal once lived, is an empty space wanting to be filled.
Rob Bidwell (owner of Clinton Street Pub and The Penny) Mark Bullis (owner of Bull & Bear Pub in Hanover Square), and the rest of the Malt team are filling that void with Modern Malt opening on January 26, 2015 at 325 S. Clinton Street.
The concept of the "dineraunt" is not rare in Syracuse, but none are open for extended hours, or in Downtown Syracuse for that matter. Modern Malt seeks to fill a niche that the Downtown Syracuse scene could use. Managing partner Chris Bily, a Camillus native, is grabbing the reins of the restaurant that is known for more than just "breakfast" food.
As an added bonus, the restaurant is technologically equipped: Every booth, as well as under the bar, has three-prong connectivity for Internet access and USB device outlets.
The corner eatery will have a door accessing the street; however, its main door will be located in the alley that leads up to SKY Armory.
"This will be the main entrance," Bily said, showing me the door. "It will have wheelchair accessibility through the rear, near SKY Armory. The customers are going to come in and will be greeted by the hostess."
There was also a unique aspect of the restaurant that Bily was excited to talk about. "A retro cigarette vending machine will be hollowed out for the hostess stand. I think people will enjoy that unique, ornate piece, seeing that facade incorporated upon a piece of furniture."
The classic inspiration does not stop there.
The restaurant, which is decked out in a light blue and orange color scheme, has a long layout with comfortable seating. Booths line the walls, high top tables are in the center, and stools border the bar. The counter-top of the bar, made from quartz, and the mosaic tiling on the front of its base, is curved.
"The curved bar is purposeful. Everyone who sits there has the ability to see and interact with everyone," Bily said.
I agree with him. Its often difficult to interact with friends when we sit at a bar, whether it is at Empire or Tusk or Hoynes. Granted, the atmospheres are different, but the bar concept, whether it is for food and/or beverages, is the same.
"The design of Modern Malt was done by Ashley Freund (Ashley Freund Interiors) and Rich & Gardner, who've done a great job and and were a pleasure to work with." Bily went on to explain.
At one point, the conversation turned to food and drinks, specifically about eggs.
"We're going to offering a nontraditional menu," Bily explained, "and there will be specials throughout the week"
Executive Chef Anthony D'Onofrio, Sommelier and trained in classic French technique, looks to spearhead the kitchen and toss in his fine dining/gastro flare and prowess.
"We've discussed the menu and some new ideas that will make our menu unique … including Fruity-Pebble- and Cinnamon-Toast-Crunch-encrusted French toast."
The drink menu will boast a few Prohibition-style and classic drinks. "There will be some beverages emulsified with egg whites."
My mind skidded to a stop.
Egg whites?
Whenever I think of egg beverages, I think of eggnog. Whenever I think of eggnog, it's unappealing. When I think of eggnog itself, the color and consistency, I think of  Randy Quaid as Cousin Eddie, haphazardly dunking a glass Wally World moose head into a punch bowl.
When re-focusing on Bily again, I asked, "What?"
Bily smiled and reassured me that including egg whites into beverages is not an uncommon occurrence with a prohibition-style cocktail menu, like the one at Malt. "It makes a cocktail smoother, creamier and have a foamier, headier top."
Before our conversation ended, I brought up the notion of business owners and their expansions.
Riley's has Darwin. Today's Special in the State Tower Building is the child of Traditions. The women behind Laci's Tapas bar just opened Laci's Lunchbox. The Coleman name is associated with their namesake restaurant, Rosie's and LakeHouse Pub. The Retreat, The Barking Gull, and Cobblestone are connected. Byblos, Alto Cinco, and Funk 'n Waffles all have branched out.
Mark Bullis, since the opening of Bull & Bear, has previously added Pronto Fresh and Bull & Bear Roadhouse to Syracuse and Central New York.
I asked Bily if this trend is a good thing to follow.
"Malt's menu was spawned off a food truck concept," first developed by high school friends Bily and Malt partner Matthew Gardner. "This city isn't fit for another truck when you consider winters and foot traffic … Branching out is certainly a dream of any successful restaurant/restaurateur, however, we want to execute Malt and make sure our brand and concept is unlike any other in Syracuse."
Modern Malt will open to the public on January 26, 2015.
Modern Malt
325 South Clinton Street, Amory Square
(315) 471-6258
WEBSITE
FACEBOOK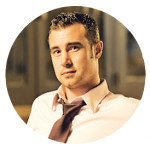 Christopher Malone plays with more thoughts and words at his blog, The Infinite Abyss(es). He also writes for the Skaneateles Journal.  Feel free to tweet at @Chris___Malone, or email him at [email protected].
[fbcomments url="" width="100%" count="on"]