The taps have been in the trees for weeks. It's early March, deep in sugar season, that short North Country sprint between tundra and mud, when sap rises in the maples, drips into old metal buckets or high-tech miles of plastic tubing, and is alchemized by fire into syrup.
The day begins early for the veterans of these woods. A little past noon, and a jingle of harness signals Dick and Doc are back from morning rounds, hauling a red metal tanker filled with sap. They pause at the bridge, a short steep hill that leads to the peak of the sugar house. From here, gravity will feed the sap into holding tanks.
The horses strain for a moment against the harness, then find their footing on the snow-slicked hill. A cloud of thick maple steam, sweet with burning wood and boiling syrup, pours from the window. For a moment they are ghostly, no more than a faint outline, an echo of horse in the shroud of stream.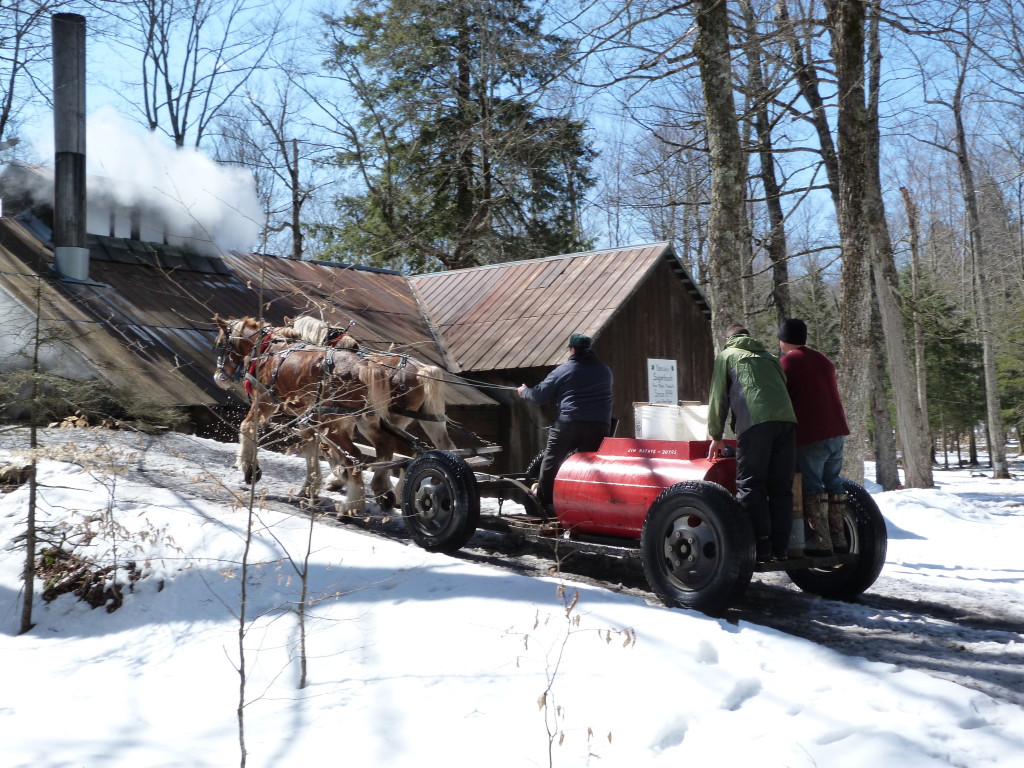 They work in the long shadow of history; horses have gathered sap from this sugarbush near Croghan for 170 years. Dick and Doc, an Amish-raised team of Belgians, work along trails worn by countless hooves and five generations of the Yancey family.
"The horses do less damage to the woods than a tractor," says Haskell Yancey, who took over Yancey's Sugarbush from his uncles and is in his 31st season. The horses belong to his son, Tim, 28, who is steward of the evaporator this day, minding the transformation of clear, thin sap into amber syrup.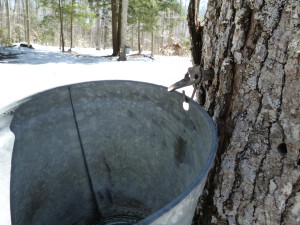 In a good year, the business will produce 800 gallons of table-grade syrup, and the horses are at its heart. Dick and Doc know their job. They know to stand and wait while the men gather the sap, and they know to walk forward when called to the next batch of buckets. They know to stay on the road. They know they are trusted.
"You can talk to a horse," Haskell says. "You talk at a tractor–and usually if you're talking at a tractor, it's not good."
This horsepower lacks only a three-speed transmission. A team of horses has one speed–extremely slow–and so the woods have been sculpted around them. The sugar house is in the middle of the 5,500 trees the Yanceys tap, placed there deliberately to minimize the distance the team travels each day. It's the one advantage a tractor has over the pair, but the pace has its own reward.
"It's really nice being in the woods with them," Tim Yancey says. "The horses are quiet. You're not having to listen to an engine running all the time."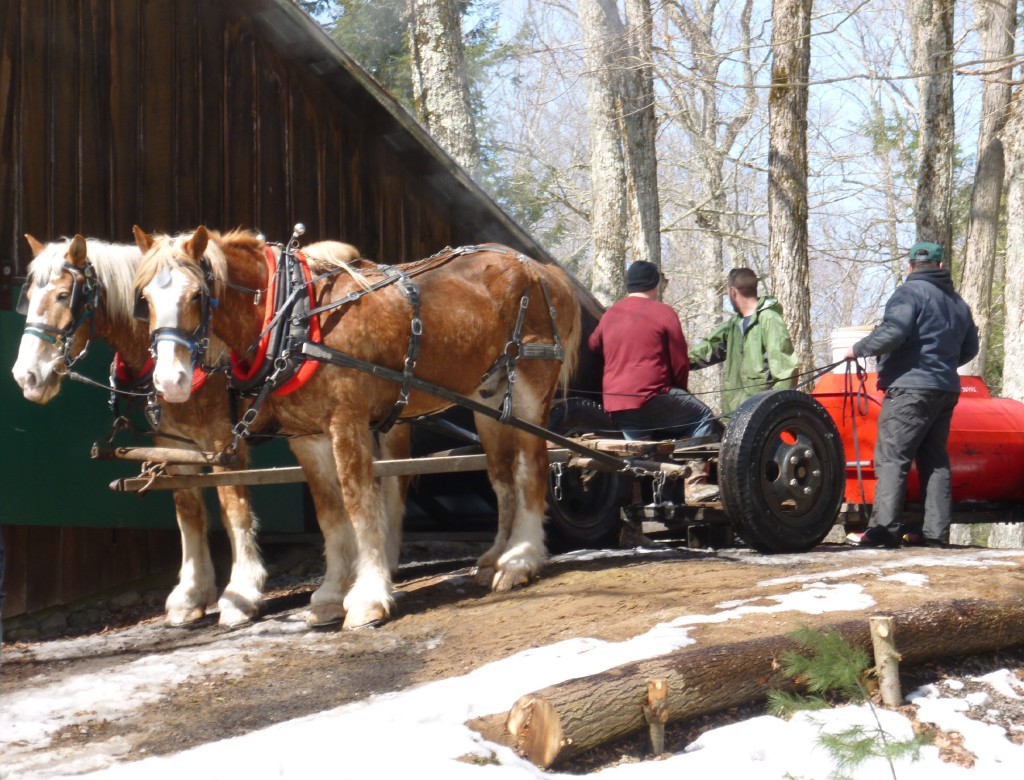 Nor do tractors enjoy being petted, hanging out with the dogs or visiting with the families who arrive steadily during sugar season. Dick is all business "for the most part," Tim says, but Doc "is a total ham. He likes his attention, and he's a little more of a brat."
The tanker is empty and the horses ease gingerly down the bridge, hang a right and head back to the barn for lunch. Soon now, the days will lengthen and turn warm, the taps will come out of the trees and Dick and Doc will settle in for the equine equivalent of spring break. Extended spring break.
What do they do in the off season? Haskell shrugs and smiles.
"Not much."
Chillin' in Croghan
Yes, we know, it's hard to imagine there's any reason to stop in Croghan other than to avoid hitting the stray pedestrian crossing Route 812, but you'd be wrong. Most are a good excuse to continue wrecking your resolution to eat healthy and lose weight. Trust us, this is the voice of experience speaking.
Croghan Candy Kitchen. 9740 Route 812. 346-1591. Look for the green awning on Route 812, Croghan's main drag, and prepare to invest heavily in hand-dipped chocolates made entirely in the shop kitchen. Put together a box of assorted chocolates from a case holding more than 45 flavors, including maple creams, caramel squares, and Kahlua and dark chocolate truffles. Then throw in some of their specialties, including the Bacon-Potato Chip Cup (crumbled chips and real bacon drowned in milk chocolate with sea salt sprinkled on top), chocolate-covered Oreos and giant peanut butter cups because, you know, it's a long drive back to Syracuse.
Croghan Meat Market. 9824 Route 812. 346-6613; croghanmeatmarket.com. Carnivore? Then this is your stop, the home of Croghan bologna, an extremely red and alarmingly addictive ring of beef smoked over native hardwood. Peel off the casing and serve it the traditional way: sliced on a buttery cracker with sharp cheddar. Feeling nontraditional? Add a dollop of Nance's mustard. While you're there, toss in some Croghan smoked pork sausage links and try them smothered in maple syrup. The market's been making both since 1888 from a recipe that came to the North Country from Switzerland.
Good Ol' Wishy's. 9779 Route 812. 346-6728. Spoiler alert: Wishy's is open only in the summer. For now, settle for thinking about a warm-weather road trip, when you can climb up on one of the stools at this old-fashioned ice cream parlor and be transported back in time. Better hope your teenage metabolism has made the trip with you, because the scoops are the size of softballs and the 26 sundae flavors include Mega Mix Grasshopper (mint chip with hot fudge and Oreo pieces), Triple Fudge Delight (chocolate with warm brownie and hot fudge) and S'more (vanilla with graham crackers, hot fudge and marshmallow).
American Maple Museum. 9753 Route 812. americanmaplemuseum.org. Ready for some food for thought? The museum has three floors of exhibits on the history of maple syrup including a replica of a sugar house, exhibits of syrup-making techniques from Native Americans to present day and the American Maple Hall of Fame. There's also a reproduction of a lumber camp and a gift shop with maple products, tees, totes and jewelry. The museum will host New York State Maple Weekend pancake breakfasts on Saturday, March 29, and Sunday, March 30, 7 to 11:30 a.m.
To read more COVER STORIES like 'The Sweet Life' – CLICK HERE
[fbcomments url="" width="100%" count="on"]