Paavo Siljamäki was 6 years old when he started playing classical cello; soon after he was playing piano. He grew up in Finland with his extended family (more than 20 cousins), with all members forced to play an instrument.
"Some thought it was terrible," he fondly recalls, "I thought it was awesome. All these other kids were into sports and weren't that good at it. All the while, this was something I could do. I could do music. It was always my thing, as well as painting, drawing and photography. I was always a little strange."
Siljamäki's strange ways have made him a name known around the globe with his group, Above & Beyond. The electronic dance outfit, formed in 2000, has consistently ranked among the top DJs in the world in DJ Magazine and played events and venues spanning Ultra Musical Festival, Electric Daisy Carnival, Electric Forest, the Greek Theater and Madison Square Garden.
However, Siljamäki is especially excited for the upcoming U.S. tour. "It's really something we've been looking forward to for a long time," he says. "It'll be a big bus tour with all of our own gear, giving really great shows. We're playing really tiny places to The Forum in Los Angeles and everything in between. No two nights will be the same."
Above & Beyond will swing through Syracuse to play the F Shed, 2100 Park St., on Wednesday, Feb. 18.
Siljamäki, 37, came of age during the start of the electronic age. "I was hearing things like (soundtracks for) Miami Vice and Blade Runner," he says. "It was incredible stuff. I got into electronic music and technology. Sonic possibilities were limited with piano or cello. But with technology, there's no limit whatsoever."
Above & Beyond was born when Siljamäki met Jono Grant at the University of Westminster. The two shared a love of electronic music and wrote together. They started the Anjunabeats record label in 1999 and released their first single, "Volume One." The label was designed as a platform for their own music, but they started releasing music under other names as well, including Dirt Devils and Free State.
Tony McGuinness, marketing director and manager of the Warner Music Group, caught wind of the project and came into the fold in 2000. In 2002, the group made their DJ debut in Tokyo, where more than 8,000 clubbers attended.
The group's steady rise included releases Tri-State (2006), Sirens of the Sea (2008), Group Therapy (2011) and the new album We Are All We Need. Although known primarily as an electronic act, Siljamäki notes that he hasn't lost sight of his roots, as the group did the album Acoustic in 2014.
"We've found a really good place, with one foot in playing instruments and writing songs and one in a DJ booth and studio," he says. "We Are All We Need was largely written acoustically. Songs came about with piano and vocal or guitar and vocal, then taken to the studio and remixed. I've always felt there's something about a great song that you can make a great electronic version of it as well."
Siljamäki also recognizes the physical differences of acoustic music, not just in the actual playing of instruments but in the performance. "A big part of the show is the connection we have with people in the room," he says. "For me, the experience of an acoustic show with 15 people on stage is terrifying in a different way. DJing, there's two of us on stage and every mistake can stop the music. I feel lucky that we have the opportunity to do both, but there's something about the energy of electronic music in a live setting that I really love."
The group has incorporated interactive elements to amp the energy in their shows. As an example, they text-message the audience by writing messages that appear on large LED screens in the venue.
"It's a really interesting way to do it," he says. "It's more than on the microphone. It's quite a powerful way to communicate with people. There's a real coolness about written words and bad poetry."
There will also be a "push the button" segment during the show when a song stops in the middle. Siljamäki explains its origin: "Tony accidentally stopped it a few years ago, so he brought a person up to press the button to start it all again. We didn't realize what a big deal it was to take over the DJ booth. It's become the 'push the button' moment. That's how things happen on tour. We do something once, say we should do that again, and three years later, we do it every time now and everyone knows about it."
Just the Facts
Above & Beyond
The F Shed, 2100 Park St.
Wednesday, Feb. 18, 8 p.m.
General admission is $30; VIP tickets are $75.
Visit upstateshows.com
Advice from the Artist
"Don't lose yourself in focusing on how to become better noticed in the world. I see so many young artists who focus so much on, 'How do we create a great Facebook profile' or get a ton of Twitter followers. The internet and the world are all word of mouth. Concentrate on creating the very best music you can. I believe those other things will follow. Focus on why it is that you're making music, how could you enjoy making music more–and do that."
–Paavo Siljamäki
Key Quote
"We've got two buses and a truck on this tour. Early on, we figured out that a lot of people put a lot of focus on exactly how much equipment you have, how big your stage is, how many flashing lights. We've always looked at it, like, what you do with it is what counts, how can we do it even better. We're bringing to town the most advanced Above & Beyond show to date. Every date on this tour we'll be learning more and more. Things like texting and push the button were invented on the road. Other things will get invented, too."
— Paavo Siljamäki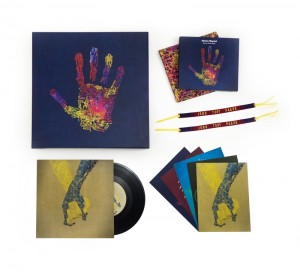 WIN  the Above & Beyond Deluxe Giveaway!
(Includes two (2) tickets to see Above & Beyond at the F-Shed, a band t-shirt, A 'We Are All We Need' CD and Vinyl album(s), band posters and 2 bracelets.)
How to enter:
Go grab a print edition of the Syracuse New Times at one of our locations throughout Central New York.
Email us the page number that this story appears on in the print edition to [email protected] – be sure to include your name and contact information (and the page number!) and you will be entered to win.
Winner announced on Feb. 16.
[fbcomments url="" width="100%" count="on"]