Survival of the fittest. That's pretty much sums up CrossFit, an extreme exercise program that has gained popularity nationally.
CrossFit is a performance-based, high-intensity training concept that encompasses different aspects of physical fitness such as stamina, strength, flexibility, agility, balance, speed and power. The object of CrossFit workouts is to do as many exercises–such as push-ups, squats, pull-ups, overhead presses–as fast as you can.
"It's performance based, not aesthetically based," says Dan Goldberg, a partner and head coach at CrossFit Syracuse. "The objective is to improve your physical qualities and train like an athlete."
Goldberg's CrossFit Syracuse on Erie Blvd. East is one of 11 independently owned CrossFit affiliate locations within Onondaga County listed on CrossFit.com. The CrossFit brand, founded in 2000 by Greg Glassman, has grown from 5,000 in 2012 to 8,000 affiliates worldwide in 2013. Last year, more than 138,000 people participated in the Reebok CrossFit Games, a competition to crown the fittest male and female athlete in the world that was broadcast by ESPN.
Joseph P. Sgambati III, of Syracuse, was introduced to CrossFit by a friend and loves it.
"I have been a member of various gyms and had personal training multiple times and have never experienced the results I have this past year," says Sgambati, 25. "But what I have enjoyed more than noticing physical results are the relationships I have formed. I found an incredibly supportive community that inspired me to accomplish things physically and mentally I was not confident in before."
Goldberg, 30, has been a certified CrossFit trainer for the last six years. He said the key benefit of CrossFit is an overall athletic transformation without specialization. Aerobic exercise, like running or using a rowing machine, is just one aspect of the workout. Jump squats, kettlebell lifts or body-weight movements (pull-ups on gymnastic rings) are among the other exercises incorporated into workouts. Classes last an hour at CrossFit Syracuse.
"It's an eclectic blend of weightlifting, gymnastics and cardio but workouts are limited to that," Goldberg said.
Goldberg says the work-your-butt-off training program is not for everyone. The average age of his clients is mid-30s. CrossFit members range from pregnant women to clients in their 60s.
"There's a lot going on," he says. "Because of the intensity, either you love it or it's not for you."
Goldberg also stressed that CrossFit should not be done without a trained, certified coach. Supervision and correct technique are vital to minimize the chance of injuries. Beginners at CrossFit Syracuse are required to take a four-day Foundation Program class to acquaint themselves with movement, terminology and equipment.
"It really requires an expert to teach you," he says. "It's not something you can do at home because there are complicated moves and steps."
Membership rates at CrossFit Syracuse range from $80 per month for military, fire and police personnel to $125 for unlimited classes.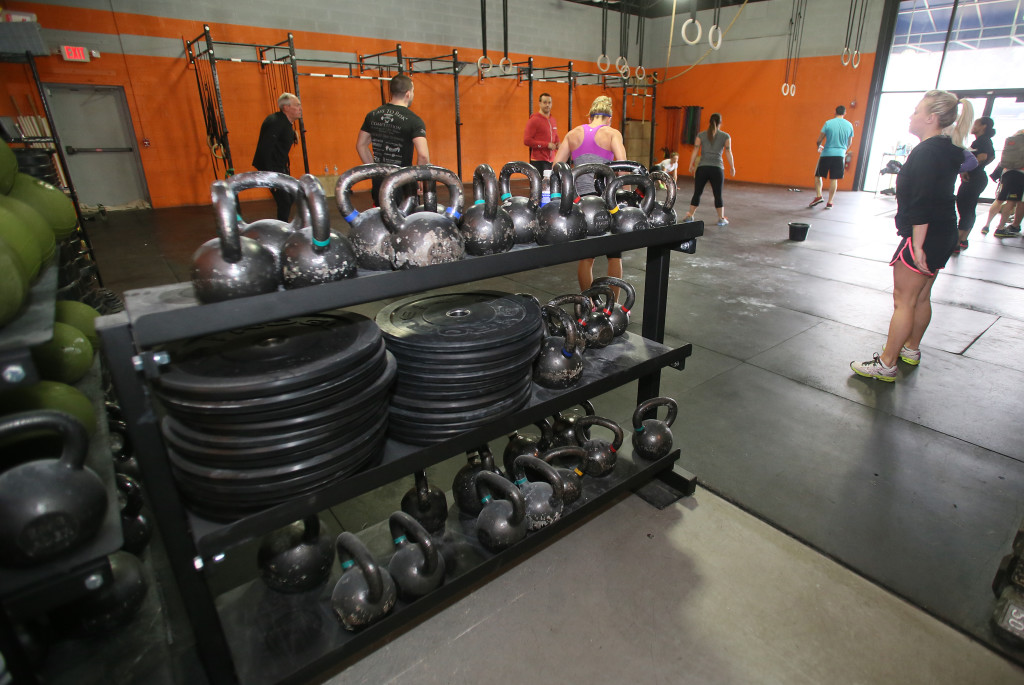 Power Points:
WOD: A Crossfit buzz word that stands for "workout of the day". Clients perform a timed round of exercises as fast as they can. Exercises change each day. Best performances for each WOD are posted on a white board at CrossFit Syracuse.
Box: In the CrossFit world, clients refer to their gym as a box.
Burpee: A full-body exercise movement. One variation combines a squat thrust and a push-up.