Here's hoping "DeflateGate" doesn't take any air out of the great American tradition of Super Bowl Sunday and related activities, like drinking beer, eating fattening foods and hosting parties. The New England Patriots and the Seattle Seahawks will square off at 6:30 p.m. Sunday, and even those of us who don't give a hoot about football can get "pumped up" about the Super Bowl buffet table.
It is said that more pizza and chicken wings are consumed on Super Bowl Sunday than any other day of the year. If you go that route, give your business to a locally owned pizza parlor. And consider the "wow" factor of a chocolate pizza and peanut butter "wings" (rippled potato chips covered in peanut butter and dipped in chocolate) from the
Chocolate Pizza Company
for dessert.
Here are some other ideas:
Munch and crunch
The Kandied Kernel is a gourmet popcorn shop with two locations in the northern suburbs. Go sweet with flavors like signature karamel, sea salt karamel and blueberry cheesecake or go savory with pickle juice, hot wing sauce and kreme cheese popcorn. Popular this time of year is Kuse Mix, caramel and cheese popcorn mixed together. For a Super Bowl party that really "pops," go all out and set up a popcorn bar. The Kandied Kernel is at 663 Old Liverpool Road, Liverpool, and 8124 Brewerton Road, Cicero. WEBSITE
No party is complete without chips and salsa. Off the Cob corn chips, made in Ithaca with locally grown sweet corn, have a slightly sweet taste — a perfect partner for Primo and Mary's medium or mild black bean and corn salsa. The chips are available at some Wegmans stores. Look for Primo and Mary's at Tops stores, Natur-Tyme in DeWitt and other locations. WEBSITE
Dips and spreads
Bleu Hot: You may have sampled and purchased this locally made, creamy bleu cheese and hot sauce-based dip, dressing and sauce at the Central New York Regional Market. It's tasty with potato chips, tortilla chips, vegetables and chicken wings and adds a little zip to dishes like macaroni and cheese. "Sauce Lady" Lisa Corl isn't at the market this winter and isn't scheduled for another Bleu Hot production run until spring, but can accommodate a limited number of Super Bowl orders. Information: 592-1295.
Monkey business: Make your own party dip with Cheeky Monkey Tomato Garlic Dipping Oil (original, Politely Spicy or Solidly Spicy).
Cheeky Tomato Cream Dip (from Cheeky Monkey Foods, on Facebook):
Ingredients:
2 cups cream cheese
1½ cups sour cream
2/3 cup onion, diced
¼ cup fresh parsley, chopped (2 tablespoons dried)
1 pouch Cheeky Monkey Politely Spicy Tomato Oil
1 teaspoon salt
1 cup grated Parmesan cheese
Optional add-ins:
1 cup rough-chopped cooked shrimp or crab
1 cup rough-chopped cooked artichokes
Garnish: 1 cup panko breadcrumbs mixed with ½ cup chopped, fresh parsley
Microwave cream cheese on high for 1.5 minutes. Cool, covered, for five minutes. Add remaining ingredients (plus optional ingredients, if using) and mix well. Pour into serving dish and garnish with panko and parsley. Serve with chips, crackers or toasted bread. Feeds a crowd.
Cheeky Monkey products are available at Tops and Nice 'n' Easy stores in the Syracuse area, plus Syracuse Real Food Co-Op, Vince's Gourmet Imports, Natur-Tyme, Green Planet Grocery and other locations. WEBSITE
• Middle Eastern flavor: For something different, and healthful, put out bowls of hummus (chickpea spread), baba ghanuj (eggplant spread) and labneh (creamy farmers cheese dip) with toasted pita bread or store-bought pita chips. Leave the cooking to Byblos Mediterranean Cafe, in downtown Syracuse. Be sure to order ahead, 48 hours in advance, preferred. Information: 478-3333, WEBSITE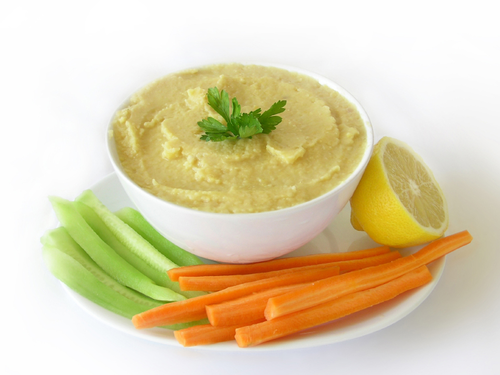 Speaking of hummus: Here's another suggestion from Cheeky Monkey Foods. Fill a bowl with your favorite hummus. Scoop out enough hummus to leave a crater/cavity. Fill with Cheeky Monkey Tomato Dipping Oil and serve with toasted pita bread or crostini.
'Spheroids' and other special items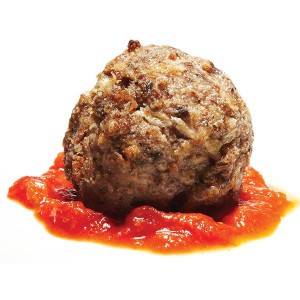 Meatballs in a bread boat: If you love Columbus Baking Company's famous meatballs in a heel (meatballs plus sauce in the heel of a crusty loaf of bread), you'll love the meatball boat for a crowd: a Columbus round loaf, 18 meatballs, and sauce. Hollow out the bread and fill with meatballs and sauce. Order in advance. Columbus Baking/Columbus Meats and Cheeses is at 502 Pearl St., Syracuse. Information: 422-2913.
Ascioti's got game: Super Bowl specials at Ascioti's to Go, in Liverpool, include the Touch Down (six links of Italian sausage, six peppers and onions and six rolls) and the Dome (a flat loaf of DiLauro's Bakery Italian bread stuffed with cappicola, Genoa salami, roasted red peppers, provolone and Salt City Hometown Hungarian Peppers. Advance orders only. Ascioti's to Go is at 207 Oswego St., Liverpool. Information: 457-0683.
Margaret McCormick is a freelance writer and editor in Syracuse. She blogs about food at eatfirst.typepad.com. Follow her on Twitter, connect on Facebook or email her at [email protected]
[fbcomments url="" width="100%" count="on"]