Two hundred Syracuse University students adorned in their best blue and orange will board four buses early Sunday morning, Feb. 2, and make the 245-mile trip from Syracuse to MetLife Stadium in East Rutherford, N.J. None have tickets to the Big Game or play in the NFL, but all will walk across the MetLife turf cheered on by thousands of ravenous fans as the Pride of the Orange, the SU Marching Band, performs in the Super Bowl XLVIII pregame show.
The SU band will play alongside the Rutgers University Marching Scarlet Knights at 6 p.m., a half-hour before kickoff. With all New York/New Jersey feuding aside, the two bands will perform a set list that highlights the sounds of the Manhattan/Jersey metropolitan area. The tracks feature the Frank Sinatra classic "New York, New York," Jay-Z and Alicia Keys' hit "Empire State of Mind" and the unofficial anthem of the garden state, Bruce Springsteen's "Born to Run." The bands' performance will lead to Renee Fleming, a four-time Grammy-winning opera star, singing the national anthem.
For the past seven years, the NFL has included marching bands in the Super Bowl festivities. "Marching bands and the NFL are inextricably linked," says Joanna Hunter, NFL director of corporate communications. The University of Arizona and University of Michigan marching bands performed in the first halftime show, at Super Bowl I, in 1967. "Syracuse and Rutgers have the finest marching bands in the region and share obvious connections to both host states."
In November, the NFL contacted the Pride of the Orange through email, but Justin Mertz, director of the band, thought someone was playing a prank on him. After the NFL contacted the SU administration, Mertz knew the offer was real.
"This is a once-in-a-lifetime opportunity my students and I will never get again," Mertz said.
Mertz told the band about the performance in late November after a rehearsal. The band erupted with cheers, and one member was reduced to tears. But the band members had to keep the announcement under wraps until the NFL officially announced the pregame show performers in late December.
Usually, marching band season ends at the end of football season, but to prepare for the upcoming show and learn the new routine, the band practiced two to four times a week for the past three months. The extended season and extra practices forced some students to juggle time between marching band practice, Sour Sitrus Society (the basketball pep band) performances at both men's and women's basketball games and class.
"I've been really busy and it has been a lot of work, but it is the biggest performance of my life," says sophomore Amy Hahn, who plays flute in both the marching and pep bands. "I'm not really nervous. We have played in MetLife Stadium before, but in the back of my mind I will still be thinking, 'This is the Super Bowl.'"
While not nervous about the performance, Hahn was still concerned whether the band's show would be televised, so her friends and family could watch the performance from home. (After asking Syracuse University and the NFL, it is still unclear if the bands' performance will be televised.)
Read 'Contructing Creekwalk Commons' HERE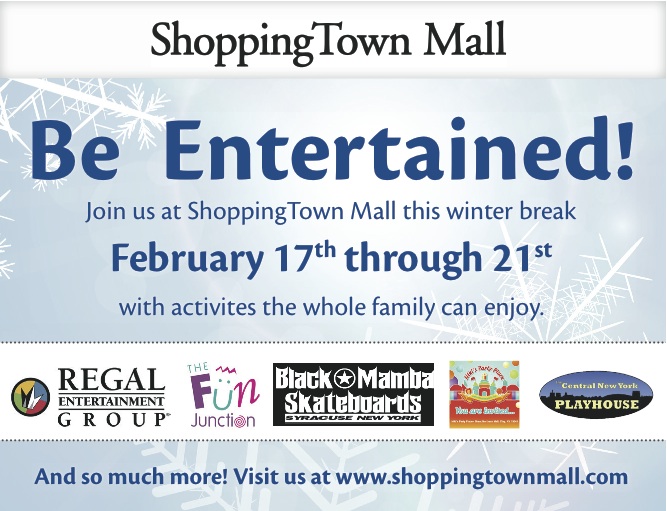 [fbcomments url="" width="100%" count="on"]