Things have changed in the fight against breast cancer. Since 1980, the five-year relative survival rate for women diagnosed with breast cancer has gone from 74 percent to 99 percent. The way the world talks about and treats the disease has also changed, and organizations like Susan G. Komen for the Cure are at the front lines of the battle. However, that doesn't mean people like Kathy Caiello and Jon Selzer are losing steam.
"They used to say the mission of the Race for the Cure was to eradicate breast cancer as a life-threatening disease," says Selzer, who has participated in the annual Syracuse fundraising walk for 17 years. "But that's old language. We're making great strides in going beyond this. People ask if I'm tired and I say, 'Yes, but what am I going to do? Stop?' That's not an option until we achieve our goal."
Caiello, who has led the pre-walk warm-ups on the State Fairgrounds' Chevy Court stage for more than 10 years, echoes Selzer's words. "I've known so many people who have gotten that (breast cancer) diagnosis, but then have great outcomes," Caiello says. "We've made great gains and progress and research has helped. We're extending people's lives. But we want to get to the point where a doctor can say, 'Oh, it's just breast cancer. We can clear that right up.' I'm very happy that more and more people are surviving, but we want to eradicate this thing at some point."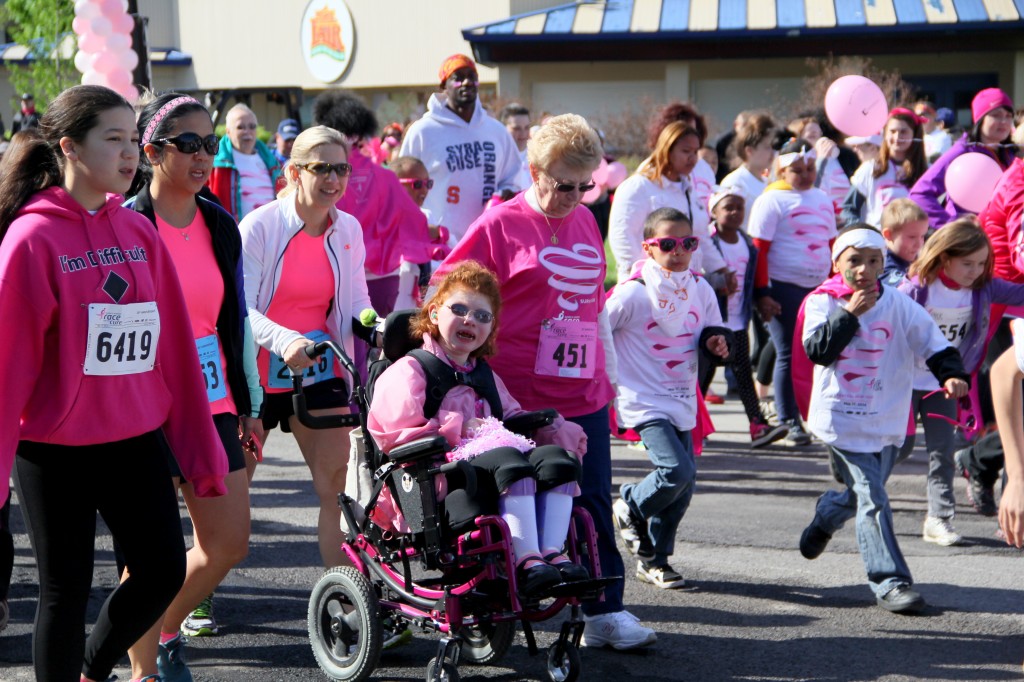 Currently, one in eight women in the United States will be diagnosed with breast cancer. And every 60 seconds, someone in the world dies of the disease. For every step forward, the disease still takes a life back, something that has hit Selzer close to home since he became involved almost two decades ago.
"My daughter was volunteering for the race 17 years ago and asked me to take a look at doing it because she thought they were doing good work," Selzer says. "I didn't have a close connection to breast cancer, but she said, 'Do it for me as a woman.' That came out of the mouth of a 15-year-old."
Since then, Selzer has been on the board of the organization as well as being its president. Today, he is a team captain. Over the years, his teams have raised more than $130,000 for the organization, most of which stays local. However, he also lost a sister-in-law to breast cancer eight years ago and his wife was diagnosed with the disease four years ago.
"I am motivated every day," he says. "My passion every day drives me to change the world with regard to breast cancer. Since my wife was diagnosed, I know 64 other women diagnosed in four years. It's overwhelming and disheartening, but that motivates me to work harder to change the landscape."
Caiello, who has worked as a fitness instructor for 35 years, has also seen the disease take its toll. She owns Kathy Caiello's Fit Stop (her gym is named after a fitness segment she used to do on local television) with a tight-knit group of members. She got involved with the Race for the Cure more than a decade ago when a client, Laurie Mezzalingua, encouraged her to run the warm-up for the race. Mezzalingua has since lost her long battle with breast cancer.
"I've had several diagnosed and survived," Caiello says. "But I've had at least eight to 10 affected in major ways: reconstruction surgery, chemotherapy, whatnot. I'm very grateful for every single one of them that has survived and is doing so well. But every time someone is affected, everyone is affected. I don't have anyone in my family that has the disease, but people in my gym are my family. We're all there for one another. That's the kind of bond people have at the event. You have to be there to experience it."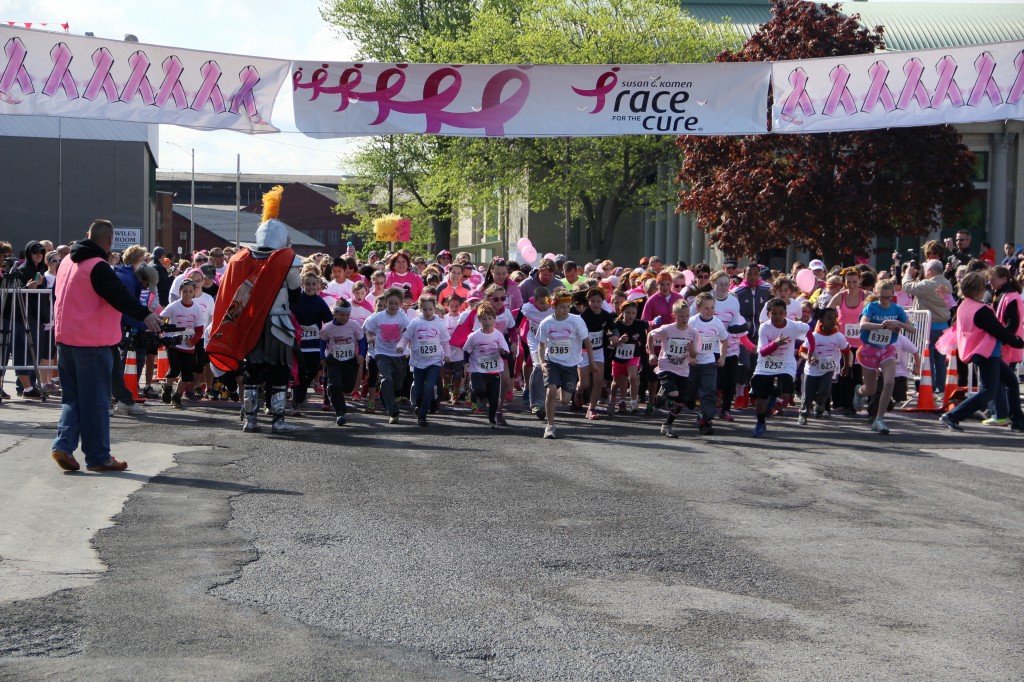 Although Caiello and Selzer have different roles in the race, their goals and outcomes seem to be similar. Both encourage others to get involved, to give what they can and to do warm-ups for the event, one that brings thousands of people together every year to fight a disease that will take 13 million more lives around the world within the next 25 years.
"It's extraordinary," Selzer says. "The amount of energy that comes from thousands of people coming together to solve a problem is emotionally overwhelming. I look back in the race and there is a river of people behind and ahead of me. To see that dedication, people believing we can make a difference. I remember crying at my first race because a 5-year-old was walking in memory of his mother who passed away from it. If that doesn't motivate, I don't know what does."
The Central New York chapter of Susan G. Komen will hold its annual Race for the Cure on Saturday, May 16, at the New York State Fairgrounds, 581 State Fair Blvd. The goal is to raise $600,000. To get involved, donate, start a team or find out more, visit centralnewyork.info-komen.org.
Race Day Schedule:
7:30 a.m.: Shuttle Bus and Registration, Science and Industry Building
8 a.m.: Opening Ceremonies
8:15 a.m.: Top Fundraising and Team Awards
8:30 a.m.: Survivor Recognition and Pink Parade
9:15 a.m.: Kids for the Cure and 1-Mile Fun Walk
9:30 a.m.: 5k Aerobic Warm-up with Kathy Caiello
10 a.m.: 5k Wheelchair Division Start
10:05 a.m.: 5k Competitive Run followed by 5k Fun Run/Walk
11:30 a.m.: Runner Awards and Closing Ceremony

[fbcomments url="" width="100%" count="on"]