Everything old is new again at Canada's Shaw Festival of Niagara-on-the-Lake, Ontario. At this year's fest is one of the most incisive comedies ever written, originally opening in 1906, and has been little seen since, while another offering, a lush romantic comedy, dates from 1939 when art deco was in late bloom.
Founded to honor the works of George Bernard Shaw (1856-1950) and his contemporaries, the Shaw Festival has been running smoothly for the last 11 years under artistic director Jackie Maxwell. Born in Northern Ireland, Maxwell generally hews to the festival's mission of presenting well-mounted, provocative, accessible stage works. These often feature well-dressed actors speaking in British accents, but this year one production is Irish and four originated in the U.S.A.
Only a few of this summer's offerings could be called "safe bets," well-known items that usually draw crowds, like John Kander and Fred Ebb's Cabaret. Arms and the Man is one of the most popular (and least long-winded) of Shaw's comedies, and Philip Barry's The Philadelphia Story lives in collective memory from the 1940 movie adaptation. Both shows are substantially reinterpreted from the familiar in Niagara. All the others are rarities, once box-office hits or critical darlings, but not likely to appear around this neck of the woods.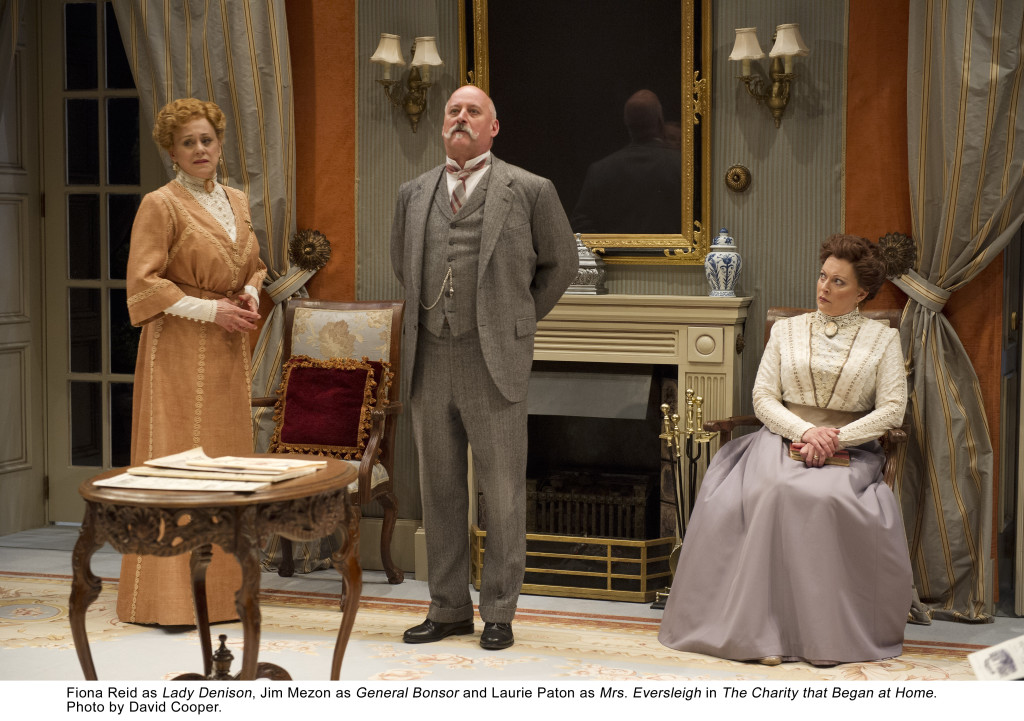 A prime example of what the Shaw Festival does best, and nobody else does, is the revival of St. John (pronounced "Sinjin") Hankin's 1906 hit The Charity That Began at Home: A Comedy for Philanthropists (through Oct. 11 at the 327-seat Court House Theatre (26 Queen St.). Sinjin who? Hankin (1869-1909) was a prime contemporary of Shaw and Oscar Wilde, and shares qualities with both of them, but because he died at age 39 he fell through the cracks.
Jackie Maxwell's predecessor, artistic director emeritus Christopher Newton, single-handedly rescued Hankin and revived two of his plays to great acclaim, Return of the Prodigal (2001 and 2002) and The Cassilis Engagement (2007). Charity, with Newton in charge again, is arguably the best of the three; it displays Hankin's debt to Anton Chekhov (Hankin was the first Britisher to know him), as well as his anticipation of Noel Coward.
Prompted by liberal clergyman Basil Hylton (Graeme Somerville), an idealistic and well-to-do matron, Lady Denison (Fiona Reid), decides to host a party filled with guests that everyone else rejects. Not the fetid denizens of the gutter but rather people of higher station that the fashionable cannot bear. One is a captious teacher of German, Miss Triggs (Sharry Flett), another a dowager who prates endlessly about her lineage, Mrs. Horrocks (Donna Belleville), and a third is a retired officer from the Indian service, General Bonsor (Jim Mezon), who rants about the quality of trains between Jaipur and Benares.
Thus far this sounds a little like the premise of Francis Veber's French comic film The Dinner Game (1997), mangled in the American adaptation Dinner for Schmucks (2011). Skewering bores works hilariously, especially in the first act. Jim Mezon, usually a leading man and a big cheese at the Shaw Festival, takes top honors. But Hankin, in a nod to Chekhov, is more ambitious than merely providing laughter and has much more to say.
Simultaneous with her losers' dinner party, Lady Denison learns that affairs of the heart and the bedroom are roiling relations among her disgruntled servants, causing two to give notice. Shortly the note of romance jumps tracks as one of the invited guests, disgraced former officer Hugh Verreker (Martin Happer), declares himself deeply in love with Lady Denison's nubile daughter Margery (Julia Course). Verreker, however, perceives why he was invited as an act of "charity," and he does not subscribe to fairy tale endings.
Fiona Reid, best-known to non-festival audiences as the WASP mother in My Big Fat Greek Wedding, gives a bravura comic performance as Lady Denison, with some her best moments being non-verbal. The Charity That Began at Home is a stupendous rediscovered jewel of a play, but with 14 speaking roles it is unlikely ever to be seen anywhere else.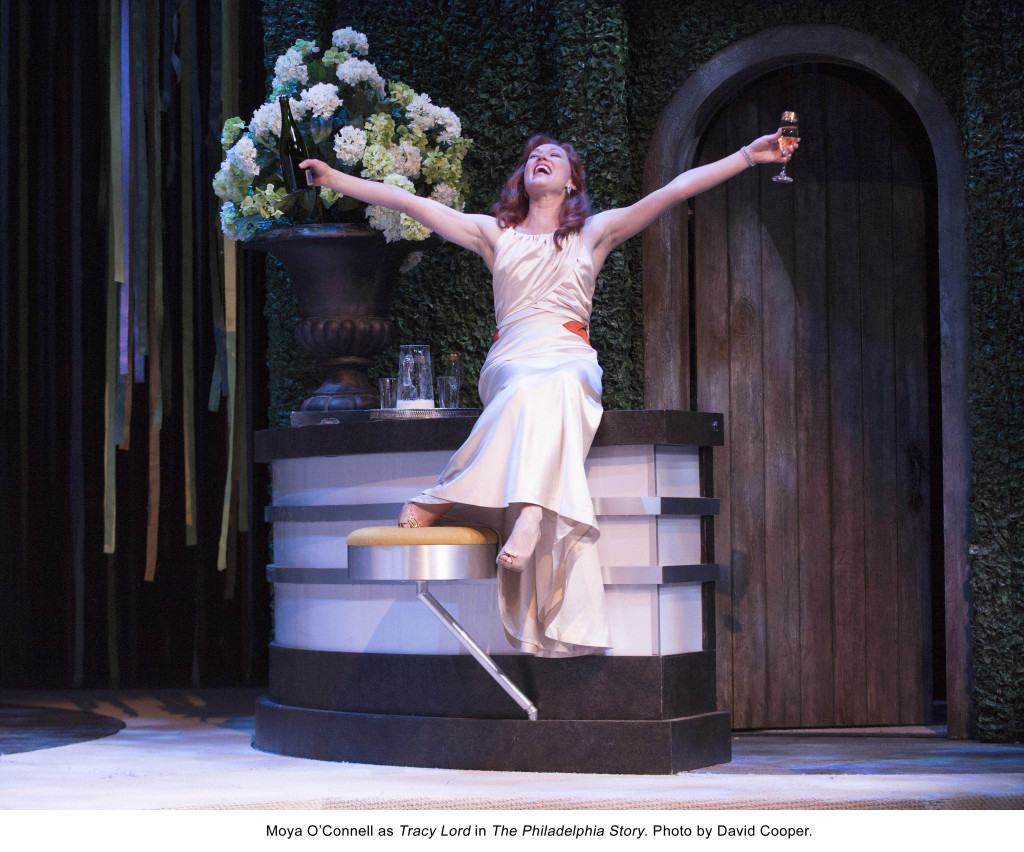 Philip Barry (1896-1949) was one of America's most successful playwrights of the 1920s and 1930s. His reputation has been nearly obliterated by two excellent film adaptations directed by George Cukor: Holiday (1938) and The Philadelphia Story (1940), with memorable pairings of Katharine Hepburn and Cary Grant. In truth, Barry's critical rebirth has already begun, and he is now widely recognized as the master of the American stage comedy of manners.
Barry's 1939 stage play The Philadelphia Story (through Oct. 25 at the 869-seat Festival Theatre, 10 Queen's Parade) begins and ends in the same place as the movie, but differs in dozens of ways. The female lead's brother Sandy (Jeff Meadows), an engine of motivation on stage, has been excised from the movie. The physical comedy, so prominent on the screen, is gone, replaced by sparkling repartee.
On stage we understand the comedy is a satire of journalism, specifically Henry Luce's Life magazine, which considers a Main Line society wedding to be an equivalent Philadelphia story, along with the city's history and industry. Then again, the lead journalist, Mike Connor (Patrick McManus), is an attractive, romantic character, whom we gradually realize speaks for playwright Barry himself. As seen on stage here, Mike is a more dynamic character than the one Jimmy Stewart played in the film, even with his Academy Award.
Although Barry based the play on an episode of a high society friend who unwillingly found her second wedding photographed by Life, Barry composed every line and scene with his friend Katharine Hepburn in mind. She was a Bryn Mawr girl with a Connecticut accent. As coltish debutante Tracy Lord, Moya O'Connell sports a deep red wig and first appears in high-topped riding boots. She's headstrong and independent, ready to marry successful businessman George Kittredge (Thom Marriott), after the failure of her first marriage to C.K. Dexter Haven (Gray Powell).
Tracy gets on well with her impish kid sister Dinah (Tess Benger), a reliable comic presence, and keeps family secrets with her elegant mother Margaret (Sharry Flett), such as the whereabouts of her missing father. Under Dennis Garnhum's prudent direction, we soon forget that Tracy was supposed to be Katharine Hepburn.
Even more, Dexter obliterates the memory of Cary Grant at his entrance, here dressed in a baseball cap while the rest of the men have pulled on their soup and fish. Dexter's reduction, along with Mike's elevation, understandably, greatly changes the tensions between the two men and Tracy.
William Schmuck's set and costumes for the stage production elicit spontaneous applause at the rise of the curtain. The top one percent lived sumptuously at the end of the Depression, not to mention in color.
George Bernard Shaw's 1892 work Arms and the Man (through Oct. 18 at the 328-seat Royal George Theatre, 85 Queen St.) is one of the author's most often produced plays for many good reasons, not the least being its accessibility and brevity. Set in Bulgaria, a country of intractable warfare, Arms gives us a Swiss mercenary, Captain Bluntschli (Graeme Somerville), who would rather carry chocolate creams than bullets in his pouch. A Shaw mouthpiece, Bluntschli deflates militarism, nationalism and heroism, shocking sentiments at the premiere but pretty popular with audiences these days.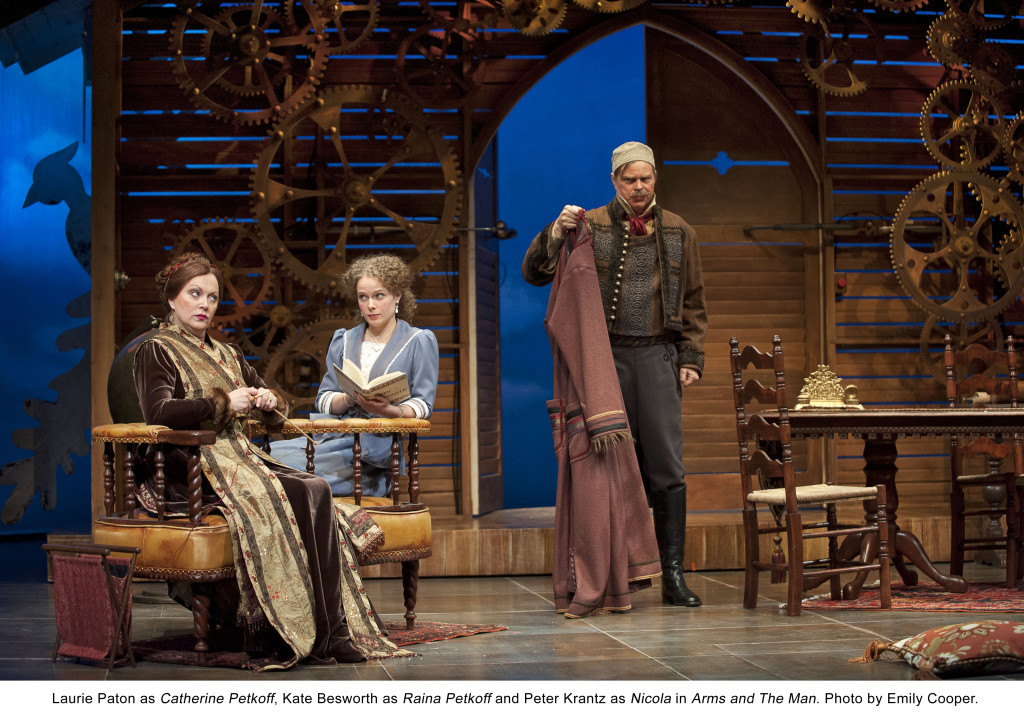 Many of Bluntschli's sentiments are carried in lessons to a naïve, beautiful patriot named Raina Petkoff (Kate Besworth), who lives with her amusing parents Catherine (Laurie Paton) and Major Paul (Norman Browning), and is smitten with a Bulgarian blowhard, Major Sergius (Martin Happer). Also in the household is a servant from the peasant class, Louka (Claire Jullien), who manifests sharper street smarts than any of her betters.
To give a new spin to such a familiar work, the festival assigned Arms to director Morris Panych, who has now been in Niagara many summers. Panych is one of Canada's best-known comic playwrights, whose work has been well received in Central New York (such as the Redhouse's May 2012 mounting of Vigil). At the Shaw Festival, however, his record is spotty. He once destroyed one of the greatest of all farces, Hotel Paradiso, by making playwright Georges Feydeau a part of the action. His innovations here are not so counter-productive, but their success is mixed.
Shaw may not be subtle, but Panych prefers exaggeration. Military uniforms are not merely comic opera but rather something ushers wore in an old movie chain run by Liberace. When characters open their mouths they speak in heavy, rural Ontario accents. Think of Robin Williams joining the MacKenzie brothers in the Great White North. Some players thrive on this, admittedly. Veteran actor Norman Browning steals scenes with abandon, and we're happy for the theft.
Less than four hours from town, the Shaw Festival remains the best summertime cultural destination for theatergoers. If two out of three productions are outstanding hits, they're batting .666.
For more reviews like 'Shavian Cream' — CLICK BELOW

[fbcomments url="" width="100%" count="on"]