More than 50 artists showcased their work at the six annual Salt Market in SKY Armory on Saturday. In a warehouse with Christmas lights strung from the ceiling, the crafters and designers sold their prints, knits, and jewelry amidst fresh scones and espresso.
This year's Market hosted 56 vendors and attracted more than 2,000 attendees. Vanessa Rose, co-founder of the Salt Market, said she was pleased with the growth of the Market. "It's been jam-packed all day," she said. The Salt Market team was also able to extend their outreach of artists from not only Central New York, but also from other areas of New York and Pennsylvania.
Multimedia artist Justin Thurston of "Fight or Flight," a collaboration from the Adirondacks area, participated in the Salt Market for the first time this year. He works with fellow ceramics artist Brooke Noble to make pottery and other mixed media art. Their baby blue, polka dot-covered ceramics include illustrations of owls, birds, and wolves. Everything is handmade and one-of-a-kind.
Thurston said he often visits junkyards and uses salvaged material for his mixed media art. One piece, titled "Handheld Mobile Device," combined a smashed cell phone he found on the side of a road. Thurston said that his friend, Pete, inspired the work when he broke his hand while riding a bike and talking on his cell phone. He transferred the image of Pete's x-ray to a wooden frame.
Skaneateles jewelry maker, Betsy Sio, also showcased her work, called "East Street Tins." She makes all of her jewelry from recycled oil cans, cookie tins, and beer bottle caps, which she collects from garage sales and thrift shops. She said she enjoys interacting with her customers during the Market. "I work alone from my studio. This is the way I can connect with my customers and find out what they like. It puts a face to my work."
Attendee of the Market and Syracuse University senior, Vanessa Reeves, said she was impressed with the local talent and hip atmosphere. "It's great to see this side of Syracuse," she said. "I'm about to graduate, and I honestly wish I would've known about this before so that I could've enjoyed it every year."
Local coffee brewery, Recess, and slow food eatery, LoFo, provided refreshments.Several local musicians also performed, such as The Witching Hour, Papership, John McConnell, and The Nudes. Mim Readling, Syracuse resident and band member of The Nudes, said she's excited about the future of the art scene in Central New York. "This shows that Syracuse is establishing itself as part of the high-quality, artisan craft scene," Readling said.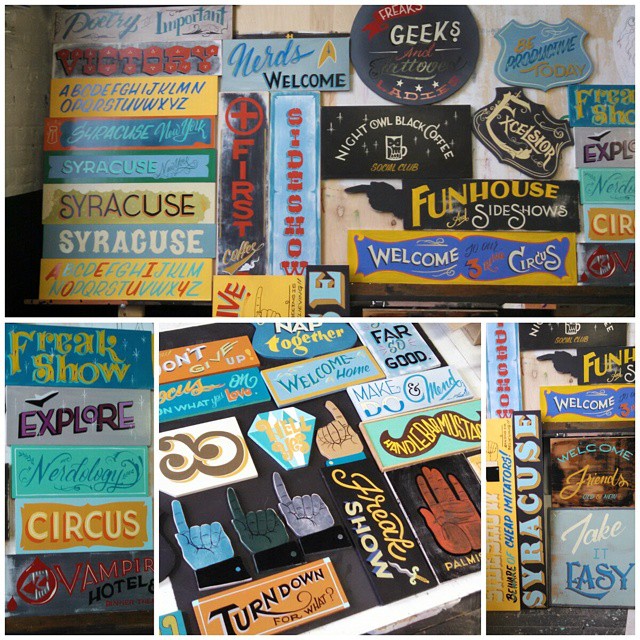 Cayetano Valenzuela of the Black Rabbit Studio has participated in every Salt Market since it started six years ago. He designed the signage for the Market and a tote bag for the first 50 attendees. "Every year, it gets better and better. I always end up spending a lot of money," he said. "Not only is it a place where I can show my work, it's also where I discover work. Syracuse is brimming with talent, but there are not a lot of places for it to be showcased—this is one of the places for serious artists to come and sell their work."
Jason Evans, Syracuse native and creator of "[Re]think Syracuse," said this was his fourth time at the Salt Market. "The crowd is always really excited about everything here because it's locally curated," he said.
He makes minimalist, illustration prints of Syracuse neighborhoods, such as Prospect Hill, Westcott, and Washington Square. He said he has created two-thirds of all the neighborhoods and is working to complete the collection. "It's a way to not always see Syracuse through the same lens," he said. "My goal has always been spreading positivity in the city and instilling pride in the neighborhood."
Valenzuela said he's confident that Syracuse will continue to generate artistic talent. "Syracuse is on the verge of being a great art city," he said. "This tells you that 'yes, we want it. Yes, we're hungry for art.'"

[fbcomments url="" width="100%" count="on"]