Ever since I was a child, I've always enjoyed the fun of going to an SU game. The fact we have this particular major university is a great thing. It's difficult to imagine what Syracuse would be like without the school bringing in people from out of town – the result is pretty obvious. We can't take the Pyramid approach and cross our fingers while we sip from a tumbler in a compound, hoping that the Canadians continually arrive to give Congel business. Nothing like those international benefits. This is a continual tug-o-war.
But the one thing that Congel can't control (for now) is Syracuse University basketball.
We Malones were standing by the staircase, waiting to get to our seats. This moment took place during that strange rule when the ushers make you wait while the game is in play. It's similar to the traffic cop who pauses your last-in-line vehicle after letting everyone in front of you go.
A college basketball game has a certain appeal to it. While growing up, my favoritism shifted toward professional basketball. After CNY native Pat Riley left the Knicks for the Heat, a lot of air was let out of that balloon.
Money — that's the appeal. It's the lack of money that makes college basketball better than pro.
I still watch pro basketball, I'm still a Knicks fan, but the excitement isn't all there. Sure, the athletes are playing, but to me they're not playing their hearts out. The games feel slow-paced compared to college games. Perhaps it is due (entirely or in part) to receiving a paycheck. However, this means the college kids are giving it their all for that possible payout. We can always ask Michael Carter Williams or Tyler … Tyler … Ah! Ennis.
(Neither were available for comment.)
As a child, sitting in the stands was exciting. I watched Moten and Wallace and Hopkins. Sure, there were plenty of distinctive names. Those were the names I rooted for and called out: sometimes yelled, sometimes following a sigh. Nevertheless there was always anticipation for the next game that got the blood boiling with hope. There was always a Pavlovian response to competitiveness even though I wasn't playing.
And it's comforting to recognize that vicarious competition-driven anxiety is still there.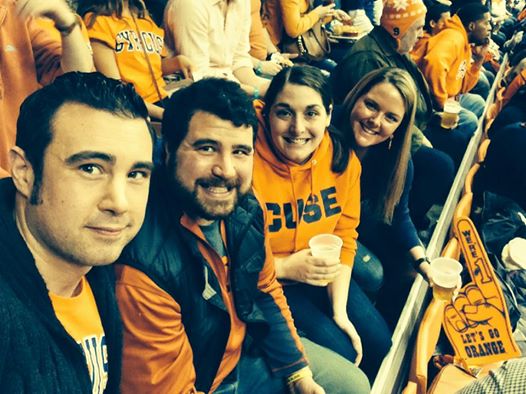 Whether it was with family or with friends, for a CYO basketball team outing or a party, enjoying an SU game is best enjoyed with a group of people. A basketball game will allow you to run into current friends and will reacquaint you with people you haven't seen in a while. The Dome is often crowded enough, too, in case you want to make yourself disappear, blending in with the rest of the crowd when you see someone you don't really care for.
Seating does not matter either. Well, seating does play a little bit of a role. However, even if the game is viewed in the far 300s, there are others around you. There is no need to throw a moody when in the presence of good company: strangers who want the same bold capital "W" against the visiting team.
It's nice to be surrounded by orange-dressed friends, because strangers do become your best friends. Sometimes friendliness can get a little too close and even cross the line. But, hey, it's better than Tinder.
The Louisville game was everything we came to expect and more. It proved that we should still wholeheartedly support "New York's college team" in this time of despair. The first half was close, but it ended with Louisville ahead. However, the Orange pulled their definitive second-half comeback.
We should not feel bad for Jim Boeheim's previous sins when he cursed at a reporter; regardless if he is stressed or not, it's a rookie mistake. But the school screwing these athletes over (past errors from former students whose infractions that were swept under the rug) still bothers me. Sure bowing out of post-season now was "perfect timing" during a sub-par season. I feel awful for starting senior Rakeem Christmas, who plays his heart out. But I do second-guess crowd-beloved players like Trevor Cooney, who has been notorious for off-balanced shots and frequent misses. In current reports: Cooney's approval rating is steadily dropping, paralleling and in competition with President Obama.
Aspects of the Carrier Dome bring back old memories and continue to create new memories. The air may be recycled (it takes more time to notice when compared to a car or an airplane) – it's the fans' passions being breathed in and out. Even the Louisville fans making the "L"  with their hands was actually adorable. They ended up on the kiss cam, which was nice. Too bad they followed the guy who licked the forehead of the girl next to him. I hope to one day make the kiss cam, but not as an accidental photo-bomber, showing up in the background and behind smooching Cardinal fans.
But in regard to the guy who licked the girl's forehead — hysterical.
And an engagement on Saturday played out successfully. Huzzuh! (Too bad the same couldn't be said for the dedication and jersey misspelling.)
From marriage to kids: The little guy in front of the four of us was pumped. He chowed down the Dome Dog. He guzzled his pink lemonade. He donned the foam finger and was waving his arm all about. Yeah, the index finger hit me once, maybe twice, but those things don't bother me. He was interacting with who seemed to be the "cool aunt" more often than his grandparents or mother.
We left excited and hoarse. It was time well spent. Even with a loss: time well spent. We missed the opportunity to leave via uber gust, but there is always next time. The snow was falling decadently: The flakes patiently took their time hitting the ground, our coats, our noses, our tongues — lake effect snow always tastes better.
Getting out of the parking garage: talk about time not well spent. When all else fails: grab a bite, a beverage, and wait it out. Varsity Pizza wasn't too busy post-game. We warmed up and enjoyed a couple slices.
***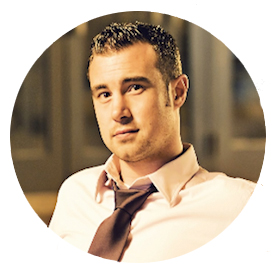 Christopher Malone plays with more thoughts and words at his blog, The Infinite Abyss(es). He also writes for the Skaneateles Journal.  Feel free to tweet at @Chris___Malone, or email him at [email protected].
comments