Just the mere mention of the title Boeing-Boeing, which comes across as a sound effect similar to "boink," assures an evening of naughty intentions. The fact is that the play's title actually comes from the speedy jet craft, yet the innuendo still remains, along with plot complications aplenty that multiply during the fast and funny production at Cortland Repertory Theater (through Saturday, June 14), which kicks off the summer season at the Little York Lake Pavilion in Preble.
This Americanization of French playwright Marc Camoletti's comedy retains its 1960s-era origins, as the action takes place at the spacious Parisian pad of architect-bachelor Bernard (Trent Fucci). Thanks to the exacting timetables he has obtained from a confidant at nearby Orly Airport, serial stud Bernard is able to juggle amorous relationships with three air hostesses on competing airlines. All-American gal Gloria (Tayler Beth Anderson) represents TWA, tempestuous Gabriella (Danielle Shimshoni) flies high with Alitalia and domineering Gretchen (Leah Gabriel) fluffs pillows for Lufthansa.
Bernard's choreography of the comings and goings of his stewardesses becomes more complicated, however, as the Boeing's introduction to the world's flight plans threaten to disrupt his beloved timetable. (Gloria remarks early on about the jet's impressive "19,000 pounds of thrust." Uh-oh.) As the ladies start popping up at inopportune moments, Bernard relies on the assistance of his acerbic housekeeper Berthe (Wendy Bagger) and the surprise arrival of Robert (Jeff Long), a long-ago school pal from Wisconsin, to avoid a collision course.
Camoletti's original 1960 farce was a long-running smash seemingly everywhere else in the world except America, where it died on Broadway after a brief 1965 run, then was adapted as a Tony Curtis-Jerry Lewis movie comedy later that year. The play experienced a more successful Broadway revival in 2008, which led to Tony Awards for the show and star Mark Rylance.
The English-language translation by Beverly Cross and Francis Evans keeps character traits to a minimum. We know Gloria is from the good ol' USA because she likes ketchup on her pancakes, for instance, while Gretchen sometimes comes across as a Teutonic terror who enjoys gassy sauerkraut. Then again, Boeing-Boeing is a bedroom farce in which bedrooms are never seen, but as an amusing time capsule about the perils of sophisticated swinging, it manages to be old-school and old-fashioned with its retro charms.
Director Dustin Charles keeps things on the lively side, with plenty of slamming doors (courtesy of scenic designer Cully Long's swanky set), the occasional spit take and zippy handling of characters' exits and entrances. The Swiss watch sense of timing cannot be underestimated here, especially since it thematically coordinates with Bernard's initial sense of perfect world order. Trent Fucci gets the maximum from his playboy role, as his cool and controlling Bernard in the early scenes inevitably goes into meltdown mode at the midway point when the stewardesses start stacking up in his love shack.
Jeff Long adds impish appeal to Robert, easily the show's most intriguing character. Although his Middle American upbringing is frequently mentioned, Long's Robert remains earnest even in the more unlikely moments, such as when he's innocently stealing long kisses from Bernard's fiancées.
The three actresses playing the air hostesses with the mostest manage to stamp their own unique identities, although costume designer Jimmy Johansmeyer's color-coded airline uniforms also keeps audiences on track. As Gloria, actress Tayler Beth Anderson saves her character's big surprise for the end, while Danielle Shimshoni's Gabriella dodges ethnic clichés to portray her hotsy Italian and Leah Gabriel's Gretchen has a funny exchange when she verbally assaults Robert with the zeal of a Berlin district attorney.
And supporting characters in sex comedies don't get much better than Berthe, the scowling maid incarnated by actress Wendy Bagger. Her Berthe always contributes a withering bon mot or an if-looks-could-kill glare on her kisser whenever Bernard's domestic problems start escalating. The women are on top in Boeing-Boeing, with Bagger's scene-stealing work leading to this polished production's smooth landing.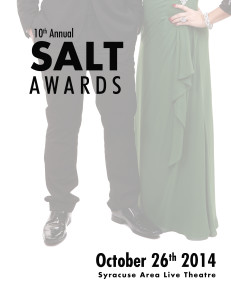 [fbcomments url="" width="100%" count="on"]