For those who read my posts, there is a strong affinity for preservation in regard to the environment and history. In Europe, buildings are preserved as is and the innards of the buildings are utilized as is. Where there are ruins found in Italy, the ruins are accommodated and construction is worked around the sites. Although our country's history isn't as long as Europe's countries, we still have many enriching aspects.
A handful of years after the City of Syracuse was incorporated, the Barnes-Hiscock Mansion was built in 1853, and it was the home of Rebecca and George; the latter was heavily involved with law and the railways. The family and the mansion has a significant place in history, not only being the former home of the Corinthian Club (which still meets there), but specifically addressing abolitionism and the Underground Railroad. This is, to say the least for this nationally-recognized historic landmark, one of two remaining preserved homes that are part of the Underground Railroad.
***
There is an intrigue to mansions. They vary in size and they are associated with a variety of designations – estate, manor, chateau, etc.. Aside the benevolent and historical importance of the mansion and the community-minded Barnes family, the homes have the appeal of taking you back in time. Upon entering, you can stroll through the halls and rooms with a curious mind. Even the least concerned with decor pick out a favorite room and aspects that present a personal "must-have."
Considering a mansion is stereotyped with period pieces that are in the dramatic genre, one cannot leave out the good, old-fashioned murder mystery: perhaps a live-action adaption of Clue. Autumn is upon us – cooler weather, rustling leaves and shaking bare branches, the sky appears more ominous – the eerie aura walks hand-in-hand with Halloween. (And the fact that this historic home has a couple of entities enriches and adds appeal to that last aspect.) Consider Edgar Allan Poe's story The Masque of the Red Death, with the amount of rooms available and despite the setting not being an abbey, a parallel concept could be seen. It's unusually satisfying that something that isn't Gothic can adapt itself to be (through personal perspective) – various rooms with various personalities sans awful fate. And as a darkly elegant as a mid-autumn masquerade can be, the premise of a mansion setting for a winter holiday and solstice is beautiful.
It's hard to fully elaborate on the the mind of a writer. For one, we're all different in many different areas: tone, style, humor, sarcasm, pace, drawing up the meat of our product or letting it flow as stream of consciousness. We're inspired differently. However, we only have to be human to be affected by some cognitive association, by some thing that gets each of our minds churning and our mouths salivating and our hearts pumping. We may all night write, but we all have the ability to be moved. Our brains are made that way, with rooms.
The Barnes-Hiscock Mansion is on the New York State and National Register of Historic Places; this is comforting to people upon hearing this, but they may have had no idea. The Underground Railroad, Jerry Rescue, Harriet Tubman – all of these add up to a crucial part of history. Not only did George Barnes participate in humanitarian endeavors on the national level, he was also a critical part of the community. As stated above, he pursued his passions in law and the railroads. Speaking to Barnes Board President, Dr. David Heisig, he educated me about how Barnes started the Syracuse Evening Chronicle, a newspaper that boasted two of his other passions: abolitionism and abstinence of alcohol.
Executive Director, Kristin Earle, along with current and past presidents Dr. Heisig and Karen Howe and the rest of the board are all excited about community involvement. Local advocates and writers, Kerrie Strong and Margaret McCormick, have been signed on to help with grant writing. The mansion is open to visit, explore, tour, learn. Children have the ability to take field trips here for a constructive and visual learning experience. And this is just the beginning.
On Saturday, September 13, the George and Rebecca Barnes Foundation held its fourth annual Tour de Champagne fundraiser event. As a champagne pouring volunteer, it was a privilege to be a part of such an event that was not only filled with great champagne, but with incredible food – all of the deliciousness was donated by several local restaurants and distributors. In the Pink Room, Limestone Grille and Smoke Incorporated BBQ set up shop. While walking around, one could indulge in food from (but not limited to) Atillo's and Frankie's Piccolo Bistro, Riley's and LOFO, and let's not forget desserts from 83 and Company and Speach Family Candy.
Not only were bellies full and palates educated, minds were treated as well: Emmet Van Slyke performed in the front foyer later in the evening, and full bottom-to-top tours of the mansion were  given as well. Everyone looked amazing for this formal event. It would have been even more amazing if the tours were done by candlelight, but that's simply my opinion. Those who are a part of the Barnes Foundation and the descendants of the family, including the Pierce family, take the time and effort to keep this place alive.
And why not? As one walks through the halls and the rooms, it's hard not to see the potential for future events of all kinds. The next Social Media Breakfast will be held on Thursday, Sept. 25. Could you imagine being married or celebrating part of the ceremony within the walls? How unique would it be to have a Halloween Masquerade or an old-time themed party that brought you back to the late 1800's or the early 1900's?
In fact, the Covey Theater Company is bringing Lizzie Borden Took an Axe, an original play by Garrett Heater, to the mansion on Oct 2 – 5. This production recently returned from a successful run in the New York International Fringe Festival in mid August.
Imagine the warmth and comfort you'd feel during a live performance, or a Christmastime or winter holiday party.
The front rooms have ceilings that were specifically designed with light patterns that could have you believing you were looking up at the stars. The mansion has one of the most elegant dining rooms personally seen, containing  woodwork designed and carved by Adolph Holstein and Moses Winkelstein – Syracuse Ornamental Company – that was completed in 1884 (as the plaque reads). The second floor rooms, which are staged appropriately with furnishings will allow you to see where Elizabeth Cady Stanton and President Taft among others had walked around or rested their heads.
Although there are no working secret passages (that I know of) and there really is no chance of getting physically lost, your mind will certainly wander and wonder. Although there is no Prince Prospero or specifically decorated rooms, you'll be put at ease from the plague of having a busy mind. The Barnes-Hiscock mansion is a connection to history that we never knew, personally or firsthand; but it's a gateway that can't be overlooked.
***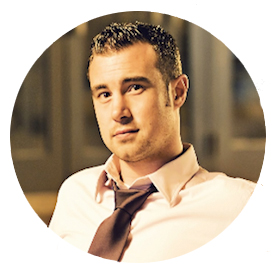 Christopher Malone plays with more thoughts and words at his blog, The Infinite Abyss(es), and at Kinani Blue. He can also be found creating worlds and playing with invisible objects with the Syracuse Improv Collective.  Feel free to tweet at @Chris___Malone, or email him at [email protected].

[fbcomments url="" width="100%" count="on"]