Change is good. Ask Abigail Henson. LoFo, her restaurant on Walton Street in Armory Square, has seen several changes in recent weeks and Henson is excited about what she calls "Next Level LoFo."
First and foremost, Henson has added an executive chef to the LoFo team. Luke Szabo, who served as chef at the Mandana Inn on Skaneateles Lake for several years, joined LoFo just in time for downtown Syracuse Dining Weeks and for Henson's introduction of dedicated dinner hours and menu. The farm-to-table, "upscale comfort food" offerings will change with the seasons and what's available from the local farmers and producers Henson works with.
Expect things like herb-crusted lamb chops from Meadowood Farms, Cazenovia, housemade fennel pasta and golden and ruby red "beetloaf" made with beets from Stick and Stone Farm, Ithaca.
In addition, LoFo now offers beer and wine for the first time since it opened in 2013. A variety of canned and bottled craft beers are available, and Gary Decker, owner of Vinomania, is selecting the wines."Luke was ready when we were ready to do dinner and the stars aligned," Henson says. "His food is spectacular. I really think he is one of the most talented chefs in the area."
Henson says having Szabo on board will allow her to focus more on LoFo's mission and goals and next "next levels."
"We're a restaurant, but more than that we're a community hub. We're serving food but also starting a conversation about local food and our unique relationship with it."LoFo's hours have changed slightly. Dinner is served 5 to 8:30 p.m. Monday to Saturday. Lunch is available Monday to Thursday (10:30 a.m. to 3:30 p.m.). Brunch is served Friday (8 a.m. to 3:30 p.m.), Saturday (9 a.m. to 3:30 p.m.) and Sunday (10 a.m. to 3:30 p.m., with live music starting at 11:30 a.m.).
Information: 422-6200; WEBSITE
CNY dining 'bites'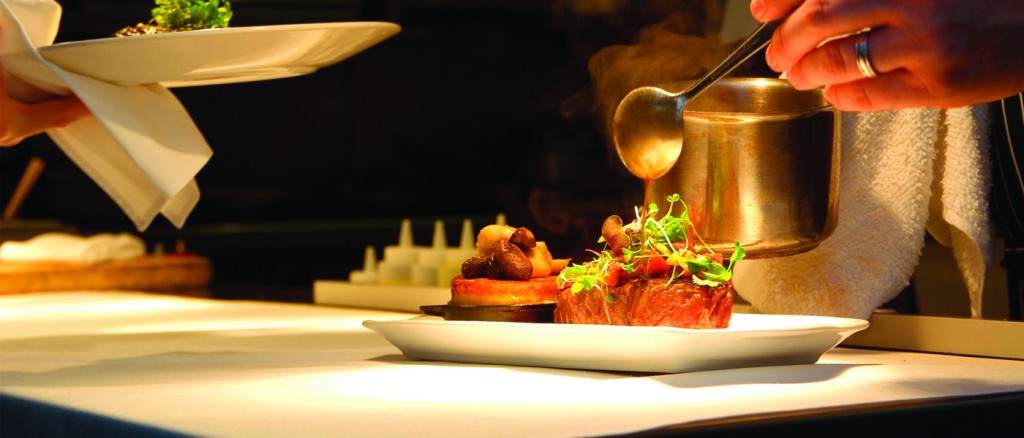 A bigger bar: Ironwood Restaurant, Manlius, has more than doubled its bar size and now has 13 beer lines for its frequently-changing selection of craft beers. The bar is made from an old horse trailer and the bar top includes thousands of pennies collected from Ironwood customers. The restaurant, noted for its wood-fired pizza, has added some new bar food selections to enjoy at the new bar, including a prime rib slider with horseradish sauce, prosciutto crostini with roasted red peppers and mozzarella and Bavarian pretzel stick with dipping cheese and Dijon mustard. Ironwood is at 145 E. Seneca St., Manlius. Information: 744-8740; WEBSITE
Dates After 8: Phoebe's, Syracuse, is offering a "Dates After 8" deal during March. Come to the restaurant for dinner after 8 p.m. Tuesday to Saturday and take 20 percent off your total bill. Phoebe's is at 900 E. Genesee St., across from Syracuse Stage. The restaurant plans to debut its spring menu on March 26. Information: 475-5154; WEBSITE
The Distillery: Sports-loving Rochester friends give The Distillery a high-five. The restaurant, which opened as a neighborhood restaurant in the 1980s, now has four locations in the Rochester area. It branched into the Syracuse area in December, taking over the spot formerly occupied by Outback Steakhouse, in DeWitt. TVs are everywhere, so it's a good spot to catch a game and a casual bite. The menu features wings, soups, salads, sandwiches, wraps, pizzas, ribs, burgers, steaks and more — and a long list of beers, (by the pint, pitcher and bottle).  The Distillery is at 3112 Erie Blvd. E., just east of Thompson Road. The restaurant is open daily and Sunday features a brunch menu. Information: 449-2337; WEBSITE
Margaret McCormick is a freelance writer and editor in Syracuse. She blogs about food at eatfirst.typepad.com. Follow her on Twitter, connect on Facebook or email her at [email protected]

[fbcomments url="" width="100%" count="on"]